Somehow, after all these years, R. Kelly still has a career.
It can be exhausting to repeat the well-worn allegations that, for decades, he has abused and assaulted minors. There is his 1994 marriage to the 15-year-old Aaliyah, which included forged papers to list the singer as a legal adult. There is his 2002 arrest for child pornography, after a videotape of Kelly allegedly having sex with a 13-year-old girl hit the inbox of the Chicago Sun-Times, with a dragged out court case that inexplicably found him not guilty in 2008. And there are the numerous accounts and lawsuits of women who say Kelly abused them when they were minors, including allegations that he is currently keeping women against their will in "a cult."
Despite the cries of campaigns like #MuteRKelly, which urge his fans to stop listening to his music and to stop attending his concerts, many choose to blame Kelly's accusers or simply separate the art from the artist; apparently it's just too hard to box away the early-aughts nostalgia that comes with "Ignition (Remix)." But if one thing is clear from Lifetime's new three-part documentary series Surviving R. Kelly, Kelly's artistry, however brilliant and celebrated, enabled his alleged abuse. You can recognize, as the music industry has done for years, that Kelly is a "King of R&B," but in doing so endorse a kingdom built on the backs of assaulted, and long unbelieved, black girls.
In this sense, Lifetime's Surviving R. Kelly, which premieres in three, two-hour installments on January 3-5, feels like a plea sharply directed at Kelly's current fanbase and those in his industry who've remained shockingly silent on the allegations. The series smartly divides its story into three distinct sections on a timeline of Kelly's life in career, the first starting with his childhood and early music career, the second his child porn trial, and the third bringing in the contemporary allegations that Kelly keeps women in a "cult." And it's those first two episodes, which bring a surprisingly humanizing eye to a young R. Kelly, a musically gifted and sexually abused child himself, that sets the series' tone as being a show not just about his accusers, but about a music industry primed to enable abuse from every angle.
Surviving R. Kelly is a Lifetime production, and while it bears the dramatic, gritty aesthetics of more salacious network documentaries, it does not exploit its interviewees. For every woman who alleges Kelly abused them, from his ex-wife Drea Kelly to Lizzette Martinez, who met Kelly when she was just a starstruck 17-year-old in a mall with hopes that he would launch her music career, there are a handful of psychologists to explain to audiences why women stayed in such circumstances, and why someone would inflict these conditions on these women. It's a pointed choice, as well, to begin a documentary about R. Kelly's alleged victims with a story about his own abuse as a child, which he says occurred between the ages of 7 and 14. Producer dream hampton admitted in a Q&A after the screening that while those episodes of the documentary were difficult to assemble, they were important in showing how Kelly became a famous artist and the ways in which abusive behavior shaped his life.
Surviving R. Kelly makes it impossible for the viewer to separate the art from the artist, because music was a tool Kelly used to allegedly abuse his victims. There are stories of naked girls hanging out in the studio whose I.D.s went unchecked; and women like Lisa Van Allen, who says she was picked up by Kelly as a teenager on a music video shoot; and Martinez, who says she was lured into Kelly's life on the promise of artistic success. When the viewer is walked through Kelly's public relationship with then-15-year-old Aaliyah, which was treated by publicists and in the press with a disgustingly coy "will they or won't they" angle, it's infuriating how accepted it was, especially coupled with Kelly's brother Bruce's insistence that his brother just has "a preference." It's clear that from the studio to the tour bus to the sets of music videos people grew up with, the music happened in the same spaces as these stories of abuse.
G/O Media may get a commission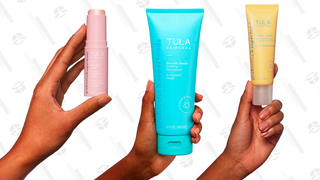 What the documentary makes clear as well, and perhaps uncomfortably, is that the listening public was complicit in Kelly getting away with it all. When music journalist Ann Powers talks about the history of musicians dating minors, from Jerry Lee Lewis (who married his 13-year-old cousin) to Elvis (who met his wife Priscilla when she was 14), it underlines how Kelly's history does not exist in a vacuum; the music industry is built to place young, adoring female fans with older men who can easily take advantage of their youth, and people are just beginning to realize, as a culture, that that history is now unacceptable. Critic Jamilah Lemieux at one point wonders if "I Believe I Can Fly," the hit from the 1996 children's film Space Jam, redeemed Kelly in the eyes of the public because he was making children's media. And when Lisa Van Allen then talks about having sex as a teenager with Kelly in his gym, which was plastered with memorabilia from Space Jam at the time, it's a disturbing image that exemplifies how Kelly weaponized his art to fool his victims, the music press, and his fans.
It's Surviving R. Kelly's impulse to move beyond just the individual stories of his victims, and to offer a critical, academic eye at how the music industry is complicit, which makes it one of the more definitive examinations of his abuse allegations. In parsing out how Kelly's artistry contributed to his personal history, the documentary argues that in order for Kelly's alleged abuse to end, the industry must stop valorizing his music.