Singer R. Kelly claimed to have "raised" one of his teenage sexual conscripts since the age of "14 or 15," according to a sometime member of his entourage who spoke to Jezebel about life inside the singer's inner circle. The woman confirmed details published this week in a disturbing BuzzFeed story, telling Jezebel that Kelly has five or six women whom he subjects to constant physical, sexual, and psychological control, routinely recording sexual encounters and subjecting his partners to bizarre cult-like behavioral restrictions.

Ana Gasteyer Satirizes the Girl Boss in 'American Auto'
"They're all above the age of consent," the woman told us. Two of the women are 18 and 19, while others are in their early to mid-20s. Technically, she said, "they can leave. But it was like witnessing Stockholm Syndrome. All these girls are so nice and trusting and young."

The BuzzFeed story was written by veteran Chicago reporter Jim DeRogatis, who's been covering Kelly's alleged sexual misconduct against teens for nearly 20 years. DeRogatis received a videotape in 2001 from an anonymous source of Kelly having sex with an underage girl. Kelly was eventually tried on charges of manufacturing child pornography—not rape—but was acquitted in 2008. Kelly has also settled at least four lawsuits alleging sexual misconduct, including women who have accused him of having sex with them while they were underage. An attorney named Susan Loggans told DeRogatis she has settled "numerous" other suits out of court of behalf of alleged victims.
According to DeRogatis's latest story, the parents of young women who are involved with Kelly believe that he's holding them against their will and preventing them from talking to their families. Former girlfriends of Kelly's told DeRogatis that the singer requires his girlfriends to dress in track suits to hide their figures, films his sexual encounters with them and shows the videos to his friends, and takes their phones to keep them from communicating with their loved ones, replacing them with new phones they can only use with his permission to contact people he approves.
G/O Media may get a commission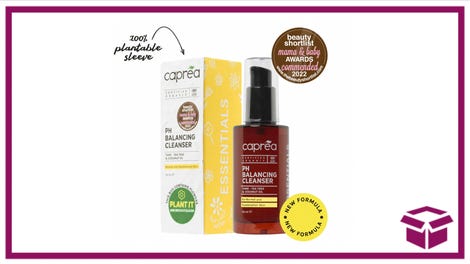 Save $9
47% Off Essential Organic PH Cleanser
Sustainable beauty
Caprea's Essential Organic PH Cleanser is just $10 with promo code TEN. Normally $19, this foaming face wash is crafted with organic Monoi oil. It's meant to target the production of oil secretion while protecting your skin against air pollution. Normally $19, you can save big on this richly-lathering face wash while supporting a brand that keeps the environment top of mind.
Through a representative, Kelly denied the allegations. His attorney Linda Mensch told several outlets, "Mr. Robert Kelly is both alarmed and disturbed by the recent revelations attributed to him," adding, "Mr. Kelly unequivocally denies such accusations and will work diligently and forcibly to pursue his accusers and clear his name." In an interview with TMZ, one of Kelly's girlfriends, a 21-year-old woman named Joycelyn Savage, denied she was a "hostage" or in a "cult" and said she had chosen not to speak with her family. She declined to say where she was living, if she lived with roommates, or if she was "free to go," telling TMZ, "I wouldn't speak on that."
Mensch didn't respond to two phone calls and two emails from Jezebel seeking comment. In her place, a spokesperson named Trevian Kutti returned our call. Responding the allegation that Kelly spoke of "raising" a sexual partner from the time she was 14, she told us, "I think these things have to be proven. This is a very strange and unbeknownst allegation to us and there would be no way I could comment on it. It's irrelevant. We don't know who you're talking about. This is just an allegation."
Kutti denied that any of Kelly's current sexual partners were underage when he began dating them. "This is a crew of adults here. There are no children. No underage anything. I've never witnessed it."
Kutti denied that any of the women are kept against their will. "I've known Mr. Kelly since 2005. What I will say is anyone who is involved with Mr. Kelly is free to come and go and communicate and eat and sleep when and where and how they please. It's a very sad situation where it comes to a point where people are being deemed captive or enslaved when they're truly free human beings. Mr. Kelly is an upstanding human being and it's very saddening that these allegations are being orchestrated."
"Kim" (Jezebel is withholding the woman's real name and some details of her identity to protect her privacy) told us that she first met Kelly at one of his concerts roughly one year ago, where she was invited onstage and then to an after-party. That night, he slipped her his number and told her, "Baby girl, I want you." The next day, they met up at a hotel where he was staying and had sex in his tour bus. Kim said Kelly paused their lovemaking long enough to ask her, "Baby girl, how old are you?" Afterwards, he put her number into all three of his iPhones and told her he wanted to see her again soon.

She provided screenshots of text messages she said were between her and Kelly's assistant, Diana Copeland, as well as a few between her and Kelly (although, she said, "he's basically illiterate" and prefers phone calls and FaceTime). She also showed Jezebel travel itineraries for the trips she took to see him, hotel receipts, and a photo she took of the singer asleep on a hotel couch. The itineraries and receipts match up with both Kelly's tour history and travel documented on Kim's Instagram account.
When I called the number Kim provided for Copeland, Copeland identified herself before saying, "I don't want to talk to any reporters" and hanging up. She didn't respond to several subsequent text messages, other than to ask, "What does her claims have to do with me?"
Kim said that over the course of the past year, she flew to see Kelly about ten times, either in his hometown of Chicago, where she said she and other women were put up at the Homewood Suites by Hilton on Grand Avenue, or in cities where he was on tour. She said she had been with Kelly as recently as this summer.
Kim, who is in her mid-20s, told Jezebel that she likes having sex with powerful men and enjoyed partying with Kelly and his crew. "I knew what I was getting myself into," she said. The other girls around Kelly, however, seemed more star-struck to her and appeared to depend on the singer's approval.
"All these girls just dote on him," she said. "It's so fucked up. They're completely manipulated and brainwashed."
Kim wasn't aware that the other women lived with him, she said, and until reading the BuzzFeed story had been under the impression that all of them were free to come and go the way she was. She would go back to her hotel after her trysts with Kelly and his crew, then fly home to her life and career. Her phone was never taken, and she was never asked to sign any kind of non-disclosure agreement. She was different in other ways too: She wasn't in the music business (and so wasn't reliant on promises of career help from Kelly), she declined the MDMA that she says was constantly on offer, she was a few years older than most of the women, and she was white, where the other women were mostly black.
Kim quickly realized, though, that Kelly was "very controlling."

"When we're out we're not allowed to look at anyone," she said. "We have to keep our heads down. If we're back in his studio sitting on the couches and he has friends across the room at the bar we can't look at each other or communicate with each other." The girls are also instructed to "tell on each other," she said. "If we're in an Uber and we chat up the driver we're supposed to tell him this girl did this or that. He's very controlling and manipulative. He likes to be in control." The women are all instructed to call Kelly "Daddy" at all times, she said, while he refers to them as his "babies." The women can't enter a room without knocking three times and waiting for permission to enter; they also have to ask permission to leave, she said.
Kelly also forbids the girls to compliment each other on their dresses, Kim said, because that's too close to complimenting them on their figures. One day, she recalled, they were at lunch, sitting at a sidewalk table outside. A woman walked by whose dress Kim admired. "I was looking at her and he kicked my chair because I was looking up. Just super possessive. It's a strange kind of dynamic."
The women are also strictly kept from knowing too much about each other, Kim says. "We're not allowed to talk about anything. We can compliment shoes or nail polish or make small talk about the weather but we can't talk about any personal details."
Kim said that she's never witnessed Kelly force himself sexually on any of the girls, but that his control over them is absolute.
"He never makes threats," she said. "But the girls are so eager to do whatever he wants. He'll wake us out of a dead sleep and say to this girl, 'Suck my dick,' or to these two girls, 'Kiss on each other,' and immediately without thought they jump right to it. It's just bizarre. It's unlike anything I've seen before honestly."
"It's not non-consensual, I guess," she added. "But I don't know if they even realize the situation they're in is wrong."
Kim said that Kelly has at least three iPads filled with footage of both his daily life and his sexual encounters. "He records everything. Absolutely everything," she said, including the two of them having sex. "A lot of times he doesn't have sex with the girls, he just likes to watch them on each other and records them."
Kim also said that she's never seen "any violence whatsoever," although the BuzzFeed story alleged that he slapped one woman with an open hand for being too friendly to a Subway employee. But she vividly remembers a bizarre punishment one of the girls, a 19-year-old, was subjected to when she didn't perform sexually in the way Kelly expected.
Kim said that she and the girl were instructed by Kelly to "take off your clothes and act like you miss each other." He got out his iPad and started filming, she said, but was dissatisfied by the 19-year-old's performance. He told Kim to sit on the couch and took the 19-year-old into another room. Twenty minutes later, he called Kim in. Kim knocked in the proper way, then walked in to find the younger girl nude except for one of Kelly's bigger pieces of jewelry, a heavy chain.
"He had his iPad recording and she was naked except for a big chain and she was running laps from one end of the room to the other," Kim remembers. "She was running laps around the room and apologizing. She kept saying, 'I've been bad, I'm sorry Daddy,' shit like that. And I'm standing there and she starts apologizing to me."
Kim said she told her it was all right, but Kelly cut her off. The younger girl continued in tears, she said, telling her, "I know I have to do what Daddy says, I have to act like I miss you more, I wasn't getting into it."
Trevian Kutti, Kelly's spokesperson, responded to Jezebel's questions about whether Mr. Kelly records his sexual encounters by telling us, "How would I know that? I'm not sexually involved with Mr. Kelly."
Kim said that Kelly's clear favorite among the women she saw is one who turned 18 around December. "She's apparently been with him since she was 14 or 15. He was telling me that he 'raised her.' Those were his words." While BuzzFeed does describe one 18-year-old from Florida as Kelly's "Number One girl," DeRogatis reported that she was 17 when she met Kelly, and none of the other women in the BuzzFeed report appear to have met Kelly at age 15 or younger. Asked for more information about the 18-year-old, and whether she believed her to be the same "Number One girl" mentioned by DeRogatis, Kim said she couldn't be sure who DeRogatis was describing and that Kelly didn't allow the girls to discuss their personal lives with one another.
Kim spoke freely and at length for close to an hour. But it did seem curious that while she seems self-aware and independent, she was still comfortable with a situation where she was subjected to such bizarre restrictions and methods of control.
"I've been a massive R. Kelly fan for as long as I can remember," she says. "Since I was little. I've always loved his music. And the lifestyle, I guess, is really cool: being brought up onstage, being paid attention to." She always felt "out of place" in his entourage, she says: "I would just look around at certain points like, 'Are you fucking kidding me?'"
Kim explained that until she read the Buzzfeed story, she regarded the situation as bizarre and slightly disturbing, but she had no idea that other women weren't speaking to their families, that they were dropping out of college, that their loved ones were desperately worried.
"That's horrific to me," she says, flatly. "They have no way to get in contact with them—if something happens to these girls they're not going to know and that doesn't sit right with me."
Kim told me that she understood Kelly would probably be able to identify her from what she'd told me. She doesn't plan to ever fly back to visit him again, she says. "After all this? Absolutely not."

"He's really fucked up," she said, laughing softly. "He's gotten off for so long. It's time."
This post was produced by the Special Projects Desk of Gizmodo Media Group.