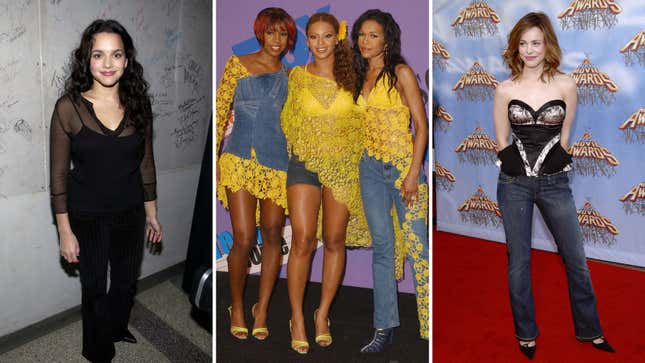 The 2023 awards season kicked off Tuesday with the 80th Golden Globes Awards and, as is the standard, celebrities walked the red carpet outfitted in thousands of dollars worth of sequins, silk, and poof. They shined. They sparkled. They looked like stars! They did not look comfortable or casual.

I love a good midnight blue Armani Privé gown covered in crystals as much as anyone, but when everyone's wearing a special dress, then no one's wearing a special dress. And that's a bummer. My point is: Before social media, before the boom of the celebrity stylists and Lady Gaga's insistence on wearing anything but fabric to award shows, red carpets were much more...~chill~.
In the 1990s and early 2000s, especially, red carpet style was less red hot and more "running an errand." Celebs wore, just, pants, rather than one-of-a-kind Givenchy pants embroidered with rubies and 1,000-year-old silk. Just regular pants that they had from the Gap, or something. They'd pair it with a shirt, and that was that! Of course, there were still plenty of icon-making moments, but this is not a slideshow of the most iconic red carpet looks ever.
I appreciate and respect what the red carpet has become. I'm happy it's evolved. I love gowns, I love designers, and I love hot people wearing hot things. But I also really love reminiscing about the days when a celeb could wear denim bell bottoms and a "going out" top and still be considered a star.