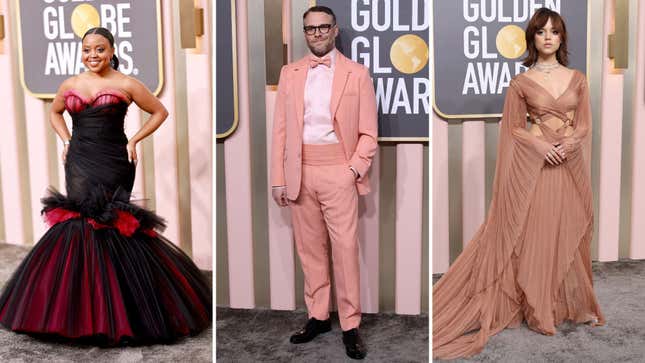 January is a bit warmer this year and, no, it's not because of climate change. Well yes, it is, in many ways—but also, it's because the stars are once again shining hot and bright across our television screens. The Golden Globes have returned after a year in the shadows, where they were supposedly repenting for their sins. So, we, too, at Jezebel have dusted off our finest monocles and are prepared to once again gawk and ogle at beautiful rich people in expensive outfits as they win awards that are dubiously meaningful.

What's that? You didn't realize the Golden Globes were sent away for a year to think long and hard about what they did? Oh, you don't even know what they did? Well let me fill you in. In February 2021, the Los Angeles Times published an investigation into the Hollywood Foreign Press Association, the organization whose members vote for Globe nominees and winners, and exposed a network of bribery, internal kickbacks, a laissez-faire screening system, and zero Black members. For a few years, the HFPA's leader Philip Berk had been in some much-deserved hot water for allegedly sexually harassing Brendan Fraser, and when it was revealed in April 2021 that he'd sent an email calling Black Lives Matter a "racist hate movement," the association felt the water had hit a boiling point.
The HFPA pulled a "we'll be better, we swear" and promised to diversify their membership and make their voting process more transparent. But NBC, the network that airs the show, apparently did not believe them, and Tom Cruise—Mr. Scientology himself—decided that this was where he draws the line and returned all three of his Golden Globes. So HFPA retreated, tail between their legs, and decided to take a year off from televising the event.
In the past year, the HFPA has doubled its voting body and released a statement about its members: "22.3% are Latinx, 13.6% are Black, 11.7% are Asian, 10.7% are Middle Eastern and 41.7% are white, with 58.3% self-identifying as "ethnically diverse." They are no longer allowing producers to fly HFPA members to Paris to stay in $1,400/night suites (a thing that really happened with Emily in Paris), which is tres sad but ultimately tres for the best.
So Hollywood's biggest night (in January) has returned and so has its infamous open bar. Jennifer Coolidge, Letitia Wright, Jamie Lee Curtis, Tracy Morgan, and Nicole Byer are some of the stars slated to present awards tonight. Will there be some drama? Probably. Will there be goofs? Almost certainly. What we can promise you, though, is the red carpet's incredible outfits.