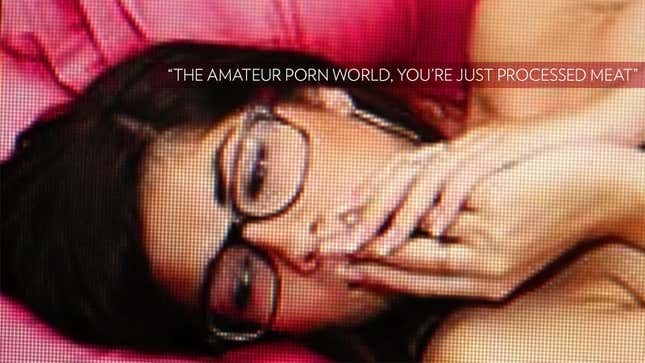 Hot Girls Wanted, the newish documentary produced by actress Rashida Jones, is making headlines and earning some rave reviews—as well as getting panned by people in the adult industry and advocates for sex workers—for its depiction of one tiny sliver of the wide world of porn, a fly-by-night talent agency called Hussie Models, which operates out of a scuzzy little house in Florida. The movie centers around a handful of young women at the Hussie house at a particular time, but purports to be a window into "professional amateur" pornography as a whole, strongly hinting that it's an industry that ruins many guileless young women who only wanted to be famous.
The idea that young women are being lured into the Big City only to have their virtue wrecked is a very old story, going back to the 19th century social purity movement and the Christian reformers who set up weekly soapboxes outside houses of prostitution. In Hot Girls Wanted, the general notion that porn irreparably or at least very seriously taints women is paired, a little shakily, with shots of writhing pop stars like Miley Cyrus. Its goal is somehow clear and vague simultaneously: Hot Girls Wanted is aiming to convey something about our sexually-saturated, erotically schizophrenic culture—but that something never resolves to anything much at all.
If amateur porn was, in fact, lying in wait within the recesses of the Internet to snatch very young women away from loving homes to plunge them deep into highly visible sexual slavery en masse, Hot Girls Wanted would highlight a trend of sexual corruption that no civil society should put up with. But the film's obsession with sex kneecaps a much more important discussion on young women and labor: a discussion that in one way is specific to a small and unregulated corner of the porn industry in Florida, but speaks more generally to the way cultural shame contributes directly to exploitation.
At Vice, Susan Elizabeth Shepard has done an excellent, deep fact-check of the movie's main claims: That more people visit porn sites each month than "Netflix, Amazon, and Twitter combined" (the basis for that claim being a no-longer-operating porn site called Paint Bottle). Or that the industry has "no federal regulations" (yes, but it has dozens of state and local ones, as well as federal obscenity laws that convicted extra-gross gonzo porn director Max Hardcore in 2008).
The film shows a group of young women arriving at the Hussie house after responding to a Craigslist jobs post offering "free flights to Miami for hot girls." Hussie's stock-in-trade is finding endless women like them, all in their late teens and early twenties to act in "professional amateur" porn. ("Pro am" isn't defined terribly clearly, but the industry definition is, basically, someone who's new to porn working with more established producers and directors.)
Hussie's 23-year-old "talent agent," Riley (who also acts in porn himself, something that apparently doesn't merit the same sort of hand-wringing that extends to everyone else in the film) books them for a series of jobs that don't seem to pay particularly well, and in some cases, involve extreme sex acts or very bad ideas. One young woman says she had unprotected sex and let the male actor ejaculate inside her for a mere extra $100, $40 of which she had to spend on Plan B.
The film lingers on the worst aspects of pro am, including some humiliating scenarios where women are subjected to choking, horrifying racial slurs and racialized scenarios in the case of Jade, a Latina actress, who appears in a vile-seeming series called Latina Abuse, and other things that most 19-year-olds wouldn't be prepared for or mentally able to weather.
One of the primary issues with Hussie, which seems to have created many of the terrible working conditions depicted in the film, is that they're unlicensed and un-bonded. Riley doesn't seem to have to do anything to become a talent agent except call himself one. That's because Florida has far fewer licensing requirements around pornography—which is why so many amateur outfits like Hussie flock there, away from places like California, which has much more stringent licensing laws.
That can be a serious issue for performers in Florida, says Mark Kernes. He's a longtime columnist and film reviewer for Adult Video News, the porn industry bible. He also appeared in two movies himself, a number of years ago.
In Florida, Kernes says, there don't appear to be any laws requiring talent agents to be licensed, and unregulated agencies like Hussie are more common. "They hire people for movies and web scenes, there are a couple companies down there, but they don't have any sort of organization to essentially protect the actresses and to make sure the companies are doing business on the up and up," he says. "I'm not aware of any licensed talent agents in Florida, and frankly I'm not sure Florida even has a law that requires agents to be licensed like they do in California."
One of the sadder moments involves an 18-year-old named Rachel Bernard, who goes by "Ava Taylor" in the business. She's asked to have sex with a much older co-star, which she does very reluctantly and while clearly freaked out. As she sits there, picking her nails and waiting with her eyes cast down for the scene to start, you're willing her to walk out the door. She doesn't.

"I was not into that last part at all," she says afterwards, grimacing. "A lot of porn is like that. You're like, 'This is so just work right now.'"
At the end of the film, Hot Girls Wanted claims without elaboration that several of their subjects have "left" pornography. But in the case of Rachel, who was interviewed by Jezebel, the reality of life "after" porn is murky and fraught, like the thesis of the film itself.
Rachel says on camera that she's grown weary of the industry both because it doesn't feel safe, and it doesn't seem to value her in any particular, individual way. "The amateur porn world, you're just processed meat," she says. "Everything is the same shoot. It's always your first time," and it's always focused on male pleasure. "As long as you have boobs and a vagina and an ass, that's all that really matters. They don't care about who you actually are."
For Rachel, though, the claim that she's simply left porn glosses over what she says is a continuing struggle to get nude photos of herself removed from the website of a talent agency called LA Direct, one of the biggest players in California's adult industry. LA Direct's founder, meanwhile, claims that Bernard still works in porn and shot scenes as recently as last month, but is embarrassed to say so because of the publicity surrounding the film. (She's appeared in at least one joint interview with the filmmakers and Jones.)

Bernard strongly denies that she's still working in the industry. "I have no intention of ever shooting a scene again," she told Jezebel in a recent interview conducted via Facebook Messenger.
In May of this year—shortly after the film premiered—a dominatrix named Goddess Vienna started tweeting that Rachel was still in porn, using the same name, Ava Taylor, and "working for a major escort company." Indeed, photos of "Ava Taylor" are displayed on more than one website associated with the sex industry.

"She is still active in the industry," says Derek Hay, founder of LA Direct. The agency operates primarily in Los Angeles; Hay, a former adult film actor himself, founded it in London in 2000.
LA Direct is a major player inn the adult industry; it's also controversial in its own ways. Critics have implied anonymously over the years—or sometimes publicly—that the company encourages the actresses signed there to escort. You can find that claim a number of places, including on an infamous site called Porn Wikileaks that made it their business to "out" porn stars. At one point, in a now-cached thread that I won't link to for privacy reasons, the Porn Wikileaker referred to Hay as a "pimp" and dug up what it claimed were the real names and dates of birth for many of the actress listed on the site. (As I was finishing this story Thursday afternoon, a separate site, The Real Porn Wikileaks, run by someone completely different, also put up a post saying that Rachel/Ava had shot scenes as recently as April and May—the clips are dated—and adding that she's listed as an "available" escort on a site called The Erotic Review.) Correction: An earlier version of this story conflated Porn Wikileaks and the Real Porn Wikileaks. I regret the error.
One person also suggested to me that Hay also owns the Luxury Companion website, which promises close encounters with adult film actresses: "Meet your favorite adult star up close and personal." The registration information for the website isn't public and I couldn't confirm or disprove that, or find any actress who said openly that she'd escorted working at LA Direct.

In an email exchange, Hay readily provided Rachel's email address and encouraged me to speak to her. In a follow-up interview by phone, he said she'd been a client of LA Direct's for "about a year," coming there from Hussie, the Florida agency depicted in the film.
Hay has not seen Hot Girls Wanted—"I'm not going out of my way," he says dryly. But he too, says Hussie isn't operating by any professional standards he knows of: "Hussie is operating entirely illegally. They're not licensed. Talent agents in almost all states need to be licensed and bonded to operate as a talent agent. The most heavily regulated state in regards to that is California. Again I haven't seen the film, but Hussie is not of any kind of professional standard or what you'd expect of a talent agent."
Hay wasn't surprised to learn, from my summary of the film, that some of the women employed by Hussie seemed to become almost instantly disillusioned.
"Almost always they quickly learn that they've found themselves in situations that they want to get out of," he says. "There's no career with an illegally operating agency. You can maybe go and do whatever, some shoots and make some money, but there's no career there. From what I understand, from the interview that I watched with the producers of that piece, is that his operation [Riley, the 23-year-old Hussie owner] is kind of like a puppy mill. Find as many as you can, have them shoot for a few weeks, and fly them out, back home."
That, he says, is "the antithesis of what LA Direct does, which is very well known as a career-builder. Some of our clients are superstars in the business, who have been with us for the majority of their careers, seven, eight, nine years. Long careers in the adult business are possible."
Yet it quickly became clear that Rachel and Hay are embroiled in a bizarre, ongoing disagreement about whether she's actually still a client there. Rachel denies that she's ever actually done any work for LA Direct, although she says she did sign a three-year contract with them.
"I was 'recruited' by a male talent who didn't even work for Derek," she says. "I was in the car and all of a sudden I was on speaker with Derek and then he convinced me to sign."
But she says that when she decided she no longer wanted to do porn, preferring to focus full-time on working as a non-nude model, as well as trying to get into commercial photography, she was told there would be a $2,000 fee to remove her photos from LA Direct's website.
"[Derek Hay is] trying to keep me in this contract and give me as much hell as possible," she tells Jezebel.
Hay denies that Bernard would have to pay any fees to be taken off the site. He told Jezebel in an email that it's "news to us" that Bernard no longer wished to be signed there:
She shot for just one of our clients five (5) times in 2015. And we have the invoices and checks to prove that, - so that is a very odd comment.

I have no knowledge of her wishing to cease working and she has not communicated that to us (as yet) though I understand she has received bad publicity as a result of this film (that took place before we began working with her),

It would be my thought this may be a 'knee jerk' reaction to that adverse publicity, that may fade or could actually be the catalyst for her exit from the business ultimately, who knows ?

Contracts with licensed agents compel an artist to work though that agency for the term of the contract, but do not compel an artist to work,

Any artist may cease working at any time of their choosing.

There is no fee to remove a model's images from an agency website.
Countering the narrative that she's been free to act on her will, Bernard provided Jezebel with screenshots of emails dated December 2014 though April 2015, in which she's scolded by Hay for not showing up to a shoot, not responding to emails offering her work, or working with another agency. In the emails Bernard showed us, Hay takes on a scolding tone:
It is really quite odd that you would seek our representation after having a bad experience with an unlicensed agency previously, then tell us you're quitting shooting before we even have a chance to work for you, then come back into the business, and instead of coming to us to really get going — you go to another unlicensed agency. It really makes no sense and has put you far behind where you could be in the business by now.
In April, according to the emails she provided, she told Hay she didn't want to work with LA Direct anymore, and referenced a February 23 conversation in which, she writes, "You accepted my offer of a $2,000 buyout. I have saved my money to buy myself out." In an April 15 email, Hay writes that he hasn't heard from her about taking any jobs and says he'll draw up a "separation agreement."
That doesn't seem to have happened.
"He still tries sending me work because my picture is still up, and I've quit," she tells Jezebel. "It's not fair. How can I be held to a contract in an industry that I am not even in anymore?"
Hay grew rather sniffy when I asked about the discrepancy between his story and Bernard's. He reiterated that she'd shot for their clients five times, most recently in May, before excusing himself from the conversation:
Ava has shot five (5) times for this company in 2015

A very good client of ours,

We are fully paid up for these works.

I could not say if she wishes to pursue a career in photography now, I have no knowledge of this,

Forgive me but I have exhausted my appetite to dialogue further on this now, and have reminded myself why we usually decline response to such enquires.
Rachel says she did return back to porn a few months ago, shooting some scenes for a company called Porn Pros that she booked through Riley's Hussie Models. But she says she had to do that just to pay off the massive taxes she'd incurred in the business: "That the only reason I went back and shot those few things is because I was in debt from all the taxes of porn. It put me so far in the hole. Now that I've paid that, I have no need for that industry."
The Hot Girls Wanted filmmakers said they were aware of Rachel's experience with LA Direct, as she'd been in California for the last months of their shooting in Miami, although it's not mentioned in the film:
Rachel was in LA during the last months of our shooting in Miami so we don't know first hand. But yes, we heard this was the situation from other sources at that time. And another young woman in the film had the exact same experience with LA Direct, but we cannot say which one for confidentiality reasons.
And even if Hot Girls Wanted oversimplifies Bernard's experience—making no mention of her working for LA Direct or how she ended up on other websites associated with escort work—she says it was an accurate representation of her career and how she says she chose to leave it. (Hot Girls does also briefly mention that another woman in the film, Tressa, says pro am left her flat broke.)

"I feel like I was represented in the right way when it comes to me quitting to follow my dreams and how some amateur porn shoots are uncomfortable and scary," she says. "But a lot of people think we're summing up the whole industry but we aren't. It's the small section where the youngest girls start. And it's worth a warning at least." (She didn't respond to questions about whether she'd worked for the Luxury Companions site, where her photos are also displayed, except to say that she doesn't work there currently and that her photos "shouldn't be there" either, and that she'd talked to that company about getting the pictures taken down, to no avail.)

As several film critics have pointed out, Hot Girls Wanted doesn't seem to know what to say about young successful porn stars like Belle Knox, who's mentioned briefly, or, as The Guardian points out, a cheery young woman named Karly who goes by Lucy Tyler and describes her experiences on camera as playing a character. ("She doesn't really fit the movie's alarmist agenda," they observe, "which is rife with inter-titles of terrifying statistics and absurd montages of the Kardashians and Justin Bieber, suggesting that our modern culture has created this market of sexual exploitation out of whole cloth.")

Lucy, too, announced in June that she was no longer working in porn:
In an email interview with Jezebel facilitated through their publicist, Hot Girls Wanted directors Jill Bauer and Ronna Gradus defended the decision not to talk to anyone who'd had a longer career in porn, and reiterated a point they've made in several other interviews, that they weren't trying to make any kind of statement about porn as a whole. Stories of successful professional porn stars, they write, were "not the story we were telling."
The same way that Undefeated, a film about underprivileged inner city HS football players did not explore what football is like in other communities or for players at other stages of their career. Also, in the Miami pro-am space we were covering, we had off camera conversations with various porn content producers, directors and other talents who verified everything were hearing from the young women in the house. We clearly state in the film that this is the story of "pro-am" porn based in Miami (which where a lot of the production for huge sights [sic] like Bang Bros, Reality Kings, Team Skeet, Mofos happens). We did not purport to doing an entire industry analysis.
They are confident, though, that the film is an accurate representation of pro am in Miami or Florida as a whole:
Again, we feel confident that we had a grasp on what was happening and that it was larger than just inside Riley's house. And we have heard from many young women since the film's release who have contacted us to say that we got the story right but that because the film is currently so politicized within the industry, they cannot publicly make those statements for fear of losing future work.
Mark Kernes, the AVN columnist, is extremely well-connected in the adult world. Like Hay, he says, too, that Riley, the owner of Hussie Models, doesn't look anything like a normal adult talent agent: "I haven't heard one good thing about him." In the instance where Rachel felt unable to leave the shoot where she didn't want to have sex with an older man, Kernes says a good agent would've told her that she's free to walk off the set at any time.

"All the good agents I know in this town would tell the women right up front, 'Listen, if you get involved in something and you're not comfortable with it, give me a call or just walk off the set. I will support you,'" he says. "At least they talk to the actresses about what they can expect. As far as I can tell, nobody did that to these women that were living at Riley's house. I don't get the feeling they were really getting any training whatsoever. That bothers me a lot. It's not typical, at least not of the industry out here."
He points out that many of the more extreme sex acts shown in the film—choking, deep-throating until a woman vomits—are usually highly staged and rehearsed.
"As much as I don't like to watch that particular kind of scene, I can tell you that it's all, all staged beforehand," Kernes says. "The women, if they're doing a scene like that they know exactly what they're getting into: 'This is a deep throat scene, have you ever deep throated before, would you like to try it?' It's all staged. It's not as if anyone is forcing them to do this." On some of the weirder scenes, he adds, "Some of them will eat stuff like creamed corn beforehand so they have something to barf up. Think of it as stunt work."
The important thing, Kernes adds, is that everything being done is consensual, regulated, rehearsed, and every performer knows she can leave at any time. "As far as I'm concerned, to each their own. This is consensual stuff. I absolutely do not think it's contributing to violence against women."
The lack of safety standards, he says, is the aspect of Miami's porn industry that Hot Girls Wanted does do a good job portraying (even if it fails to make clear that the no-rules rules in Miami don't apply to the rest of the country).

"What the film does represent is only a very small part of the industry," he says. "I'm even leery about calling it part of the industry."

Hot Girls Wanted, for all its lingering shots on these young women, their suitcases full of scanty underwear, their faces and bodies as they're being made up for the camera, has little advice to offer for young women who are interested in doing porn but would like to stay safe, away from both agencies like Hussie and bad business experiences like the one Bernard alleges she went through with Derek Hay and LA Direct.
Nor does it touch on the shaming of sex workers and porn actresses, which Kernes says in his experience can be far more toxic than having sex on camera.

"I have known several adult stars who were in the business, their parents had absolutely no idea, and they didn't want them to," he says. "Our starlet of the year for 1991 was a woman named Jennifer Stewart and she quit the business I think two months after receiving the award, because someone gathered up a bunch of her tapes and dropped them on her parents' doorsteps. People do that. It's disgusting, but people do it."
Although the movie doesn't touch on it, Bauer and Gradus say they do have some ideas for how Miami pro am could be safer and better regulated, including making sure that people shooting POV porn—something shot from the perspective of a man having sex with a woman—are actually professionals and not just random creeps:

Most of the stories we heard about our characters being scared or shooting till their throats unexpectedly bled (which we heard from a couple pro-am young women not in the film) occurred when they were shooting one on one. We would like to see some type of vetting process for "producers" who shoot POV porn. That would be a good start.
I asked what they'd tell a young woman who was thinking about joining the adult industry.

"Watch the film," they wrote back. "See the possibilities of what not necessarily will happen but what *can* happen in porn, especially for the many young women who are entering the industry via a click of the mouse who at 18, might not have that much life experience."
In the end, Kernes says, the general consensus in the adult industry is that the film hits on some truths about lower-end porn, while at the same time leaving him uneasy at the broader things the film might imply about porn as a whole.
"I don't like this film," he says bluntly. But after sitting through it and appearing on a panel with the filmmakers, he says, "My feelings about the people who made it aren't quite as bad. But I have to tell you, there's an awful lot of ignorance floating around about the adult industry, and this film doesn't help."
The panel Kernes appeared on recently included the filmmakers, some industry people and some anti-porn activists (including Gail Dines, a particularly poisonous and vehement anti-porn campaigner who once likened the BDSM site Kink.com to Abu Ghraib). Rachel was there too, and mentioned, with disdain and what looked like growing fury, licensed, bonded agents who mislead their clients.

"Licensed and bonded means absolutely nothing in porn," she told Kernes and the rest of the panel. "Because the licensed and bonded, most well-known agent was the worst agent I've ever come in contact with, the most harmful and unprofessional. Just because he was licensed and bonded doesn't mean anything for how he treats a girl."
For example, she added, "He's the one that's putting them into escorting. He's the one that's putting them into 'bachelor parties' where really, you're just showing up and having sex with all these guys at a bachelor party. So really, whether they're licensed and bonded or not, it doesn't change how they act. It almost makes them worse, because they think they have more power than the girl walking in there trying to do something. She has no ill intentions, but he has all of them, under the rug. He doesn't say it in the beginning, but they trick you to sign that paper."
In its limited way, Hot Girls Wanted does make clear that porn as an industry is still synonymous with titillation and shame, and obscured by both things as a consequence. Porn is not inherently tied to exploitative labor practices, but the idea that it is—replicated by talent agents, producers, and documentaries alike—only strengthens that tie.
Correction: This post has been updated to reflect that Real Porn Wikileaks has no affiliation with Porn Wikileaks.
Update, 3:30 p.m.: A tipster points out that Florida does indeed have a law on the books that requires talent agents to be licensed (whether it's being enforced is a separate matter). There's even a place to file complaints against unlicensed agents.
Among other things, an applicant on a talent agent license has to submit affidavits from people testifying to their "good moral character:"
The application must be accompanied by affidavits of at least five reputable persons, other than artists, who have known or have been associated with the applicant for at least 3 years, stating that the applicant is a person of good moral character or, in the case of a corporation, has a reputation for fair dealing.
That wouldn't apply to Riley Reynolds, because again, courtesy of our very helpful tipster, here's a list of his previous criminal charges , which include burglary and criminal mischief, back in 2008, when he was working in "production" at Steak and Shake. Court records show that Reynolds pled guilty to burglary of an unoccupied structure and criminal mischief over $1,000, both felonies.
---
Contact the author at anna.merlan@jezebel.com.
Public PGP key
PGP fingerprint: 67B5 5767 9D6F 652E 8EFD 76F5 3CF0 DAF2 79E5 1FB6
Image via Hot Girls Wanted/Jim Cooke