The porn industry is built on exposure. But the website Porn Wikileaks has brought a harrowing new level of transparency to Porn Valley by publishing the real names of more than 12,000 porn performers. That's just the start. Porn Wikileaks has wrecked havoc on performers' lives for months by wielding personal information like a weapon.
This week we reported that many of the real names posted on Porn Wikileaks were stolen from the patient database of the private clinic that runs STD tests for California's porn industry. The news quickly thrust the site into the spotlight, but the leak has been casting a silent shadow over the industry for months, whispered about on blogs and forums.
"Everyone knows it exists but 99% of the blogs and other forums never mention their name," said porn industry blogger Darrah Ford. "We don't want to give [Porn Wikileaks'] owner publicity."
Porn Wikileaks is not Wikileaks for the porn industry, though they'd like you to believe it. "Our goals with making the adult industry less corrupt and more open is kind of like the real wikileaks," an anonymous Porn Wikileaks administrator told us in an email. And their mission statement is plagiarized directly from the real Wikileaks' website. But Porn Wikileaks more like an online slam book, a repository of facts, gossip and lies deployed strategically to intimidate and punish anyone who crosses the awful hive of homophobic cyberstalkers that run the site.
G/O Media may get a commission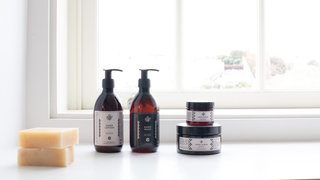 Exfoliate and Hydrate
The Handmade Soap Company
Their weapon of choice is a user-edited wiki of more than 12,000 performers, created using the stolen STD database info. Most of the entries are just one-line long, with a stage name, real name and date of birth presented via a boilerplate message: So-and-so "is a pornographic whore, and Hooker." But some entries are astonishingly complete, resembling a guide to aspiring stalkers.
Perhaps the most extensive entry belongs to porn star Monica Foster. Foster's entry contains not just details about her career, but a dossier of personal information about her and her family, including addresses and pictures of their homes taken from Google Streetview, as well as the phone numbers for their employers. ("Ivan Mayers gay sex den," reads the caption next to a picture of her father's apartment.)
Foster, who's written a book on how to break into porn, had been an occasional commenter on Porn Wikileaks' forum when she became embroiled in a scandal with baseball star Lenny Dykstra last December. Foster claimed Dykstra gave her a bad check after hiring her as an escort, and she went public with the accusation on her blog. Porn Wikileaks forum members hounded her to post a copy of the check as proof. When she refused, they turned on her, scouring the web for information and filling out her wiki to punish her. Some users changed their avatars to photoshopped pictures of her and her parents.
The harassment spilled into the real world. "They called my work, they tried to call my dad's house," Foster told us. "At this point I was paranoid and afraid that someone might show up at my apartment complex and try to hurt me."
Foster said she's contacted the FBI, but they haven't been able to do much, since the site is hosted in the Netherlands.
The identities of everyone involved in Porn Wikileaks is unknown, but it's widely considered to be the brainchild of Donald Carlos Seoane—aka Donny Long. Seone is a failed porn actor and director who was notorious for picking fights in the California porn industry. But he was shut out after he pissed too many people off and is now rumored to be living in Thailand, said talent agent Mark Spiegler.
"Nobody would hire him anymore. He tried to be a producer and nobody would deal with him," Spiegler said. Spiegler remembers one incident a few years ago: After he unknowingly added Seoane's ex-girlfriend to his roster, Seoane called him up and threatened to stuff his neighbor's mailboxes with flyers accusing him of producing child porn.
While he fumes in exile, Long is using Porn Wikileaks to take revenge on the industry that spurned him. "He's like a little kid, where if you can't get any kind of good attention you kick somebody in the shins and you get bad attention," said porn director Lee Roy Myers.
When we contacted Long, he denied that he was behind Porn Wikileaks. "I am not a part of PWL other than having an account there and having support from the owners because I was one of the only people to speak out about the gays ruining the porn industry for years," Long said.
Gays ruining the porn industry is a reoccurring theme with Porn Wikileaks. The site constantly rails against crossover stars who work in both gay and straight porn—claiming they are the biggest HIV risks—and its forums are full of homophobic slurs and ranting.
Gay porn star James Jamesson was forced to post his negative HIV test result online to counter rumors spread by Porn Wikileaks that he had the disease. Jamesson said he was worried someone might believe he was knowingly spreading HIV.
"That's dangerous if someone has the right mindset," he told us. "I can't predict what people are going to do."
In the thread deovted to Jamesson called "All out war on HIV POS James Jamesson – fag will not learn!" one user wrote:
How much nigger meatpipe up the shitter is it going to take to make this fag understand he will never be fully accepted in any society. Let them waste their time trying to get this place shut down. That is less time they are fucking someone and possibly increasing the HIV statistics.
According to an anonymous Porn Wikileaks administrator, the site is just getting started. "We are getting leaks of 2257's, model releases and id cards like crazy. We are not ready to release them yet but we think sooner or later everything will be leaked to the public."
Regardless of what you think of the porn industry, terrorizing performers with the threat of extreme privacy violation is wrong. Porn Wikileaks plays directly on fears of HIV and the vulnerability some performers have to being outed to unsuspecting families or employers. The threat of exposure acts as a powerful check on performers who might, say, speak up about an abusive employer, lest links to their parents Facebook profiles show up on Porn Wikileaks.
Previously:
Porn Star HIV Test Database Leaked
[Photo of a performer at the AVN Awards via Getty. Photo of Monica Foster via monicaf.com]