There probably isn't a single person amongst us who doesn't get the lyrics to Supermodel (You Better Work) stuck in their head on the regular. For that, we have righteous performer and gorgeous superstar RuPaul to thank. Even though it's been 20 years since the single hit the airwaves, the 53-year-old music and TV personality-plus is everywhere lately — and with good reason. The mega-success of the highly addictive RuPaul's Drag Race has skyrocketed him to celebrity fame like never before.
That's a good thing, because when it comes to human beings, RuPaul is the cat's pajamas. In his interview with Spin, he talks with his trademark humor and insight about issues ranging from love and family to the best workout jams.
Many of us can probably relate to RuPaul's relationship with his father:
I spent a lot of my career trying to get him to get on board with...validating me, right? And I worked through that, like, don't spend your time there, because he doesn't have that computer application," says RuPaul, slicing off bites of omelette. "You don't go to a Chinese restaurant and order lasagna. Go to a nice Italian restaurant! Hahaha! I remember one time my father talking about so-and-so got her a job over at the post office and they have good benefits over there, and so on and so forth and I'm like, 'Oh my god. Do you realize I've been on HOLLYWOOD SQUARES'? Helloooo! I've been on Hollywood Squares! How does that compare with the post office? Hahaha.
Right?? My dad recently asked me if I'd worked at Sizzler last year because he found my name on one of those websites that lists money you might be able to collect from past jobs. I've told my dad 50 times what I do for a living, and it is not work at Sizzler. To be fair, working at Sizzler might be a better choice than the ones I've made, but the point is OMG YOU DON'T KNOW ME AT ALL. Anyway, yes, RuPaul; we get it.
Even better, RuPaul gives the best pep talks:
It's the common thread that we all want to be recognized for who we are, we all want to be loved, and we all want to be accepted. Even the toughest, most courageous queen who's fought the biggest battles, in their own family, in the neighborhood, with mother and father, to get on that show and say to the world, 'Here I am. And I'm gonna be proud of who I am, I'm not gonna apologize for who I am.' That's why our show is so much more than men in pussycat wigs and cha-cha heels. That's what people connect with.
G/O Media may get a commission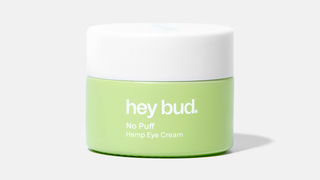 15% off
Hey Bud - No Puff Hemp Eye Cream
Yes! A good lesson to us all.
Also, he gives the best presents:
RuPaul is notorious for programming playlists for his friends, curating according to their personality and voraciously seeking out new songs that he often tweets out as "Cardio Jam"s of the day to his approximately 325,000 followers. "He's like the music concierge to the rich and famous of Los Angeles," says Randy Barbato. "You know how Amazon and Netflix see what you're buying and they know what your tastes are? Ru knows his friends' interests in an intuitive way, so he'll make us playlist and personalize it. He'll know to, like, reduce some of the Cher on my playlist. He loves soul the most, but his music taste is genuinely across the spectrum."
BEST EVER. How much money would you pay for a RuPaul mixtape? Serious question.
[Spin]