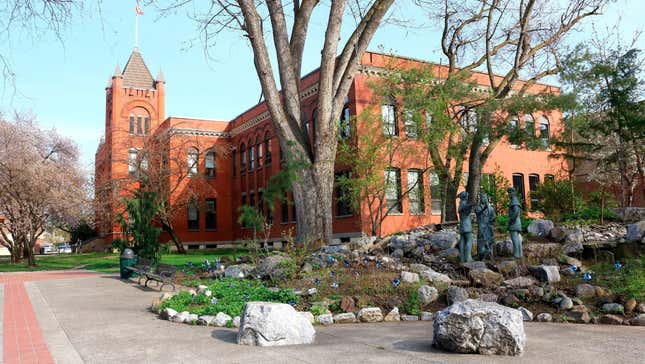 Update March 7, 2023: Lewis-Clark State College also censored art from the exhibit's curator Katrina Majkut—a cross stitch of abortion pills with a label that explained the efficacy and use statistics for the pills. A banned letter from Michelle Hartney makes for a total of six works excluded. "I did try to have some alternative stand-in, such as a curtain placed over the work or a sign that said 'Artwork has been removed in accordance with law', but that was all rejected too." Majkut told The Guardian. "Censorship of art is never OK. I see this as censorship of art, as well as suppression of academic learning."
Republicans Pull Out All the Stupid Stops While Debating Abortion
Original story from March 6, 2023, follows: 
A college in Idaho reportedly pulled artwork from an on-campus exhibit because it was about abortion, disingenuously citing a 2021 state law that bans public funding from being used to "promote" abortion in any way.
Lewis-Clark State College in Lewiston opened an exhibition titled Unconditional Care at its Center for Arts & History on Friday. According to the American Civil Liberties Union, an exhibit curator invited New York-based artist Lydia Nobles to display work from her abortion-related series titled As I Sit Waiting. Nobles writes on her site that she "collected narratives of people's experiences with abortion access or lack thereof to create a sculpture in honor of them," and she was set to display three videos and one audio recording of her interviews.
The ACLU said the curator viewed and vetted the works and was discussing installation with Nobles. But then a few days before the opening, the school informed Nobles that her work would no longer be in the exhibit because of the school's interpretation of the state No Public Funds for Abortion Act (NPFAA), passed in 2021.
When reached for comment, a spokesperson for Lewis-Clark State College told Jezebel that "After obtaining legal advice, per Idaho Code Section 18-8705, some of the proposed exhibits could not be included in the exhibition." That's the NPFAA.
The ACLU, the ACLU of Idaho, and the National Coalition Against Censorship (NCAC) sent a letter to the school on Friday condemning the move and urging the school to show the works. Scarlet Kim, a staff attorney with the ACLU Speech, Privacy, and Technology Project said in a statement, "This decision silences their voices and deprives the public of a critical opportunity to engage in a broader conversation about these important topics. It jeopardizes a bedrock First Amendment principle that the state refrain from interfering with expressive activity because it disagrees with a particular point of view."
Nobles told Jezebel in a statement that "As I Sit Waiting shares diverse experiences around reproductive rights and pregnancy. I seek to bring real life accounts to the forefront to foster empathy and listening. My work critiques the systems and structures that make talking about these everyday healthcare topics stigmatizing or unsafe. These kinds of critical conversations are especially important in learning institutions where students are formulating their worldviews based on their identities and experiences."
This isn't the first time Idaho schools have made news for their overly cautious interpretation of the NPFAA. In September, lawyers for both Boise State University and the University of Idaho cited the law when they instructed staff not to refer students for abortion or emergency contraception, while IU went further to ban referrals for birth control—including condoms.
The art exhibit news comes amid a broader crackdown on abortion-related speech. Last week, lawmakers in Texas and Iowa introduced bills that would ban internet service providers from hosting web sites that provide information about abortion pills.

We await an impassioned defense from the free speech brigade. *Taps earpiece* What's that—oh, they only care about freedom to espouse conservative views? Noted.