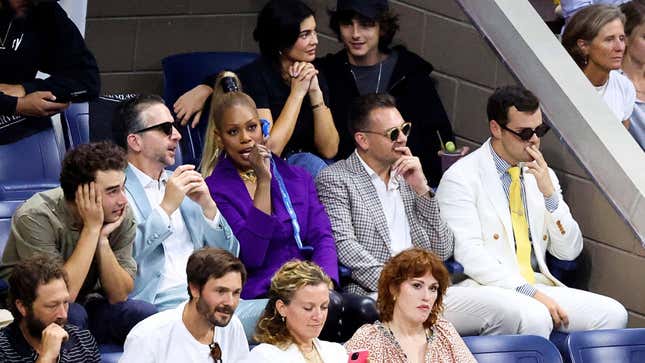 I couldn't tell you who won the men's singles event at the US Open on Sunday night (no, don't Google it for me, I don't really care) because I don't follow tennis. (I teared up while watching multiple videos of Coco Gauff running into her parents' arms immediately after her historic win on Saturday, though, so I at least know how that match turned out.) I can, however, rattle off which celebrities were at the various matches this weekend, and who sat next to who, because I do, for better or for worse, follow celebrity movements.
Cara Delevigne sat behind Mindy Kaling, who sat behind Rachel Brosnahan and Amanda Seyfried. Ziwe and Emily Ratajkowski looked terrifyingly cool sitting in front of Lea Michele (and, separately, next to Justin Theroux). And then there was the impossibly, perfectly random box featuring Kylie Jenner and Timothée Chalamet, Laverne Cox, Ebon Moss-Bachrach (The Bear's most "I could fix him" character, which is a steep competition), and Molly Ringwald.

It's time we recognize these celeb-packed seating charts for what they are: works of art. According to a 2016 ESPN article, a handful of different things contributed to their creation:

Gotham's beautiful people are cleverly distributed in a number of locations when they visit the US Open — the President's suite (extending up from the north baseline in Ashe), the Emirates, AmEx and a number of [US Tennis Association] suites.

Some of the celebrities who show up are recruited by agents of the USTA, while others appealed directly to those agents or the USTA.

The man in charge of wrangling celebrities for the tournament is Michael Fiur, executive producer of entertainment for the US Open. He heads an office with a staff of over 50 people deep in the bowels of Arthur Ashe Stadium. He works hand in hand with Jim Mannino Public Relations in New York. Together, they reach out to celebrities while fielding and vetting requests for celebrity treatment. Part of their job consists of making sure that sponsors who want to have celebrities in their suites are satisfied.

"It's a two-way street," Fiur told ESPN.com. "We need places to put people, and the suite owners often want to host famous people. It can get complicated, which is why we have a daily meeting at 3 p.m. to review where we stand with our obligations."
(According to his LinkedIn, Fiur is still in charge of the US Open's celeb circuit today, as he has been for nearly 23 years. Kudos to you, buddy. That sounds like a very fun gig; I'd also hold onto it for decades.)
Players also have their own boxes of 15 seats, which they're allowed to fill with whomever they want. Djokovic, who won on Sunday (OK fine, I looked it up), filled his box with his family, chiropractor, two physiotherapists—and Matthew McConaughey.
What I'd really like to know is what stipulations the rich and famous come with. If someone is recruited by the USTA, can they submit a rider? Does Leonardo DiCaprio get to request a seat not quite so out in the open? (He sat in Maestro Dobel Tequila's suite, along with Charlize Theron and Zach Braff, on Sunday night.) Did Michael Imperioli get a better spot now that he's on a more recent critically acclaimed TV show? Can you request a collectible cocktail glass if you have enough Instagram followers?
Finally, I'd like to note this chaotic grouping watching Gauff's match on Saturday:
Ariana "Angela Bassett did the thing" DeBose was also in the box with Cara Delevigne, Mindy Kaling, Amanda Seyfried, and Rachel Brosnahan—a real murderer's row of grown-up theater kids. I can only assume Mr. Fiur is responsible, and to him, I tip my (tasteful, tennis-appropriate) cap.