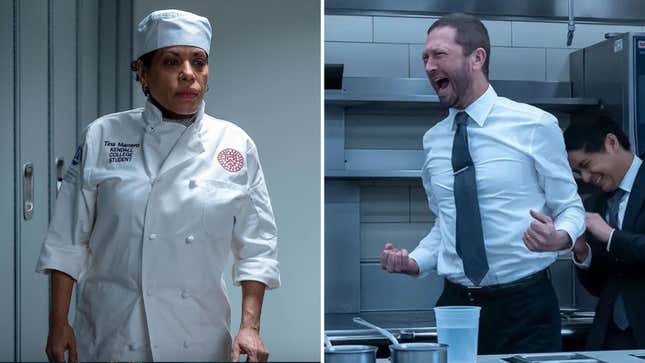 The Bear—Hulu's anxiety-inducing-yet-heartwarming dramedy about fancy restaurants and dysfunctional families in Chicago—is, to put it plainly, an absolute fucking triumph in its second season. The stakes are higher; the food is fancier; the panic attacks are worse. And if Season 1's theme was "what the fuck are we doing?" then Season 2 leans slightly more towards heartwarming with the theme "it's never too late."

Marcus is clearly going to become an award-winning pastry chef; Natalie Berzatto is finding her inner girlboss and stepping into the role of restaurant CEO (I say girlboss with the least amount of cringe imaginable); and Carmy, who's hit nearly every professional milestone, is now ~fInDiNg love~ with his childhood crush.
But there are no characters in The Bear (or any TV show in my recent memory) for whom this sentiment of "it's never too late" feel more real or (truly!) inspirational than Richie (Ebon Moss-Bachrach)—a directionless, 45-year-old divorcee whose temper tantrums account for about 70 percent of Carmy's frustrations and 80 percent of the show's most anxiety-inducing scenes—and Tina (Liza Colón-Zayas), a middle-aged cook whose chip-on-her-shoulder attitude was basically her whole character in Season 1.
Tina goes to culinary school so she can become a sous chef—and we watch her build confidence in chopping vegetables, in Carmy giving her his chef's knife for class, and in being praised for perfectly cutting a piece of fish. This confidence eventually spills over into her life outside the school: In Episode 5, "Pop," she joins her young classmates at a karaoke bar, where she blows the bar away with a gorgeous rendition of "Before the Next Teardrop Falls" by Freddy Fender in both English and Spanish. We didn't know she could sing! Her voice is beautiful! She finishes to a round of applause and tears up. I do, too!
We still haven't learned too much about Tina's backstory (unfortunately) but the glow emitting from her face—which was not there in Season 1—makes it obvious she's embarking on something she didn't think was possible for her anymore.

But it's Episode 7, titled "Forks," that has made me believe in life, love, and happiness in a way I haven't since I was 10 years old.
The episode begins with Richie begrudgingly waking up at 5:30 a.m. and arriving at Chicago's best restaurant on a gloomy morning, where he's instructed to stand in the kitchen and polish forks. Just forks, and all the forks, and despite nine hours of doing that, they're still "not cleaned properly."
"Do you think this is below you or something?" Garrett, a 30-year-old supervisor who doesn't cook, asks Richie. "Man, I think I'm 45 years old polishing forks," Richie replies.

We eventually learn—just as Marcus was sent to Copenhagen and Tina to culinary school—that Carmy's sent Richie to the restaurant for a weeklong apprenticeship. Richie is pissed and feeling slighted by Carmy until Garrett gives him a little talking to about his shitty attitude. "Every day here is the friggan' Super Bowl," he tells Richie after Richie complains about all the forks again. "You don't have to drink the Kool-Aid, Richie. I just need you to respect me, I need you to respect the staff, I need you to respect the diners, and I need you to respect yourself." And on that last note, we watch something click in Richie's brain.
Garrett's parting thought ("I need you to respect yourself") sets off Richie's goosebump-forming redemption arc, making for one of the most glorious hours of television I've ever seen. He starts to focus and pay attention and learn—and realizes he fucking loves the Kool-Aid. So when his ex-wife calls to inform him that she's engaged, he doesn't fall apart. He doubles down and throws himself into taking full advantage of this opportunity and thrives. It's the rom-com about a down-on-their-luck underdog who overcomes a difficult past and a broken heart that Hollywood's been trying to make for decades. But the rom is Richie falling...for himself <3
The "Baby, just say yes!" moment comes when he's instructed to run and pick up a deep-dish pizza after a server overhears a diner say they're bummed to be leaving Chicago without trying any. Richie watches the sous chef plate it into a gourmet masterpiece worthy of their fancy restaurant and asks if he can deliver it to the table. He's granted permission, and as the diners express disbelief over the surprise, he becomes a Richie we've never seen before: motivated, animated, happy. He drives home singing Taylor Swift's "Love Story," and I've never smiled bigger.
But it's not over! The episode is cherry-topped with Richie running into Chef Terry (played by Olivia Coleman!!!!!), who shares the story of how she started this restaurant: "My 38th birthday I was out walking all night, unemployed, angry, depressed, blaming everybody else for all the time I'd lost and the money I'd lost, all of it," when she stumbled upon a for-lease sign for the restaurant space.
"Like um, a never-too-late kinda thing," Richie says.
"Yeah, never too late to start over," Terry responds.
We now see Richie's entire life trajectory shift before our eyes. He gets this. He wants this! No one cares that he's 45—least of all him. And in Episode 8 we learn that he "wears suits" no2.
You'd think this earnestness would feel like a script that's trying too hard to offset the darkness of suicide or, well, the deep psychological trauma of every single character. But it doesn't, not even a little. Richie and Tina's breakthroughs come from patience, attention, and repetitiveness...all the things we're told make great chefs. Watching them grow into more realized versions of themselves feels like the payoff we've earned for patiently waiting through their outbursts. It's as exhilarating as the buildup to the bridge of Taylor Swift song.
The Bear wants a Michelin star; Richie and Tina's newfound purposes should get the restaurant at least two.