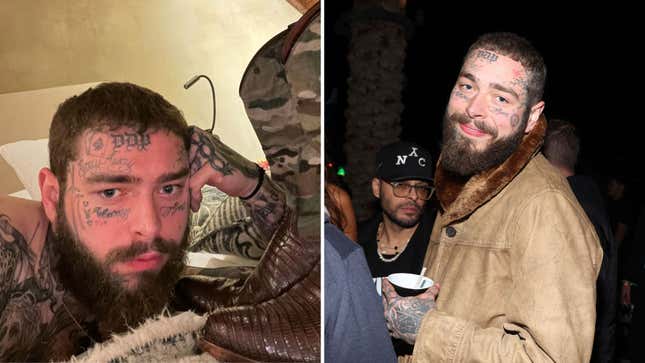 There are a lot of things about Post Malone that have got 'em sayin' "wow"— like the fact that Bad Bunny brought Posty out for a surprise acoustic performance during his Weekend One Coachella set. Or that the rapper thinks his almost 1-year-old baby daughter is "so swaggy." But to me, nothing is more "wow" than Post Malone's newfound love for being earnest on main.
On Thursday night, the rapper posted a selfie with his boots (extremely close to his face?) responding to fans' growing concern over his weight loss. If this story sounds familiar, that's because fans have grown increasingly concerned over just about every celebrity's change in weight as of late, including Ariana Grande. The body politics of being a figure in the public eye are already horrifying enough, but as a new father and rapper in the libations-heavy world of hip-hop, fans had expressed worries that Post Malone had begun doing drugs.

Of course, according to Malone, nothing could be further from the case:

"i wanted to say that i'm not doing drugs, i've had a lot of people ask me about my weight loss and i'd suppose, performance on stage. i'm having a lot of fun performing, and have never felt healthier. i guess dad life kicked in and i decided to kick soda, and start eating better so i can be around for a long time for this little angel. next up is smokes and brews, but i like to consider myself a patient man… lol!"
The man has lost weight because he's…healthy…lol! It seems that the birth of his daughter, whom he had with his fiancée in May 2022, has given the 27-year-old a new perspective on life—namely, that you can't drink soda every day! And that living an active lifestyle is good for you! And that "smokes and brews" aren't going to allow him to live a long life for his "little angel." No, I'm not crying, it's just allergies!!! Let the man continue:
"i've spent a bit in the studio lately working on new music, and am so excited to share it with you, thank you for your patience and support y'all. you make my heart beat. i just wanted to say hi, and hopefully i'll be posting more on here, my brain is in a super dope place, and i'm the happiest i've been in a long time. if you're having a hard time or need some love, i can say that you're loved more than you know, and keep fucking crushing it. goodnight nerds😤spread love and rock on"
At this point, we can say for certain that we know what Post Malone is not on. But do we know what he is on? Because if so, I would like what he's having! The vibes are immaculate, the positivity is off the charts, the gratitude is giving, and the brain is "super dope." Reddit users have pointed out that this public spewing of love is akin to "an old dad Facebook post vibe," while another noted that they "don't enjoy his music at all" but are here for the dad posts because they make Posty seem "like a wonderful fellow."

Endorphins, it appears, are contagious. I will now be meditating exclusively to the tune of Post Malone singles.