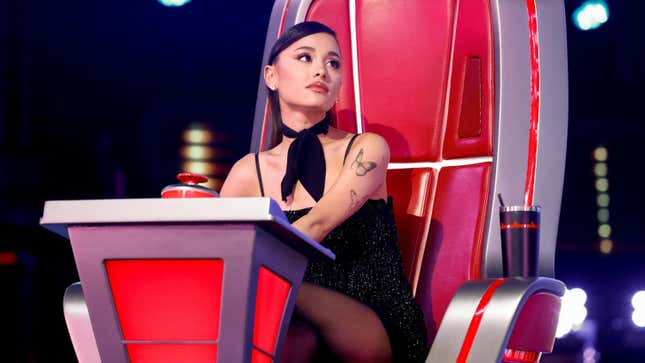 Ariana Grande will not put up with body shaming on her social media pages and wants netizens to (kindly) cut the crap.
Lucien Laviscount Dishes on Red Flags and Romantic Deal Breakers
On Tuesday, the singer posted a rare three-minute TikTok video, asking her followers to consider what someone might be going through before tossing out snap judgments about their body online for all to see.
"I don't do this often. I don't like it, and I'm not good at it," Grande began. "But I just wanted to address your concerns about my body and talk a little bit about what it means to be a person with a body and be seen and paid such close attention to."

Grande apparently felt the need to get candid with her fans after they had flooded several of her recent Instagram posts with lengthy comments about how "skinny" she appeared. One commented, "I looked exactly like Ariana now does at the least healthy point in my life. I'm so sad to see this happening," while another said "she has that Gwyneth Paltrow look, likes [sic] she's withering away."
Grande told fans that she was, in fact, "healthy," adding that she knows she never has to explain herself as someone in the public eye, but wanted to make an attempt at "openness and some sort of vulnerability."
"The body that you've been comparing my current body to was the unhealthiest version of my body. I was on a lot of antidepressants and drinking on them and eating poorly," she said. "[I was] at the lowest point of my life when I looked the way you consider my healthy, but that in fact wasn't my healthy."
Just as people should never feel empowered to comment on someone's weight gain or loss, Grande also urged people to feel "less comfortable" commenting on others' bodies, even if coming from a place of genuine concern for their health and safety.

"There are ways to compliment someone or to ignore something that you see that you don't like, that I think we should help each other work towards," she said. "So even if you are coming from a loving place and a caring place, that person probably is working on it or has a support system that they are working on it with. Be gentle with each other and with yourselves."

Grande, who is currently a judge on The Voice and filming the movie version of Broadway musical Wicked as Galinda the Good Witch, ended on a positive note, which I (if I were a celebrity) would not be a capable of. I would swing towards full petulance and blast these motherfuckers, but Ari is the Good Witch afterall.

"I think you're beautiful. No matter what you're going through. No matter what weight, no matter how you like to do your makeup these days, no matter what cosmetic procedures you've had or not or anything," she said.
---