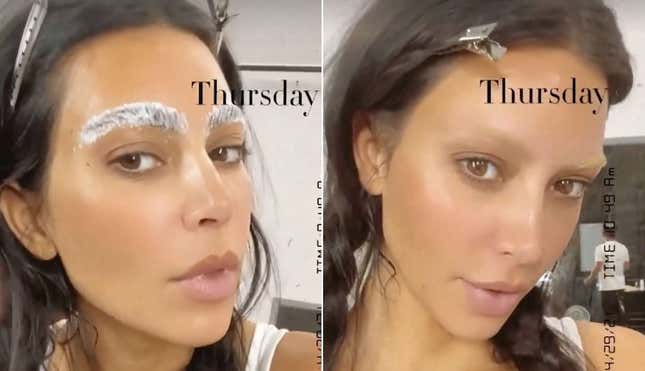 Common sense dictates that if Kim Kardashian cottons on to a fashion trend, that trend is, by default, played out. When I saw Kim and her models posing in various nude-colored garments for the most recent Skims campaign, the only thing I could focus on was her eyebrows. They were gone, erased by makeup or bleach, or both, leaving the world to contend with her forehead, her eyes, and the rest of her face.

Don't Feel Bad if You Can't Achieve the 'Clean Girl Aesthetic'
It's not that she looks bad, per se, but just different—a high-end America's Next Top Model makeover for the pretty girl who needs to look more "editorial." But if her social media is accurate, the brow situation was temporary. Other celebrities, like Lizzo and Maisie Williams, however, have made a more permanent decision, bleaching or lightening their brows to varying results. Perhaps this speaks to the newfound freedom the beauty media is selling—wearing a mask every day briefly obliterated the lipstick market, and beauty companies pivoted over the course of the pandemic's earlier days to skincare, eye makeup, and yes, eyebrows. But, as the Guardian presupposed in an article published in July, maybe bleached brows are the first post-pandemic trend.
Trends have moved away from the pomade-forward brow of the mid-2010s, as evidenced by the 2016 vs 2021 makeup challenge that proliferated on TikTok, featuring hours and hours of beauty creators doing one half of their face as if they were going to the club in 2016 and the other, as they would now. If we are to take TikTok creators' word as gospel, the brows of 2016 were blocky and entirely reliant on copious amounts of Anastasia Beverly Hills brow pomade—an eyebrow painted for the cheap seats, visible from across the street and around the corner. Glossier launched its hero product, Boy Brow, in 2015, paving the way for a new eyebrow aesthetic—bushy, full, slightly unkempt, as if you were born with the perfect brows already and did not have to craft them from the remnants of whatever was left from adhering to the thin brow trend of the '90s. Now, in 2021, eyebrows are doing whatever they want.
"In the makeup world, bleached brows are a super common request in fashion and editorial," makeup artist Jen Tioesco told Jezebel. "However I'm just starting to see this more often in everyday life and I'm definitely here for it!" Tioesco's encouragement was the push I needed, but my commitment to this bit stopped short of permanence.

The many YouTube videos I found led me to believe that I could reasonably fake a bleached brow with a lot of concealer and a little bit of gumption. Thankfully, I have both in spades, and so I began my journey to fashion by washing my face, putting on some moisturizer, and steeling myself in preparation for what would end up being an hour-long endeavor.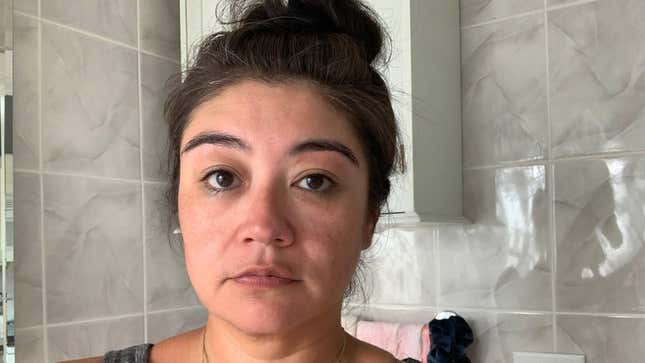 My eyebrows are dark and thick and, when untamed, resemble Eugene Levy's in both verve and texture. My process was simple: I found the lightest concealer I had, coated a spoolie with it, and dragged it repeatedly through my eyebrows, dabbing and brushing and fluffing with rigor. When the lightest shade started to blend into my skin, I made an adjustment. The tutorials I watched said to apply the colors in thin layers; some suggested a color corrector but I did not have one in my collection, nor did I feel inspired to purchase. Some 15 to 20 minutes later, and my eyebrows were not gone, but they weren't there, either.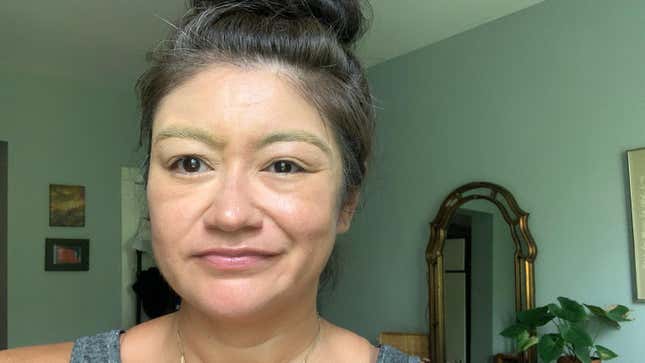 If I had used the color corrector, perhaps I would've been able to effectively erase my eyebrows completely, but again, the vibe here was low-effort. Halfway through the process, I realized that without any other makeup on my face, I looked like a musical theater student getting into old-person makeup. To really complete the look, I took some more of Tioesco's advice. "I personally believe anyone can rock anything their heart's desire," she said. "If you feel confident you are gonna look good no matter what. But the key to any makeup is knowing what works for you, so play with a few different looks that balance the bleached brow like a smokey eye, bold lip, or even some draped blush."
I lack the dexterity or the desire to attempt a smokey eye, and I could not find the lipstick I wanted to use, so I smeared as much cream blush up and around my temples as I could reasonably manage, threw some bronzer in the mix, and put on some eyeshadow and mascara, because without my eyebrows, my face was alarmingly nude.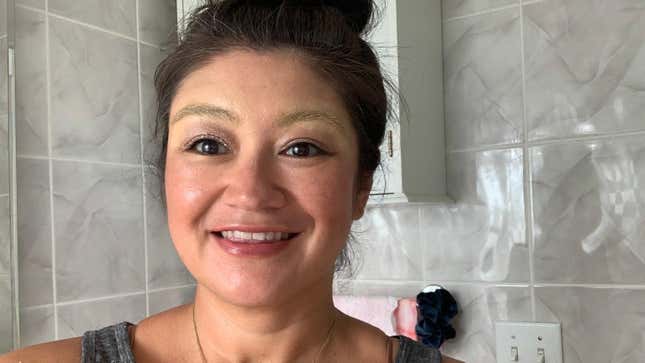 A bleached brow requires a commitment to makeup across the board, because without it, your entire face becomes a blank canvas. Eyebrows are the little shutters your eyes need; they ground the face! I don't like the way this looks on the Kim Kardashians of the world. I respect my eyebrows now more than I did before—a blessing I didn't know I needed.