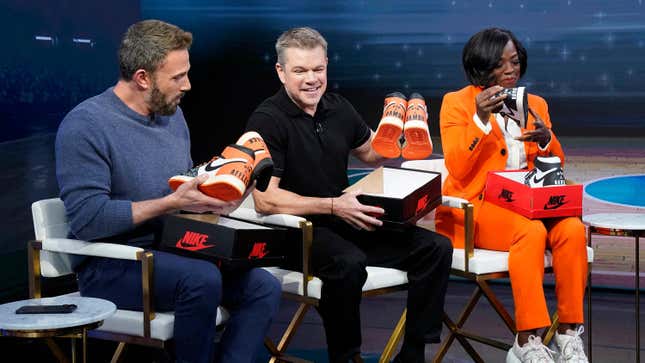 You know how Batgirl was shelved at Warner Brothers last year for nebulous red-tape corporate reasons? The spiritual opposite is happening with Ben Affleck and Matt Damon's upcoming movie, Air. Instead of a huge corporation thwarting art production to further financial incentives, Air and its production company appear to be built entirely on friendship with the goal of furthering said friendship. Even if it turns out to be as bad of a movie as it sounds, I will defend any project that facilitates buds getting to pal around a little more.

Jennifer Hudson Achieves EGOT Status, is True American Idol
"Why aren't we hanging out and spending more time together, since we managed to stay friends this whole time?" Affleck told CBS in explaining the decision to create a production company with his lifelong best bud.
The photos from the film's premier at SXSW last weekend show a couple guys having a ball. Just Damon and Affleck being silly gooses, fuckin' around, making each other laugh! For a man who looks so sleepy around his multi-hyphenate wife, Jennifer Lopez, Affleck is looking truly alive. And he said as much: "I find the most wonderful thing about it was I loved coming to work every day," Affleck gushed on CBS This Morning Tuesday. "I loved seeing Matt. First of all, he's a genius. Having him as the anchor of your movie, just makes it."
"It was just so much fun," he continued, giddy as a child. "I dunno, it kind of felt just like us and getting to do the thing that we wanted to do. I loved it. I miss it every day since. It was the best work experience of my life, without a question." I mean, this is adorable. I'm going to the theaters opening weekend not in support of this movie but of this friendship.
For those of you not closely following the roll-out of Air, which is set to premiere April 5th, let me try to explain the intricate plot: It's the story of the guy at Nike who signed the partnership deal with Michael Jordan. Mind you, there is no portrayal of Michael Jordan in the movie—instead we just see the Nike guy Sonny Vacaro (Matt Damon), his coworkers, CEO Phil Knight (Ben Affleck) and Michael Jordan's parents (Viola Davis, Julius Tennon). Chris Tucker, Marlon Wayans, and Jason Batemen also star in the film, which is the first to be released under Damon and Affleck's production company, Artists Equity.
Of course, being best friends has long been Ben and Matt's whole thing, along with being from Boston and looking like the hottest guys who still live in your hometown. But we've only now learned through this blessed press tour that the two of them actually opened a shared bank account like a married couple when they were starting off as actors. Damon explained on The Bill Simmons Podcast that they'd use money in the shared account to travel to auditions and sometimes buy beer and fund arcade nights—real best buddy stuff. I live for it.

And as a cherry on top, Davis and Tennon are a real life couple! Damon told CBS that the opportunity to cast Davis was "kinda like choosing Michael Jordan for your basketball team." This movie just sounds like a real bring-your-favorite-person-to-work type project. Everything Everywhere All At Once had the same energy. Just pals getting to pal around and tell a story they want to tell. As my favorite Vine (RIP) brilliantly posited, "What's better than this? Just guys being dudes."