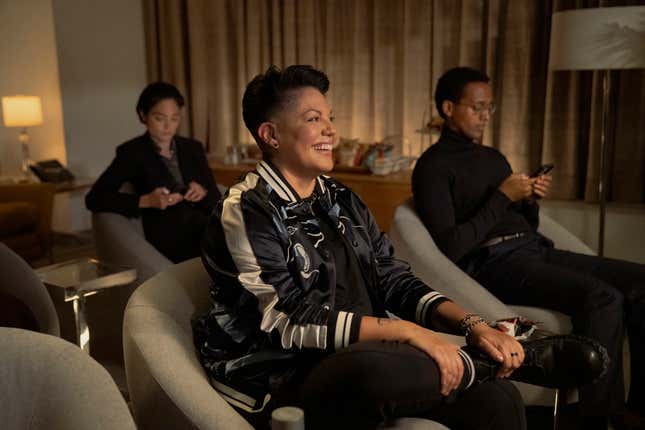 Time is bound by no logic in Carrie Bradshaw's New York City. It's accelerated. This season of And Just Like That..., just six episodes in, has already spanned from the Met Gala in May to a snowy bomb cyclone in the dead of winter. It's also collapsed in on itself when this week, Miranda found herself going through two major breakups in one evening.
In "Bomb Cyclone," the first breakup, long overdue, was with Steve, where after an explosive fight between the two of them they finally addressed their need for a divorce. The second, arguably also long overdue, was with Che. (It feels worth noting that Miranda participated in a post-breakup spoon with each person. I feel confident that she might be the first woman to have two post-breakup spoons in one evening. Breaking the glass ceiling, etc.)
The maturity of the inevitable split between Miranda and Che was as surprising as it was heartfelt. "From where we are now, this probably isn't gonna get better," they calmly tell Miranda, who agrees. Considering that earlier in the episode, Che felt that recording Cameos in bed while Miranda tried to sleep was a necessary and not insane thing to do, this was a huge step up. And this level-headed break-up added some much-needed maturity to the chaotic, two-dimensional character of Che, who at times felt like the very personification of the "woke moment" gag button they pressed in Season 1.
So is that the end of Che? Probably not. In an interview with Vanity Fair, Cynthia Nixon hinted that there'd be more of America's most controversial podcast host (sorry Joe Rogan.) "Che didn't come into the show through Miranda, right? Che is their own person," Nixon offered.
Plus, this latest episode reminded us that Che is also Carrie's friend—and in fact, it's Carrie's wisdom she gives at Widow Con that ultimately nudges Che to end things with Miranda. I found the conversations between those former coworkers much more endearing and believable than most of Che and Miranda's relationship and certainly a way for Che to remain in the show.
But where does Miranda go from here? She's headed towards divorce; she's single; she's still in the nascent stages of her mid-life queer discovery. I'd love to see her experience some of the weird one-off dates with quirky, noncommittal women and queers—a rhythm that keeps this universe fun and inviting.
Che being Miranda's first queer partner and being so intense made me grimace at times. I'm not saying that people like them don't exist, but the writing of that character in the context of the rest of the show certainly felt gratuitous. Miranda has been so broken down and full of self-doubt in this show, my hope is that this double whammy of a breakup episode for her will clear the air for more fun, less ego-shattering sex and love experiences. We're already watching Carrie get her groove back after Big's death by Peloton, and I'd love the same for our beloved, dry-humored, former corporate lawyer.