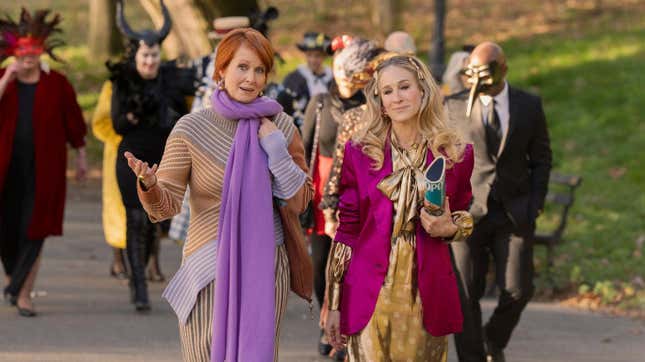 Ladies and gentle goblins, we are so back. I am happy to declare that "Trick or Treat," Episode 5 of And Just Like That...'s second season, is a smashing success. To be clear, I feel hesitant even typing that out; it's been such bumpy ride so far. But like the teeny baby raptor from Jurassic Park breaking itself out of its goopy egg, following some struggles and strife, this show has gained its footing. Life finds a way.
"Trick or Treat" has it all: great B and C plots, excellent visual gags, hot dalliances who aren't threatening to hang around longer than a single episode, and weird, fun, "B+" (as Seema describes it) sex. Aside from a prolonged dance party montage about two minutes into the episode, the pacing of the episode is very well balanced.
The biggest revival of the episode is Carrie's dating life. After stopping her stroll in the middle of the bike lane, the stupidly handsome George Campbell (Peter Hermann) swerves to not hit her on his bike. He breaks his wrist and Carrie offers to take him to a nearby urgent care that she once saw an Olsen twin go into. "That's why it stuck in my mind, you know?" she mumbles to him. As someone whose friend once saw both Olsen twins chain smoking on 14th and 1st, and who can't not think about it every time I walk through that intersection, I do in fact know!

Carrie, whose relationship with boundaries and shame has never been consistent, shows up at George's gorgeous loft with Citarella soups. After a few make out sessions, it's clear this fling is just a fling, because of George's work-wife, aka his male business partner. In a comedic final scene, she sneaks out of George's bed while he's in the other room on the computer and the business partner is on FaceTime beside her, monologuing about the stresses of his work.
Across town, Seema is hooking up with a man who utilized a penis pump. After some reflection and gratuitous shots of his hand maniacally clenching said pump, Seema decides it doesn't bother her. But when she brings out her vibrator to finish herself off, he can't return the consideration.
Quirky one-off sex-capades with men unable to see past their own bullshit is what has made the Sex and the City universe so enjoyable year after year. As I watched Seema stare down the penis pump, I found myself as excited as she probably was to call up Carrie and dish. On cue, she calls Carrie the very next day. "He had to pump up his dick," she spills. Thank you, Seema.
The episode was filled with a handful of true laugh out loud moments, too, which I especially appreciate after the grief-a-thon of Season 1. Charlotte and Harry's obsession with The Americans and the fact that no one recognized their Elizabeth and Philip Jennings Halloween couples costume was surprisingly well executed. Watching those two scoff at the under-appreciation of the show morph into Harry going undercover in his Philip Jennings wig to Rock's Ralph Lauren photoshoot was the perfectly stupid B plot that I've been craving, but it that also felt true to their characters.
Even the more serious aspects of the episode—Miranda and Che's devolving romance against the backdrop Che's devolving acting career—didn't feel too heavy. Any squabble between the two of them while Che is wearing a tie dye GEORGIA O'QUEEF shirt can't possibly cut too deep. Their ever-more obvious personality mismatch suggests we're speeding fast towards splitsville, a development sure to please the masses. In a much appreciated meta-moment, a person in the ¿Che Pasa? focus group testified that "the whole Che character was like a walking boomer joke that felt so fake." "Phony, sanitized, performative, cheesy-ass dad joke bullshit version of what the nonbinary experience is," the focus groupee explained. "It sucked." Are they reading our reviews??
With all of these parts falling into place and the missteps of the show being cheekily acknowledged in its own writing, I couldn't help but wonder if And Just Like That... is no different than buying a new pair of shoes. It just takes a bit of breaking in before being able to strut in a charmingly seductive stride.