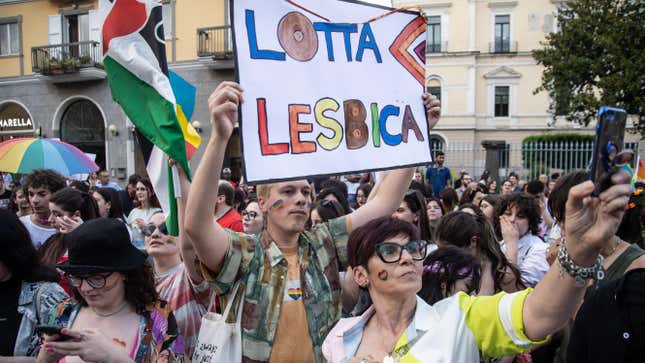 When Michela Leidi received a letter in January retroactively removing her name from her infant daughter's birth certificate, she was distraught. "I cried for 10 days when I opened the letter," Leidi told the Daily Mail on Sunday.
Leidi and her wife, Viola, are among the first lesbian couples facing removal of the non-biological parent's name from government documents—and therefore being stripped of their parental rights—by bureaucrats emboldened by a conservative reactionary government. "It was as if I did not exist," she said.
They live in Bergamo, in northern Italy, and conservatives in other Italian cities have taken similar actions: In June, a state prosecutor in Padua demanded the revocation of 33 children's birth certificates because they had two mothers. (A court will rule on the matter later this year.)
If you thought America was slow to adopt marriage equality (a reductive way to measure civil rights, but in a country with such normative values, it's still important), Italy is worse. A coalition of centrists and leftists adopted same-sex civil unions in 2016. However, not only did they not go all the way and legalize queer marriage, the coalition didn't give these new (legal!) couples adoption rights. In a dance Americans know all too well, it's led to a battle of states' rights.

Surrogacy is already illegal in Italy, but in another attempt to specifically target same-sex couples who want to become parents, the country's lower legislative body is considering making it a crime carrying prison time to go abroad to use a surrogate. Famiglie Arcobaleno (Rainbow Families) head Alessia Crocini told Reuters in March that this would be difficult to enforce as "90 percent" of Italians who use surrogates aren't gay. (While I can't prove that they're using America as a road map, this does follow Republicans' commitment to overstepping into people's medical care.)
These anti-queer legislative efforts are allowed to flourish because Italy is led by a blonde only Fox News could love: Prime Minister Giorgia Meloni, who has declared herself an enemy of "the LGBT lobby."
In Milan, the city council was told by Meloni's right-wing government in March to stop issuing birth certificates to children of same-sex couples. "The ban is one of the most concrete manifestations of the fury that the right-wing majority is unleashing against LGBTI people," Gabriele Piazzoni, secretary general of Italy's largest queer rights group Arcigay, told Reuters in March.
The point of all this is to destabilize queer folks, and make existing in public life hard for them. Whether or not you want children, people of all sexualities and genders should be worried about governments trying to regulate what families look like.