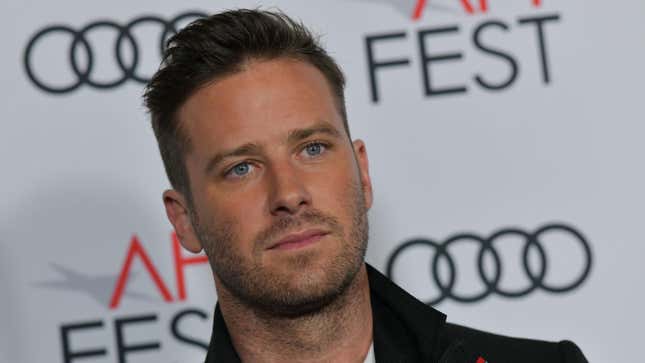 Not to copy/paste and rephrase everything that Jezebel reporter Hazel Cills already wrote this week, but can we pleeeeeeeease stop getting distracted by all of the lurid details pertaining to Armie Hammer's personal life and pay attention to his ex-girlfriend's claims of abuse?

Betsy Wolfe Reveals the 'Most Embarrassing Thing That's Ever Happened' to Her on Stage
To recap, app founder Courtney Vucekovich briefly dated the actor after he and ex-wife Elizabeth Chambers ended their marriage last summer. Vucekovich alleges that Hammer was emotionally abusive and prone to coercion and manipulation, both sexual and emotional. As she told Page Six on Thursday, she began suffering from panic attacks after they broke up because of what she'd endured and ended up checking herself into a 30-day partial hospitalization program designed to treat PTSD and trauma.
All of that's falling by the wayside in the press, however, because of some wild sexts purportedly sent by Hammer in which the sender engages in kinky talk about violence and cannibalism, which GROW UP EVERYONE would be totally fine in a clearly consensual context. And now, there are more distractions: The Daily Mail found Hammer's finsta—that is, his secret Instagram for close friends—and published some pics and videos from it in which he talks about having sex, which can be great, and how much he likes doing drugs, which also can be great.
The Daily Mail and other outlets are simply transfixed by the content of these finsta posts, as if having sex and doing drugs are not only indicative of a person's low moral character or possible criminality but also somehow worse than abuse allegations, which they're not. Forgive me for this self-righteous soapbox moment, but everyone! Please! Can you get your shit together and get back to what actually matters here? Thank you.
---
What's more shocking: that Bow Wow played a packed indoor concert in Houston while cases and hospitalizations surge throughout Texas, or that all these people risked getting covid to see Bow Wow (Bow Wow!) live in the year 2021? [Hollywood Life]
The Academy of Motion Picture Arts and Sciences will honor Tyler Perry with the Jean Hersholt Humanitarian Award at this year's Oscars. [Page Six]
"There is no sequel," said Wendi McLendon-Covey when asked about a possible second Bridesmaids movie. "For 10 years, we've been saying that there will be no sequel—and that's coming from Kristen [Wiig's] mouth." [Us Weekly]
As mentioned on Friday night's episode of RuPaul's Drag Race, the late Tandi Iman Dupree—a.k.a., the legendary queen responsible for what is inarguably the greatest entrance anywhere of all time—was one of Season 13 competitor Tamisha Iman's drag daughters! A trip down memory lane? I think we simply must...