Fans of Oprah's magazine, O, may be disappointed to learn that this month's cover, in which the celebrated queen of daytime urges her readers to face their fears, is nothing more than a photoshopped lie. Facing her own fears, apparently, is not a part of Oprah living her best life.
The Daily Mail has spent countless hours analyzing reader reactions to the news that the cover is a forgery and they've come to a rather unsettling conclusion: readers' reviews are mixed, with some upset that Oprah had a man in a lion suit (more on that in a second) stand in for an actual lion, and some saying that Oprah's safety is the only thing that matters. Those fans must be delusional, because if Oprah's telling you to face your fears, she should be facing her own, too — whether that's hugging a lion or sending me a million dollars in the mail and hoping that I do some good with it.
But Mark, you may be thinking, Oprah has already accomplished so much! Is it really that important for her to pose with a lion? Hasn't she done enough? And to you I answer, NO! It's never enough. There is always new terrain to tread upon and if Oprah really wanted to face her fears, she would have sent out the true magazine cover, the one of her cuddling a man in a lion suit.
Let's talk about that for a second, because....well there's not much of anything I can say except what.the.fuck. Here's how The Daily Mail describes what happened:
Eager to ensure the cover shoot was as realistic as possible however, Oprah roped in the help of set designer George DeLacy, who gamely suited up in a full lion costume and posed alongside her so she could get her positioning just right.
Speaking about the cover, Oprah, who has previously shared the cover of O, The Oprah Magazine, with the likes of Michelle Obama, Ellen DeGeneres and Rosie O'Donnell, joked that it was one of the most bizarre shoots she has ever done.

'I can honestly say I've never done this before,' she joked, while reclining next to Mr DeLacy.
G/O Media may get a commission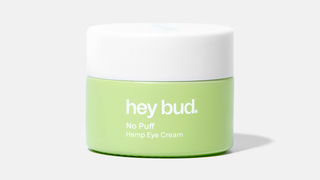 15% off
Hey Bud - No Puff Hemp Eye Cream
Done what, Oprah? Forced one of your minions to get into a silly suit for you or lied to the public? Because I'm pretty sure both of those things are fears you've conquered long ago.
What I'm most astounded by is how much Oprah was into making the photo shoot as realistic as possible without actually doing anything having to do with reality. And then selling the lie to unsuspecting people—like my partner, who pays for a subscription—who not only use the cover as inspiration but then annoy others in their lives with their goals and dreams. Yeah, I get it, Allen: You can't drive me to work anymore because your fear is going to the gym at 6 am — but can you really trust a woman who would lie about posing with a lion? She doesn't give a shit about your heart health!
The Daily Mail's article reads almost like a challenge to Oprah to actually pose with the lion, and considering that yes, it is actually about ethics in self-help journalism, agree. Pose with the lion, Oprah! Or apologize to everyone (but me personally) for inspiring our partners to be annoying.
Also: That lion looks entirely way too stoned, no?
Image via O Magazine