Hurricane season has turned into a blur of destruction, as one storm fades only to be replaced by another. In the latest round, Maria just walloped Puerto Rico, the entirety of which is now without electricity.
That's according to ABC News and confirmed by the Puerto Rico Office of Emergency Management Agency. The storm had already slammed Dominica, wreaking such havoc as taking the roof off the prime minster's house. It was a Category 4 last night when it hit the U.S. territory, population 3.4 million, which hasn't gotten a storm so strong since 1932.
"Definitely Puerto Rico—when we can get outside—we will find our island destroyed," said Puerto Rico's emergency management director, Abner Gomez, at a news conference, according to the Washington Post. "The information we have received is not encouraging. It's a system that has destroyed everything it has had in its path." NBC News spoke to Carmen Yulín Cruz, the mayor of San Juan, who was visibly emotional as she told them that, "I'm 54 years old—I've never seen devastation like this one," adding, "The PR and the San Juan that we knew yesterday is no longer there. So we have to reconstruct, rebuild, reinvent, and we have to be resilient."
"I'm just concerned that we may not get to everybody in time, and that is a great weight on my shoulders," she said.
G/O Media may get a commission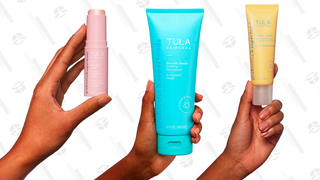 Univision News also posted video of severe flooding in the streets. "Intense flooding was reported across the territory, especially in the capital of San Juan, where many residential streets looked like rivers," according to NBC News.
The Associated Press notes that the first astronaut of Puerto Rican descent, Joe Acaba, has had to watch from his perch on the International Space Station as first his home in Houston flooded, and then the island where his parents were born was hit.

Fortunately, it looks clear after Maria—for now.