Last night on Huge — a show from the creator of My So-Called Life — Camp Victory held a weigh-in. The face of each camper stepping on the scale told a different story: Anxious, terrified, excited, nervous, pessimistic, hopeful.
Ian refused to look at his weight, explaining: "I don't want to let a number decide my whole view of myself. I I feel good." Alastair lost "a little" weight, but was sad, and sighed, "I don't know why I feel like this." Ian filled in the blanks: "Because it's so freaking hard. And you still have so much left to go."
Meanwhile, Will (Nikki Blonsky) was upset that she'd lost weight, since she'd vowed to gain while at the camp — to spite her parents (and all of Western civilization). Amber (who is not severely overweight but wants to lose so badly that she's paying for the camp herself) only lost one pound. Dr. Rand reminded her: "It's not a race." But Amber felt the need to lie to her friend Chloe and claim to have lost six pounds.
Later, Becca, sensing that Will thought she was a sellout, said, "I can't help it. I want to lose weight. Will argued: "If this were the 16th century and everyone thought that this was beautiful, and thin was ugly, would this still be what you wanted?" Becca's response: "This isn't the 16th century."
This gutsy show consistently impresses: To have one character preach body acceptance and question why a woman should change her shape to fit in with what society finds aesthetically acceptable, but also include a character who wants to lose weight, as well as a character who loses weight and can't find any joy in it? What other show is touching on this good stuff?
Earlier: Shrooms, Gender-Bending, Dumpster-Diving & Spirit Quests On Huge
Finding Humor In Swimsuits & Love Handles
Telling The Weird Kid He Smells Bad On Huge
Uterus-Control Issues On Huge
Fat-Camp Striptease & Snack Lust On Huge
G/O Media may get a commission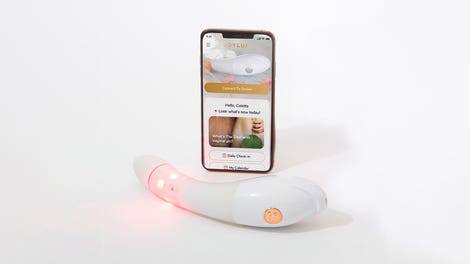 $50 Off
Joylux vFit Gold Device