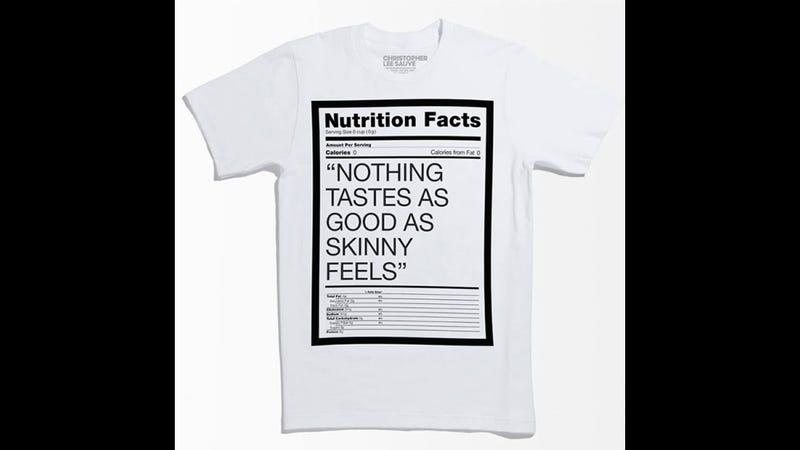 Toronto-based retailer Hudson's Bay Company — known as HBC or "The Bay" and one of the oldest corporations in North America — has pulled a "Nothing Tastes As Good As Skinny Feels" T-shirt from stores after outraged shoppers started a Twitter campaign.
As Fashionista's Alyssa Vingan points out, the saying "Nothing tastes as good as skinny feels" gained momentum when Kate Moss claimed it was her motto in a 2009 WWD interview. Since then, it's appeared on a T-shirt hawked by Perez Hilton and a needlepoint pillow sold by Jonathan Adler. Many associate it with eating-disordered and pro-anorexic thinking, and the backlash on Twitter was enough to spur HBC to pull the shirts.
The Toronto Star has the statement:
"We truly value our relationship with our customers and take their concerns seriously and we recognize that many took offense to the item… In this particular instance, while we respect the designer's art, due to the overwhelming response and the sensitivity of the matter, we made the decision to promptly remove the T-shirts from our stores and from thebay.com."
The designer behind the shirt, however, feels zero remorse:
"It felt like a witch hunt," said the New York-based designer and Vancouver native Christopher Lee Sauvé. The shirt is meant to be a mockery of the fashion industry, he said. "It's sad to me that everything has to be boiled down to a simple la-la land for Prozac nation to swallow for their Wal-Mart families."
Wow, okay. Good luck out there, guy.