Diva Supreme Mariah Carey is reportedly shooting a documentary special chronicling her Las Vegas residency, meaning she's changed her tune about reality television.

US Weekly slightly oversold this news when they reported that Mariah is filming a "reality show." Those words made my soul ache because I strongly believe that reality shows are not for everyone. Rather, the project is billed as a "docu-style series that chronicles the behind-the-scenes drama of her Las Vegas residency," which sounds very similar to projects from her peers like Jennifer Lopez, Beyoncé and Katy Perry.
The thing about Mariah Carey is that she has an actual talent and career. She doesn't need a reality show to maintain her popularity or justify her celebrity status. If reality TV stars were able to book Las Vegas shows, they would not be on reality television.

So how do I feel about this? On one hand, assuming Mariah doesn't sterilize it with editing, there's no way this will not be entertaining as hell. Mariah Carey was responsible for the single greatest episode of MTV Cribs in history. (Marilyn Monroe's $600,000 piano! A lingerie closet! Bubble baths!) She eats cakes made out of shoes. I have no doubt that she'll be a natural at being naturally unnaturally on television. This also opens up the opportunity for another catchphrase moment.
Its sounds like the docu-series will lead to behind-the-scenes footage of some of my favorite babies, Dem Babies, and I'm dying to better understand the dynamic between Mariah and her large-skulled billionaire fiancé whose name I never remember because in the context of this relationship, it really doesn't matter.
G/O Media may get a commission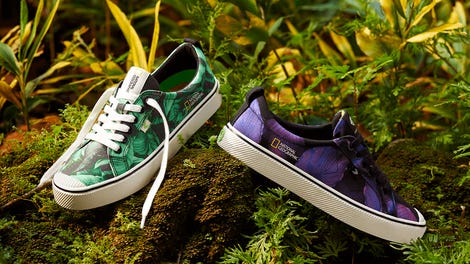 New New New
Cariuma + National Geographic
On the flip side, I'm glad that I get to experience Mariah Carey from a distance and I don't feel particularly compelled to "get to know her better," mostly because I'm not sure I could handle it. Reality TV stars tend to overshare because they've got to keep you hooked somehow. Honestly, I don't really care how Mariah Carey behaves behind the scenes because she gave the world "Honey." Further, I can't think of many celebrities with actual, non-reality television skills whose careers were greatly improved by candid access into their private lives.
On the OTHER hand, this might be the impetus Mariah needs to reignite her fake but toally real feud with Jennifer Lopez, which could result in a shade spiral so deep and powerful that it develops in a beautiful shade hurricane sweeping us all away with its majestic terror.
Ok, never mind. I am completely on board with this.
---
Contact the author at kara.brown@jezebel.com .
Image via Kevin Winter/Getty.