The title of this post should just be one of those infinite emoticon sad faces. Because this is just SO SAD .
After being sort-of ignored despite two award-winning films and a hit TV show, Kerry Washington is finally booking a bunch of ladymag covers. Some of her cover shoots have been really quite beautiful. Breathtaking, even! But the December cover of Lucky is no bueno. She looks like a White Walker frost zombie Photoshopped to within an inch of her life.
As Charlotte Cowles at The Cut puts it:
She appears to be lit from below and slightly to the right, giving her face odd shadows and creating a flattened, blown-out look. The overzealous undereye concealer doesn't help matters. And as for her hair — wind machines are great, but looking like a helicopter is about to land on your head is not.
G/O Media may get a commission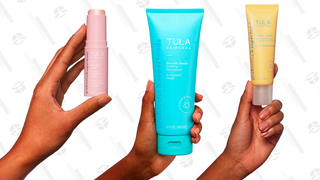 Kudos to Eva Chen, Lucky's new editor-in-chief, for putting a woman of color on the cover (again, Eva Mendes was the October model). But you signed off on this image? Yikes.