It finally happened. Nine years after starring in the Oscar-nominated Ray, seven years after her role in the Oscar-nominated The Last King of Scotland, thirteen months after becoming the first black woman to be cast in a lead role in a network drama since 1974, five months after the release of her latest Oscar-nominated movie, the blockbuster Django Unchained, and six weeks after her show topped 8 million weekly viewers, Kerry Washington has nabbed her first cover of a major women's magazine. The actress appears on the June edition of Elle.
Washington tells the magazine, "I'm the luckiest broad in Hollywood now. To be the lead actor on Scandal and to be in the highest-earning Tarantino movie — I don't get to ask for more." [SB]
---
G/O Media may get a commission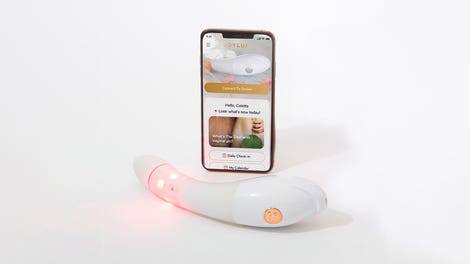 $50 Off
Joylux vFit Gold Device
Something that might have been a bag of coke or molly or ketamine or baking powder or something fell out of Cara Delevingne's purse while she was fishing for her keys the other day. [Gawker]
"A spokesperson for Delevingne's agency, Storm, could not be reached for comment Monday, a national holiday in Britain." [WWD]
---
Winona Ryder is on the new cover of Interview. [Interview]
---
New York was going to do an issue about the Met show and punk's influence on fashion, but cancelled it after the Boston marathon bombings. This is one of the covers the magazine was considering. [The Cut]
---
Grace Coddington, ladies and gentlemen. [Stop Drop and Vogue]
---
• Robin Givhan has penned a long essay (loosely) in response to the Met show. But it's more about the general state of fashion today. You will probably find it in turns provocative, on point, beside the point, wrong, right, great, oh-my-god-we've-been-saying-that-for-years, and oh-my-God-finally-someone-said-it. "I am appalled by the inability of so many designers to recognize the moral responsibility that comes with visually defining class, power, and femininity," writes Givhan. Go read it. [The Cut]
• Kim Kardashian and Kanye West were invited to dinner at Anna Wintour's home before the Met ball. [Us]
• Vogue cut off Vivienne Westwood during its Met Ball red carpet livecast. The designer whose work from the 1970s was part of the genesis of punk wore a large picture of Bradley Manning as a brooch, and wanted badly to tell the viewing public about Wikileaks and political oppression. Co-host William Norwich interrupted Westwood mid-sentence, saying they were out of time. For shame. [The Cut, Racked]
• On the red carpet last night, Mindy Kaling said, "If you subvert anything, then you're punk. So I'm going to be chubby and friendly tonight, and that's as punk as you get." [The Cut]
• But it was David Byrne who had the quote of the night. When asked if he expected any "punk" antics at the ball, he replied:
"I think it's all in the past.…The bad behavior is all downtown Wall Street these days."
[WWD]
• Topshop's custom-made Met Ball looks, worn by Jourdan Dunn and Nicole Richie, will be available for sale at the retail chain later this year. [Vogue UK]
• Gala co-host Riccardo Tisci, the Givenchy designer, says he is very punk:
"My life has been very punk. I have always had to fight for my rights. I come from a country that has very heavy religious customs. I am very Catholic and I believe in God. I grew up in a family that didn't have financial wisdom and power. I have had to fight for what I believe in to support women's rights and other aspects of society to be recognized and understood."
[WWD]
• The death toll from the collapse of the Rana Plaza factory building in Bangladesh has risen to 650. Hundreds of garment workers are still missing. Meanwhile, the International Labor Organization's report on the tragedy has called for new measures to protect worker safety in Bangladesh's burgeoning apparel industry. Bangladesh has become the world's second-largest exporter of apparel, after China, and it has one of the lowest minimum wages in the world for garment workers, $37/month. In response to the ILO's report, the Bangladeshi government says it will introduce legislation to add 200 new factory safety inspectors, and — significantly — to allow workers to officially unionize. Labor organizers in Bangladesh have been subject to intimidation and several have been murdered in recent years. The local garment manufacturers' association says it supports raising the minimum wage in line with the cost of living. [WWD]
• According to the Worker Rights Consortium, the additional cost to consumers of fast fashion if facilities in Bangladesh were upgraded to improve safety could be as little as 10 cents per garment. [Think Progress]
• Dov Charney has this to say about the tragedy in Bangladesh:
"In Bangladesh, the problem with these factories is that they're only given contracts on a seasonal or order-by-order basis," he said. "There's so much pressure to perform, some of the working conditions are outrageous, almost unbelievable. It has completely stripped the human element from the brands."

Often, he said, the American apparel behemoths contracting with factories in developing countries don't allow for delays, "even acts of God."
[LATimes]
• California congressman George Miller wrote a strongly worded editorial about the situation in Bangladesh:
The reason factory managers keep their workers in unsafe buildings on the verge of going up in flames or collapsing, is fear. Fear that the Western brands and retailers will take their orders elsewhere because of a missed day of production, late delivery or a minuscule increase in production costs. The brands know this. That's why I believe they bear the ultimate responsibility for these horrendously unsafe working conditions.

I met with one of the Tazreen fire survivors when she visited Washington last month. She described the outrageous working conditions leading up to the fire, toiling in a factory with bars on the windows and no place to run if a fire broke out. She discussed how she had badly broken her leg jumping from the 3rd floor of the burning factory. As the fire began to rise through the building, she thought only of saving her body from getting burned so her family could recognize her in case of death. A number of her coworkers also jumped with her, but many did not survive the fall.

During our meeting, it became clear that it was only a matter of time before the next Tazreen would take place. Two weeks later, Rana Plaza collapsed.
The congressman says that current factory inspection programs and other industry attempts at self-regulation are inadequate because they lack transparency and independence. Miller is calling on brands to adopt the Bangladesh Fire and Building Safety Agreement, which requires factories to be inspected by independent safety experts and permits garment workers to unionize and to refuse to work if they suspect a factory is unsafe. (Workers had alerted management to cracks in the Rana Plaza building in the days before the collapse, but they were forced to return to their jobs anyway.) PVH, which owns Tommy Hilfiger and Calvin Klein, and Tchibo have signed on to the agreement. Gap Inc. and Wal-Mart have not.
[WWD]
• British Vogue editor Alexandra Shulman is producing an educational documentary about fashion's imagery. The target audience is teenage girls and the film will explore the ways that lighting design, makeup, photography, and retouching are used to produce "perfect" images that don't reflect reality. Shulman says she wants to show "the difference between fashion and reality and how a fashion image is constructed." [Independent]
• The Senate passed the Marketplace Fairness Act, the legislation that would allow states to charge sales taxes on goods bought online from out-of-state retailers, and therefore change online shopping forever. Its fate in the House remains unclear. [WWD]
• Sara Blakley of Spanx, the world's youngest female self-made billionaire, has signed on to Bill Gates' and Warren Buffett's giving pledge, promising to donate at least half of her fortune to charity. [Forbes]
• Women's Wear Daily had Ali Lohan, the Wilhelmina new face and sister-of, in for an interview. The breathtakingly undermine-y intro almost makes us feel bad for the girl ("Lohan makes no attempt to hide her excitement over beginning to build her portfolio, frequently gushing over recent test shoots and upcoming go-sees," translation: no New York designer is booking her for anything, LOLOLOL). [WWD]
• Neiman Marcus might go public. [Bloomberg]