As the Oscars approach, a number of actors, directors, screenwriters, producers and cinematographers who aren't straight white men spoke to the New York Times about their professional experiences, giving us a clearer picture of the iceberg of Hollywood racism and sexism, of which we only see a fraction onscreen.

From America Ferrera, star of Ugly Betty and Superstore:
I was 18 and putting myself on tape for a movie I really wanted. I got that phone call: They cast a Latino male in another role in the film; they're not looking to cast [a Latina]. So I defiantly bleached my hair blond, painted my face white and made the audition tape. I never heard back. I just remember feeling so powerless. What do you do when someone says, "Your color skin is not what we're looking for"? Let me tell you: Blond does not suit me.
Wendell Pierce, star of Treme, The Wire and the upcoming HBO film Confirmation, encountered a casting executive so ignorant he didn't know when black people arrived on earth:
In 1985, I'm sitting in the casting office of a major studio. The head of casting said, "I couldn't put you in a Shakespeare movie, because they didn't have black people then." He literally said that. I told that casting director: "You ever heard of Othello? Shakespeare couldn't just make up black people. He saw them."
G/O Media may get a commission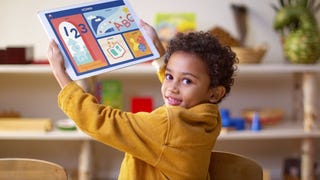 30-Day Free Trial
Homer Learn & Grow Program
Julia Roberts also weighed in, discussing the sexism that she faced while playing eco-warrior Erin Brockovich:
I remember my first meeting with the producers on "Erin Brockovich," before Steven Soderbergh came onto it, and saying, "This scene where she's shimmying down a well in a micromini? I can't do that." [They said], "But that's really what happened." And I go, "I know, but once you make it a movie, you have to re-examine, what's the function of this scene?" I didn't feel I was being fully understood. People assumed it was about my sense of modesty. And you just think, "No, you're not hearing what I'm saying." Steven and I were very in sync on how we wanted to portray her — the sexiness as well as the soul — and I didn't have to wear a micromini shimmying down a well.
The article continues with anecdotes from icons like Jimmy Smits to newcomers like Effie Brown of Project Greenlight fame and Sam Esmail, creator of the award-winning Mr. Robot. Each person details how the way they're perceived by the people with the power to greenlight films and television shows is far from the way they know themselves to be.
Check out all of the stories in full—it's an enraging and sobering read.
---
Contact the author at Hillary@jezebel.com.