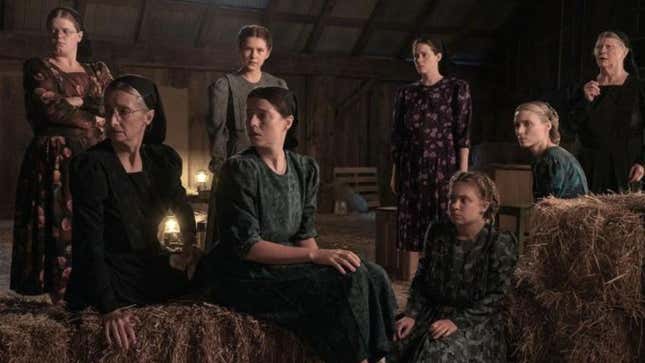 Amidst all of the inane women-centric statistics that are being flung our way during this ye Women's History Month in an effort to make us feel good about the status of Women™, I come bearing bad news. To wash out the saccharine aftertaste of corporate feminism from your mouths, here is a fun, sobering statistic: A new report from San Diego State's Center of the Study of Women in Television and Film reports that men still disproportionately have the majority of speaking roles in media today. So much for Women Talking!

The Fight For Abortion Rights has Reached New Heights
I like my men in films the same way I like them in bed: Talking as little as possible and following orders. Apparently, the entertainment industry couldn't agree less—instead giving men ample opportunities to flub celebrating women who are talking (looking at you, Mark Wahlberg!). As the Hollywood Reporter wrote, the study found that 33 percent of movies in 2022 starred women protagonists, while the rest (a whopping 67 percent) featured male protagonists. Put differently, for every three male leads out there, they've only got one female lead to match. For what it's worth, this statistic is a 17 percent increase from 2002 (the first year of this study), during which 16 percent of films were led by female protagonists. For those of you who aren't as number savvy, that's almost a one percent increase per year. In the words of the revered pop cultural icon Miley Cyrus, it's all about the climb.
The discrimination doesn't end there, either. A majority of on-screen female protagonists also tend to be younger, with women in their 20s and 30s being cast the most often (compared to men in their 30s and 40s), leaving middle-aged and older female actors with slim pickings to fight over. Their younger age also affects how women are portrayed on screen: "When female characters are relatively young, they are less likely to hold positions of great personal or professional power," the Center's founder and executive director Martha Lauzen explained. "Viola Davis and Cate Blanchett are superb actors, but they are also convincing, at least in part, because they have achieved the gravitas and life experience needed to play those roles." We may no longer love to see a millennial girlboss winning, but we still want to see them booking empowering roles well beyond their youth.
Predictably, of the already small slice of the pie that women occupy, white women have the highest number of speaking roles, making up 64.2 percent of the bunch. For women of other races and ethnicities—even with huge titles like Woman King and Everything Everywhere All At Once starring powerful women of color—their speaking roles declined in 2022. As THR writes, speaking roles comprised of "18 percent Black [women], 6.9 percent Latina [women], 8.1 percent Asian [women], 0.8 percent Middle Eastern and North African [women], 0.4 percent multiracial [women] and zero Native American [women]." …And a happy Women's History Month to you, too!
The study also found that films have been woefully lacking in gender diversity: No major characters were nonbinary or transgender, only 0.1 percent of speaking characters were transgender, and one (1!) single character was explicitly nonbinary. We'll see how film and TV diversity boards try to spin this come Pride Month.
It isn't all doom and gloom, however. If it's any consolation, women are currently dominating speaking and leading roles in horror films: 43 percent of total female protagonists starred in scary movies this year, compared to men's itty bitty four percent. I guess this makes sense. Being a woman in this country has been a nightmare as of late—we might as well profit off the downright horrific shit we go through.