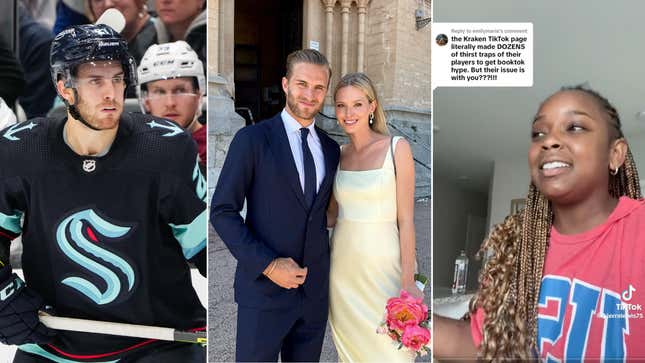 On this hot August day, as record-breaking temperatures have probably confined you to your hopefully air-conditioned homes, allow me to explain the internet to you: As of Tuesday, a popular corner of TikTok known as BookTok is presently up in flames over controversy surrounding leading BookTok influencers' uncontainable thirst for a handsome hockey player. And there are a lot of moving pieces to this one, so sit tight.

Over the last several months since BookTok-ers "face-claimed" Seattle Kraken player Alex Wennberg—AKA made him the face of fictional hockey players in romance novels—the online thirst for Wennberg has skyrocketed. Hockey romances, you see, are of particular interest on BookTok (which confuses me, personally, because NBA players exist), and it makes sense that TikTokers zeroed in on Wennberg, who looks like an AI-generated image of a 2000s YA heartthrob. One particular BookTok influencer, Kierra Lewis, blazed the trail for the Wennberg thirst with numerous viral videos that even caught the Kraken social media team's attention. The team went so far as to bring her out to games, spawning viral videos of her calling out to Wennberg to "Krak my back" in May, among other very horny chants.
Then on Friday, something shifted: Wennberg's wife, Felicia, went on Instagram and put BookTok on blast for objectifying and "sexually harassing" her husband, singling out Lewis in particular by pointing to her videos. "While I'm all for female empowerment and especially around sex, there have been videos and comments made that have crossed the line of what it means to fancy someone and when it actually sounds pretty predatory and [exploitative]," she wrote in her stories.
Felicia continued, "What doesn't sit with me is when your desires come with sexual harassment, inappropriate comments, and the fact that with the internet, we can normalize behavior that would never be ok if we flipped the genders around." Sharing screenshots of thirsty comments for Wennberg attached to Lewis' videos, she wrote, "I mean no hate on the booktook [sic] community just a little request for people to think twice about their comments/videos or chanting 'krak my back' at humans with feelings."
Of course, we don't really have to imagine "flipping the genders around," because women and certainly women athletes are catcalled and harassed all the time—typically by dudes who can kill us. But I can certainly empathize with Felicia's discomfort, especially as she says BookTokers and social media users are routinely DMing her husband and leaving threatening, harassing comments on her accounts, which is never appropriate. It's reasonable to set boundaries, and at the same time, I have to wonder if it's really feasible to police women's thirst for male public figures—a tale as old as time in a world of boybands, chiseled professional athletes, and Timothée Chalamet.
In any case, Wennberg backed his wife up: "I'm all for the booktok community to write books and fiction about hockey but the aggressive language about real life players is too much," he wrote. "It has turned into daily and weekly comments on our personal social media. This is not something we support or want our child to grow up with. All we ask is for a little respect and common sense regarding moving forward."
Fair enough! But in the days since these pleas from Felicia and Wennberg, there's been a bit of back-and-forth between Felicia and Lewis. In a TikTok addressing Felicia's comments, Lewis apologized to Felicia, but also expressed confusion about where her frustrations are coming from months after Lewis first posted her TikToks about Wennberg. She also questioned Felicia's decision to single her out and very seriously frame her as a perpetrator of sexual harassment over her joking videos, which has in turn opened Lewis, a Black woman, to significant harassment herself.
Lewis also criticized the Seattle Kraken for at first encouraging and engaging with her, following her, gifting her a custom jersey, and bringing her to games—only to unfollow her and delete its videos embracing BookTok months later. It's certainly eyebrow-raising behavior from the Kraken that raises questions about brands' pursuit of clout in the era of TikTok and the questionable relationships they forge with content creators in pursuit of this.
In the wake of Lewis' video responses, Felicia over the weekend clarified that despite how Lewis criticized her for bringing up TikToks from months ago, "she [Lewis] and her following seems to be unable to grasp that the video continued to show up in our life on a daily basis." She continued, "All I did was give context to a situation where we had enough and ask people to keep their desires and comments in private conversation versus online where we and other hockey families can see it."
It's not an unreasonable demand, and simultaneously, Lewis and other TikTokers' confusion about what is and isn't the right way to be a horny woman on the internet also seems fair. Maybe social media is just a weird, messy place, and we could all do better at remembering that we aren't just screaming and vocalizing our lust into the void.