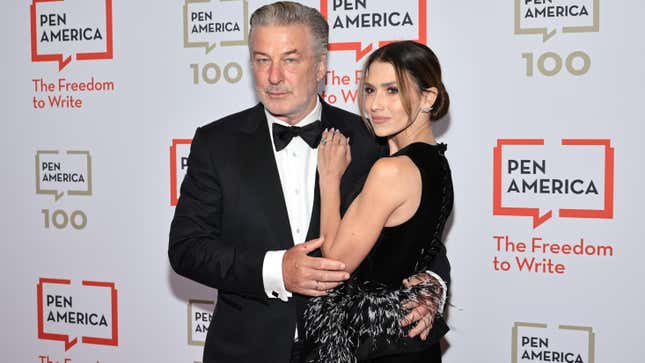 I regret to inform you that the Baldwins are at it again: This time, Hilaria Baldwin, mother of seven kids she shares with Alec, has suggested she's actually a "mommy" to eight—including her 65-year-old husband.

Is Emmy Rossum Old Enough To Play Tom Holland's Mom?
In a spread in Romper published Wednesday, Baldwin nodded to the couple's 26-year age difference in perhaps the most bizarre manner possible. The yoga instructor-turned-influencer claimed that while some have suggested she has "daddy issues" because of her age difference with Alec, "it's actually the opposite."
"Am I his mommy? Sometimes I'm his mommy. Sometimes," she said of the man who was briefly charged with shooting and killing a cinematographer on the set of Rust in 2021. Please excuse me while I vomit in my mouth. Maybe (hopefully?) this is just a bit as part of Alec's continued Saturday Night Live impression of former President Donald Trump, whose wife Melania in 2016 famously referred to him and son Barron when she said, "I have two boys at home."
This common refrain among married couples—portraying the husband as some bumbling oaf who's useless in the way of domestic duties and childrearing, as he can hardly take care of himself—is supposed to be funny and cute, I think, but it's just so tired at this point. Women are natural caretakers, the joke implies, not merely forced into this role by men who refuse to grow up. Meanwhile, boys (including 65-year-old men) will be boys! I am reminded of Chris Pratt's infamous 2021 Instagram caption paying tribute to his wife, which can be summed up with this one line: "She helps me with everything. In return, periodically, I open a jar of pickles."
The rest of Hilaria's conversation with Romper holds about as much fascination as everything else about the Baldwins, which isn't much. She talks about bathing her seven kids assembly line-style and throws out a line or two making Halyna Hutchins' death on the Rust set about her and Alec's own pain. Her very well-documented love of Spain persists. But more than any of that, what's going to stay with me for a very long time is the 39-year-old's delighted insistence that she's her wealthy, famous 65-year-old husband's "mommy." Yep, that one's going to haunt me.