In April 2016, 18-year old East Longmeadow, MA high school senior and star athlete David Becker was charged with sexually assaulting two unconscious classmates at a house party. On August 15, Becker received two years probation in what sounds like yet another case of sexual assault ending in nothing more than a slap on the wrist.

Becker's attorney, Thomas Rooke, said in a statement following the decision, "He can now look forward to a productive life without being burdened with the stigma of having to register as a sex offender." While that's quite nice for him, I'm sure his alleged victims feel otherwise.
The alleged incident occurred April 2, coming to the attention of the police a week later after rumors circulated through the high school about the assault. According to police reports, the incident occurred at a house party. After the party broke up, Becker and the alleged victims stayed to help clean up. Both alleged victims woke up to Becker assaulting them.
MassLive.com reports:
According to court documents, Becker is accused of penetrating the victims with his finger. The police report also states that one of the victims told police she had drank vodka and had to be helped up to the bedroom.

After leaving the room, she said she received a text message from Becker at 5:13 a.m., stating "sorry, its my fault." Another text Becker allegedly sent her about 2½ hours later says, "Very sorry about last night I was very much in the wrong and was an embarrassment ... I understand if I'm not your favorite person right now."

G/O Media may get a commission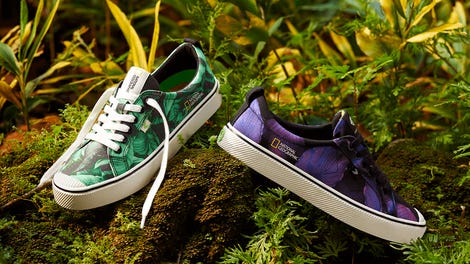 New New New
Cariuma + National Geographic
The police report also included this tidbit: "Victim 1 stated that she had heard that in the past Mr. Becker had done this to other girls and that his friends sometimes refer to him as 'David the Rapist.'"
Hampden County Assistant District Attorney Eileen M. Sears recommended two years' prison time for Becker as well as charging him with two counts of rape and one count of sexual assault. But, the terms of his probation are very light.
He must remain drug and alcohol-free, submit to an evaluation for sex offender treatment and stay away from the two 18-year old victims.

...He will not have to register as a sex offender, and no conviction will appear on his record, as long as he complies with the conditions of probation.
It's worth noting that Becker was a "three-letter sportsman in the upper academic percentage of his senior class," with many hours of community service under his belt. Surely such a promising young upstart couldn't be capable of such allegations.
Becker's attorney stressed the impact of this case on his client's young life, saying that all teenagers of Becker's age make "mistakes" and that they "shouldn't be branded for life with a felony offense and branded a sex offender."
Becker was reportedly headed to the University of Dayton in Ohio where he would be allowed to serve out the terms of his probation. According to a spokeswoman for the university contacted by MassLive, Becker will not matriculate there this fall.