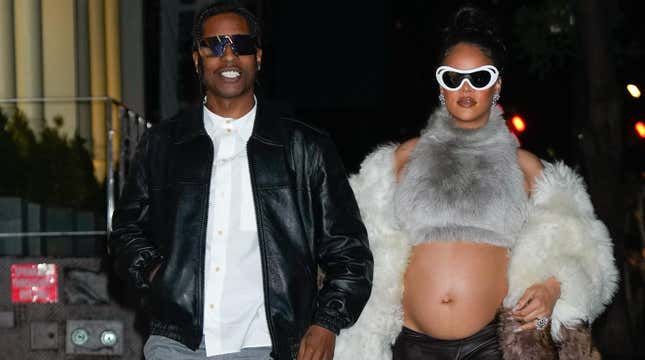 A$AP Rocky and Rihanna over the weekend did what all parents of toddlers (and soon-to-be infants) tend to do: hit the club. Seriously, though, I absolutely cherish Rihanna, belly out and about and having fun. But something other than love was being made in the club—there was a fight!

Lucien Laviscount Dishes on Red Flags and Romantic Deal Breakers
A couple of folks at the venue, where the couple were attending a promo party, got into some sort of brawl, which prompted A$AP to spring into papa bear mode. In a video circulating online, you can hear the rapper admonish the hooligans. "Act like gentlemen right now, you heard?" he says into a microphone. "I got my lady in here." Protect Rihanna at all costs!!!
With a few more expletives I'm purposefully not typing out, he continued, "Calm that shit down, man. Don't be in the section doing all that shit. Calm that shit down, y'all act like gentlemen when y'all in our presence."
Us plebes haven't been told when Rihanna is due with her second baby, though pregnant or not, it's only good manners to not scuffle in front of the queen. I think everyone can benefit from the wise words sung by Wyclef Jean, "I ain't come to fight tonight/Too many ladies up in here tonight."
---
The #Scandoval that never quits-oval (still workshopping that...): Tom Sandoval has reportedly moved on to a new girl (Karlee Hale) after moving on to a new girl (Raquel Leviss). Sandoval and Hale were spotted out at dinner together in Austin, Texas, which is a risky thing to do when you're the most wanted man in America.
But according to a rep for the Vanderpump villain, the two are just friends, TMZ reports. Friends? Eating dinner together? Seems unlikely...
---