As various guests arrive in Paris for what's shaping up to be the wedding of the century, it's becoming pretty clear that there are bound to be some very awkward encounters at Kim and Kanye's reception. Between the bitter exes, opposing litigants in multimillion-dollar civil trials and professional rivals in attendance, Kimye's seating chart was a bitch to arrange.
Doing a seating chart for any wedding is a hellish, miserable time-consuming, unrewarding experience. But it's so much worse to arrange a 200-person dinner where there's more beef between the guests than on the plates.
We went with three banquet tables, because they're fancy and not so communal, keeping "problem" guests out of sight—and out of the restroom route—of people who'd rather not bump into them. We've identified some of those "problem" guests below.
Rachel Roy
Rachel Roy's history with the Knowles-Carter family has already sullied one formal event this month, so she probably should be placed far away from the couple. As far away as possible.
G/O Media may get a commission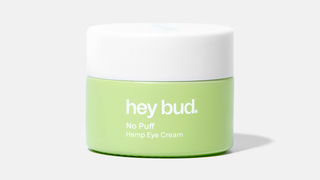 15% off
Hey Bud - No Puff Hemp Eye Cream
You see, Roy was an intern at Rocawear, the clothing label founded by Jay Z and his former business partner and friend Damon Dash in 1999, where she met both men. Later that year she gave birth to Dash's daughter Ava, but the couple broke up when Dash began a relationship with Aaliyah in 2000, to whom he was engaged when her life was tragically cut short in a 2001 plane crash.
Jay Z dated Aaliyah briefly in 1999, just before he met Beyoncé. Apparently it was typical for he and Dash to date the same women, which has added fuel to the rumor that Jay and Roy were also an item at one point in time. Roy and Dash eventually got back together, married in 2005 (the same year she launched her eponymous fashion line) and had another daughter in 2008 before divorcing in 2009.
In 2012, Roy was good friends with Beyoncé's sister Solange, but that relationship ended abruptly and quietly that year. All three women had words at the 2014 Met Gala after-party, an exchange that reportedly sparked the now infamous elevator fight. The day after the fight, Beyoncé posted a few photos of herself wearing an Aaliyah sweatshirt (which many fans thought was a jab at Roy) before posting a prayer about troubled relationships. After her argument with the Knowles sisters became public knowledge, Roy tweeted a Jay Z song title to promote her clothing line, which many interpreted as shade.
This drama is not only fresh, it also has a 15-year history, so there should be enough cold shoulders to chill the raw bar at the cocktail hour. Tensions might even be so high that Beyoncé will just stay home. Apparently, her RSVP is still "maybe."
Irving Azoff
Irving Azoff is the husband of Shelli Azoff, Kris Jenner's BFF of 30 years. The Azoffs' daughter Allison Statter is Kim's lifelong BFF, too. (The Azoff's mansion has been seen on Keeping Up With the Kardashians as it served as the venue for both Khloe Kardashian's wedding to Lamar Odom and Kim Kardashian's baby shower.)
Irving is the former CEO of Ticketmaster and Live Nation (a partner of Jay Z's Roc Nation) and he's also a really successful manager to huge acts like Christina Aguilera, Chelsea Handler, the Eagles and for a time, Kanye West. But West and Irving apparently had a huge falling out in 2012 when "things officially came to a head."
The Azofff's are the type of close family friends that would normally get head-table treatment at a wedding. But Irving's soured business relationship could make that sort of cringe-y.
Joe Francis
As the founder of Girls Gone Wild and the herpes of mid-level red carpet events, Joe Francis has rubbed a lot of people the wrong way—some of whom are Kimye's wedding guests.
Robert Shapiro is the Kardashians' lawyer and longtime family friend (having worked with their late father Robert Kardashian). He also represents Steve Wynn (of Las Vegas' Wynn resorts and casinos) in civil matters—like Wynn's ongoing, six-year legal battle with Francis. Just two weeks ago, the Nevada Supreme Court upheld Wynn's $7.5 million defamation judgment against Francis.
Even though Kim's step-brother Brody Jenner is not attending the wedding, the bad blood between he and Francis could spill over to Brody's brothers, who probably have his back. The two had a notorious feud that turned into a violent club brawl in 2009.
John Legend, a star act on Kanye West's G.O.O.D. Music label, is also sure to be at the wedding, along with his wife Chrissy Teigen. She thinks Francis is a douche.
French Montana
French Montana is Khloe Kardashian's new boyfriend, and while it was initially reported that he was not welcome at the event, it seems like the Kardashians have since embraced him.
You see, the rapper was dating Trina for a little over a year and the two were living together in New Jersey when suddenly it was being reported that he was actually two-timing her with Kim's sister Khloe. Trina is pissed. Kim and Trina have been close girlfriends for years. Trina was always around for Kim's big life moments like her birthdays and other weddings. This one could get really dicey.
Poor LaLa Anthony—she's the Switzerland of Kim's friends. She's tight with Trina and Rachel Roy and Kelly Rowland who, of course, is tight with Beyoncé.
Mos Def
Mos Def (aka Yasiin Bey) has been poking at Jay Z for like 15 years, at least. He doesn't like that Jay Z considers himself "the greatest rapper alive" and he hated Hov's involvement with the Barclay's Center so much that he wrote a poem about it. But his beef with Jay has mostly been an amazing display of passive aggression, so it should probably all be fine.
Carine Roitfeld
Franca Sozzani, editor-in-chief of Vogue Italia, has made some digs at former editor-in-chief of Vogue Paris, Carine Roitfeld, over the years ("If you feel that to be the editor of Vogue you have to be a celebrity, something is wrong in your life"). However, these two see each other at plenty of events all year long, so they've probably mastered the art of fake hellos. The real fireworks, however, should happen between Roitfeld and her successor at Vogue Emmanuelle Alt. The former friends have not been on speaking terms with each other, but have been happy to talk shit on each other to the press.
Image by Sam Woolley.