Three years ago, before Donald Trump announced his apocalyptic, finally real run for president, reality TV producers were planning a big rollout of their own: Trump Town Girls, a series pitting beautiful, leggy contestants in Trump's beauty pageants against the hardened real estate brokers of Trump International Realty.
But Trump Town Girls, which our sources say was designed as a vehicle for Trump's daughter Ivanka to gain some TV exposure of her own, never aired. The Trump family pulled the plug due to concerns that the cast was too small and not interesting enough. Jezebel has exclusively obtained some clips of the show's pilot, as well as pitch materials used to promote it, both of which provide an interesting insight into Trump's practice of hiring his favorite pageant queens to come work for him. It also looks like a very bad show.
TTG was in development for E! by a company called Stick Figure Productions, which at the time was owned by Ora TV, a digital TV network and production company funded by Mexican billionaire Carlos Slim. They were developing the show in cooperation with Trump Productions, the Trump empire's TV and entertainment arm. (Any mention of the show's existence has been efficiently scrubbed from the internet: neither Ora nor Stick Figure mentions it on their website, and a clip of Trump Town Girls that had been online for two years was removed from Vimeo over a copyright claim sometime in the last week, shortly after we received a tip about the show's existence and viewed the clip. The claim was brought by Ora TV and Trump Productions.)
The show was to be centered around the small army of beauty pageant contestants that "Mr. Trump," as they all refer to him, plucked right from the stage and put to work at Trump International. The concept of the show was that teams of two women competed for commissions, doing, as promo materials put it, "whatever it takes to win the week's payday," which "could mean anything from a chartered plane to Monaco to a seven figure commission."
The premise of the show, then, if we could put it even more bluntly, is whether hot ladies recruited by Trump are up to the task of doing real work. (Early promo materials for the show also showcased two older, experienced brokers, one man and one woman, who soon disappeared.) And given that Trump is alleged to have pawed at a Celebrity Apprentice contestant who approached him about a job, and that nine other women so far have accused him of sexual harassment or abuse, it's hard not to view the show, in hindsight, with goggles of extreme ickiness. It feels like we're watching how Trump's misogyny and alleged lecherousness played out in practice, at the office. Trump is listed as an executive producer on the show; so is Trump Organization attorney Michael Cohen, who famously said it's legally impossible to rape your wife and who once bragged about ruining the life of a Miss USA contestant who quit the pageant, claiming it was rigged.
G/O Media may get a commission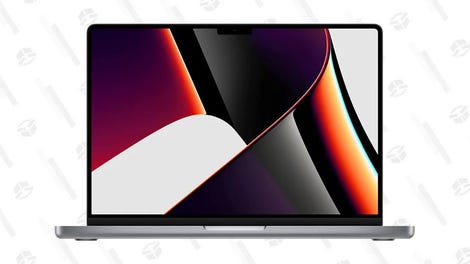 Save $300
2021 14" 1TB MacBook Pro
The show features some of the women who had much more favorable experiences with the Trump Organization: instead of being allegedly groped or legally hounded into financial ruin, they got offered jobs.
"One minute I have the crown on my head and then the next minute I'm in Mr. Trump's office," Amber Collins, Miss New York 2011, tells the camera in one scene. "He was like, 'What are you doing now, Miss New York?' And I said, 'Well, I'm teaching. He was like, 'Listen have you ever thought about real estate? You'll make a hell of a lot more money than you will teaching.'"
(According to Collins's LinkedIn profile, she worked at Trump International for three years between 2011 and 2014 before moving to Florida and becoming a teacher again.)
In light of allegations from former pageant contestants that Trump had a habit of ogling both teenage and adult women while they were changing, it's also certainly interesting to learn that the pageants also served as an employment agency for Trump International. But while he was an executive producer, Donald himself wasn't meant to be a central character in Trump Town Girls: a source close to the production tells us the real aim was to make his comparatively human-seeming daughter Ivanka into a reality star. (That too is interesting, given her recent higher profile on the campaign.)
"She's surprisingly beautiful and smart," the source tell us. (Two people connected to the production spoke to Jezebel on conditions of anonymity to protect their professional relationships.) "It's a little bit of, 'Wow, that woman comes from him?'"
At the time, Ivanka was highly sought-after, the source adds. "She was a very hot commodity with networks. Everybody wanted to do a show with her, an aspirational Trump show featuring her."
Meanwhile, both the production company and E! were trying to figure out how to minimize Donald's facetime: "Trump, even back then, we were not sure how much he was going to be involved, or we wanted him involved, or the network wanted him involved." (Trump was, of course, by then, already a reality TV star: The Apprentice had already been airing for seven years, and the Celebrity Apprentice for three. He'd had a few failures too: a previous proposed show pledging to reform party girls, Lady or a Tramp, fell through.)
Not all the brokers at Trump International were former Miss Universes or Miss USAs; some were former pharmaceutical reps, bankers, or women who had worked in the hospitality industry. The show clips we saw depict them as intensely competitive and catty with one another, aware that working for Trump International means being replaced at any time with someone hotter. In one scene, the brokers watch a woman in a bandage dress slink out of Trump's office following a job interview.

"That's some dress," one comments.
"Nice ass shot," another remarks, as they pull up her Instagram feed and scroll through it. If they ever looked up her LinkedIn to see where she went to school, or are checking on her real estate brokers' license, we don't get to see that part.
"I'm just as pretty as the pageant girls," a non-pageant broker named Michelle Griffith tells the camera in another scene, smiling tightly. "I don't need the crown, I just need the commission."
The promo materials also largely focused on the pageant girls, who are openly set up to use their hotness to sell properties while dodging the mean wives and girlfriends of their male clientele:
The pageant girls hate their reputation. They are not just pretty faces, they have the brains too. But being beautiful has its advantages — and disadvantages. The male clients love them, but their wives and girlfriends are not their biggest fans. If they are in a negotiation with another broker, the broker assumes they're dumb just because they've won a few beauty pageants.

Then of course there is the jealousy of the long term brokers, the older men and women who worked their way up in the ranks, who fought to get an interview with the Trumps, and the other gorgeous women at the firm who refuse to use their looks to their advantage and and find flirting for the job to be appalling.
There's lots of talk about how good the "girls" are at "selling themselves"—wink wink:
The real estate business is a whole new world for the pageant girls. They are truly thrown into a sink or swim environment. These are girls who were previously teachers or are fresh out of grad school or fresh off the farm... However these girls have experience selling themselves and competing for what they want. They fought hard to win their titles and they are prepared to fight to get their commissions. Just like with the pageants, the girls will use every advantage they have to get to the top.

But, not every pageant girl succeeds. In fact, more have failed than succeeded. There is a constant revolving door of pageant girls, with an always present looming threat of being replaced. If they don't make sales, they'll be red, regardless of where they ranked in the Miss Universe pageant.
"I have a lot of experience selling myself," Collins says to the camera with a laugh.
In one segment, a pageant queen team competes with a team of non-pageant brokers to show listings to NFL quarterback Mark Sanchez. As if to emphasize the flirting aspect of the operation, Collins shows him the walk-in closet, then adds, "I'm not sure that'll be big enough for you, because you're a big boy."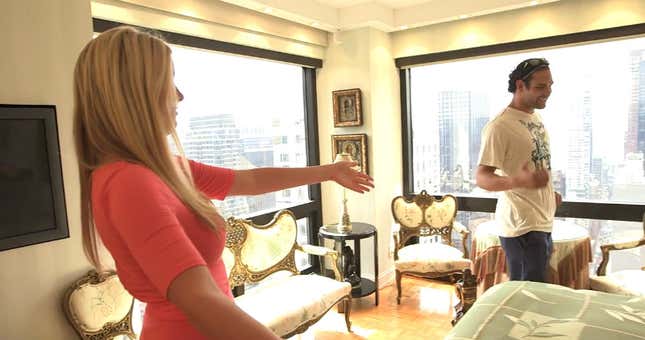 "I don't consider it flirting, really," she adds, in another confessional interview. "It's like Southern hospitality."
Like most reality shows, this is probably not exactly how she or anyone else on the show talked when the cameras were off. One of our sources tell us the show was "about 50/50" totally scripted versus "what was going on." As with many reality shows, they add, "It was definitely our job to bring out the drama."
Sometimes, situations were entirely staged, with results that are amusing in retrospect. In one clip, media columnist Michael Wolff, who's written repeatedly about the 2016 election and this site's former sister blog, can be seen touring an apartment with his girlfriend. Wolff's daughter, Elizabeth, explained in an email to Jezebel that he was a plant, not a real shopper.

I'm a producer/director and I was hired by Stick Figure Productions back in 2013 to make a pitch tape for a unscripted series about Trump Int'l Realty. We needed to shoot a sample scene with a difficult client and I thought: who better? So my dad and his girlfriend toured two properties at Trump Park Avenue for an hour purely as a favor to me. I remember they enjoyed getting a glimpse into my production life and insulting the chintzy renovations and critiquing the apartments, which of course they never seriously considered buying.
The show also hits heavily and repeatedly on the notion that Trump's hot pageant queen brokers could be fired at any moment for not doing their work. Michelle Griffith, the non-pageant queen broker who's clearly set up as the low-key villain of the series, tells a story with obvious relish about a pageant girl who didn't make it: "She's now a hostess at Serafina." Trump went from the man who coined the catchphrase "You're fired!" to bragging about his bona fides as an incredible job creator; Trump Town Girls seems to lend more credence to the idea that the old version of Trump is more believable than the new.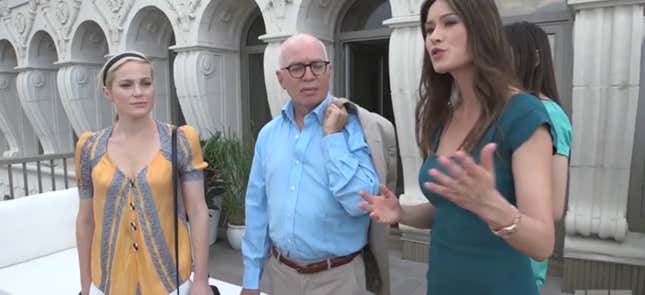 Production on Trump Town Girls was scrapped because the Trumps pulled out, a source close to the production tells us. "They felt like their team was too small and they didn't have enough characters who were interesting enough to follow."

Three years later, shortly before Trump announced his run for president, Stick Figure and Ora TV started developing a show about Miss Universe contestants, also planned for E!, our sources tell us. (The Trumps, one person says, "felt bad for screwing us over" on Trump Town Girls and offered them very good access to the pageant.)
But that, too, was not to be. Donald Trump killed that one with his inflammatory comments about Mexican immigrants being "criminals" and "rapists." Infuriated, the aforementioned Carlos Slim pulled the plug on the production and any future collaborations with Trump.
Now, the people who worked on those two reality shows feel that they dodged a public relations bullet.
"We were definitely proud of our association with the Trumps," one says. "And now I'm like, 'Oh my god, I told way too many people about this.'"
It's a shame that the world was deprived of an entire television show about how Donald Trump treats his female employees. If you appeared on the show and would like to chat more about it, do send us an email. We've reached out to the Trump Organization for comment and will update if we hear back.