Here's a peak at the pilot for ABC's Super Fun Night, which finds Rebel Wilson with her two best friends (who she presumably lives with), spending every Friday at home drinking orangey-pink drinks. But then when her new super hot colleague/boss invites her to drinks, they decide to SHAKE THINGS UP (literally, see below).
"It's the anti–Sex and the City," Wilson said at the ABC Upfronts. "When these ladies eat at night, they're not talking about dick." ABC also released the trailers for Killer Women and Trophy Wife, two other shows created by women.
The Super Fun Night trailer includes plenty of Rebel doing some great dancing, as she is wont to do, getting a little naked, and brawling with Keegan-Michael Key from Key and Peele, who plays a bouncer of a club they go to.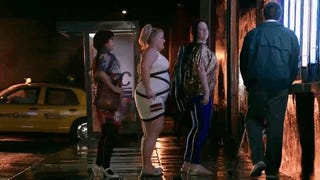 We know what night you're staying in this fall: Wednesdays. Or you won't stay in that night but you'll go out to drinks with your co-workers and then come home slightly trashed having not eaten and hope the show is available online so you can veg out alone in your bed with your laptop covered in Trader Joe's Roasted Gorgonzola Cracker dust.
Either way: