When Halloween falls on a weekday as ungracious and rude as a Tuesday, all you really want to do is eat candy corn and fun-sized Snickers in your cubicle and go home. Chances are someone at work will show up in cat ears or dressed like Shrek, and you'll have to go to a costume contest at lunch, where someone will hand you a hee-larious Trump mask and you'll be forced to pose for a group pic for HR.
The above scenario is a nightmare, but it's a nightmare that the hosts of your favorite daytime television shows will also endure, but on a much larger scale. Let's take a look at how that worked out this year.
---
Today
Nothing will erase the horror that was the cast of Today dressing up like Peanuts, but this year, we have a new nightmare—Megyn Kelly dressed as Shania Twain.
Looks like the theme for this year's group costume was "country musicians." This is fine, but I wish Megyn Kelly would stop.
G/O Media may get a commission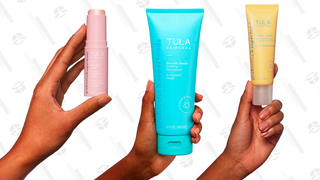 Carson Daly as Billy Ray Cyrus
Matt Lauer as Dolly Parton (why?)
Savanna Guthrie as Kenny Rogers
Hoda Kotb as Blake Shelton
Al Roker as Willie Nelson
Kathie Lee Gifford as Miley Cyrus
Here are two cursed images from this spectacle that I present without comment.
---
Good Morning America
I have not watched Good Morning America in perhaps decades, as I am fiercely brand loyal to Today, so all of these people dressed as superheroes are relative strangers. Please enjoy the eight minute-long video of the hosts and then enjoy the list of their costumes below.
Robin Roberts as Wonder Woman
Amy Robach as Spider-Man
Lara Spencer as "Black Widow" from The Avengers
Ginger Zee as Baby Groot (god!)
George Stephanopoulous as Clark Kent
Michael Strahan as Thor
---
The Talk
Wow, this looks so fun. I can't believe it's happening for a third year in a row. Wow!
Julie Chen as Cyndi Lauper
Sara Gilbert as Ozzy Osbourne
Sharon Osbourne as Julie Andrews as Mary Poppins
Sheryl Underwood as Prince
Guest co-host Carrie An Inaba as Lady Gaga, complete with a "mid-routine costume change."
Well, isn't this something.
---
Ellen
I do not care for Ellen's insistence on dressing up every year as Karla Kardashian, but Ellen doesn't hear me, so I'll have to suffer in silence.
Ellen as Karla Kardashian
---
The View
Look at this spectacular Once Upon a Time cross-promo from the cast of what used to be my favorite daytime talk show when Lisa Ling was on it, approximately nine hundred years ago.
Sunny Hostin as "Jadis the White Witch"
Joy Behar as Pinnochio
Paula Farris as Waldo, as in Where's Waldo
Sarah Haines as the Hungry, Hungry Caterpillar
Meghan McCain as Little Red Riding Hood
Whoopi Goldberg as Mother Goose
Two things: where did they put the horse after Meghan McCain rode it into a television studio?
And: I love this.
The Real
Oh my goodness, I really love this. Creativity! Fun! No one looks too scary!
Adrienne Bailon Haughton as Cardi B
Loni Love as Beyoncé
Jeannie Mai as Lil' Kim
Tamera Mowry-Housely as Nicki Minaj
Live with Kelly and Ryan
I'm so sorry to have to bring you this, but I forgot the show existed until an image of the Property Brothers both dressed as Wonder Woman flew across my screen. It looks like maybe no one is watching Live with Kelly and Ryan because the amount of Halloween 2017 content they've pumped out is truly appalling. Because today is a day for ghouls and goblins and ghosties and fun-size Snickers, I will share it all with you, here, now.
Ryan Seacrest dressed like Kelly Ripa and Kelly Ripa dressed like Ryan Seacrest.
Wow, I hate this!
No. No! no thanks. Please. Madam! No.
We will update this post as more costumes are revealed.