Tonight on the steps of the Metropolitan Museum of Art, a gaggle of assorted celebrities, fashion people, and Anna Wintour will gather for the photographers and one meme correspondent for the 2021 Met Gala—part of the tentative return to normalcy after a year and a half since the pandemic began. Though the gala is traditionally held on the first Monday in May, the timing worked out this year so that what some call fashion's prom is at the tail end of New York Fashion Week. Maybe that's why this year's theme that accompanies the exhibit, "In America: An Anthology of Fashion" is, curiously, "American Independence." As is customary, the theme will be generously interpreted by the attendees of the ball and explored in a more considered fashion in the accompanying exhibit, which will run through September 22, 2022. And as tradition dictates, the famous people invited to this remarkable event will be all over the place with what they choose to wear, in contrast to the curators' best efforts at creating a space for a thoughtful or even actual conversation about what any of this horseshit actually means.

Though the exhibit itself is not yet open to the public, the photos trickling out from the press previews show a wide range of aesthetic choices and designs, all created by American designers. According to Vogue, curator Andrew Bolton tackled this year's theme with the question of what it means to be an American, expanding the definition to be as inclusive as possible, while acknowledging that this year's theme is necessarily political. "It tackles this notion of acceptance and belonging, which recent events have brought to the fore," he said. Perhaps this is a corrective against Anna Wintour's historical lack of inclusivity in this event. Or maybe it's a chance for everyone involved to really stretch their legs and really think critically about what American fashion really is.
Dressing for American independence could very easily slip into jingoistic patriot cosplay, resulting in a red carpet full of famous people dressed in their best Florida Georgia Line couture, but it doesn't have to be this way. It would behoove anyone with half a brain and a good stylist to interpret the prompt by thinking beyond the constraints of jeans and a Donna Karan wrap dress.
American fashion is an empty phrase because American culture is essentially the mixing pot you were taught about in sixth grade social studies; if you design clothing and are an American, the clothing you make is, by definition, American. But the interpretation of what that means is often literal enough to feel like a joke. Ralph Lauren's entire shtick is predicated on a mythologized ideal of WASP aesthetics, from his Mountain West fantasia replete with turquoise, leather, and denim to the yacht club blazers worn by the Olympic athletes for the opening ceremonies since time immemorial. But real American fashion is much more interesting than all that, and much more indebted to immigrant culture and their sartorial interpretations of the American dream.
Telfar Clemens's vision of affordable, attainable luxury, or Dapper Dan's bootleg Gucci couture are just as American as Halston's jersey gowns, because they inhabit the immigrant ethos of making do. Will anyone be daring enough to walk the red carpet in Canal Street's finest, carrying a knockoff Louis bag and Pleasers? Probably not, but I could be wrong. The time to see what the famous people have decided to do is nigh. Prayers up that Katy Perry did not choose to dress as a literal firework, but with the way this year's gone, I wouldn't be surprised.
If you'd like to follow this deranged circus via a livestream, please, join me in this literal torture. It is hosted by Ilana Glazer and Keke Palmer. And before we begin this particular beguine, here's a little something for you, too.
Ok, gal!
Moving right along, shall we? Here's gymanst Nia Dennis, accompanied by what appears to be a drum line, doing a little leap.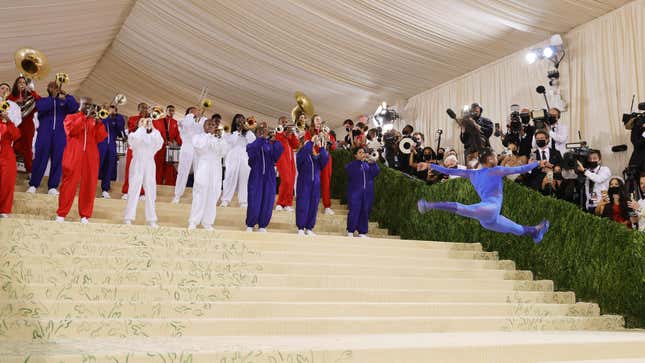 Love that for her and her very flexible hammies! Moving right along, some famous and famous-adjacent individuals are here and ready to do this damn thing.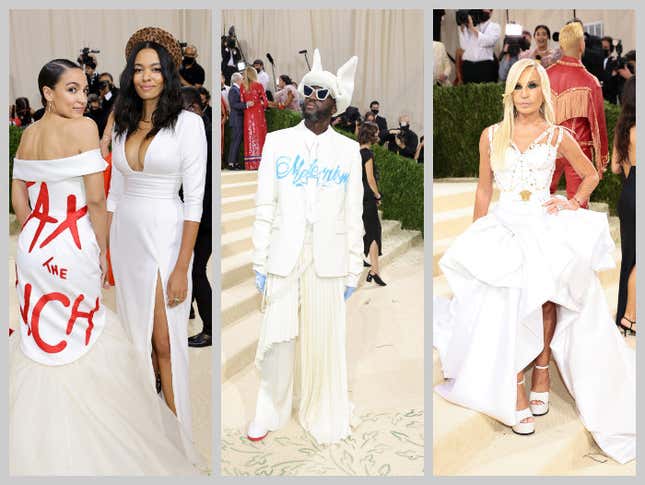 Hm. Here's Alexandria Ocasi-Cortez in Brother Veilles, wearing a white dress that reads TAX THE RICH across the back— a statement that is obviously very much in line with what she truly believes, but feels extraordinarily corny for an event like the Met Gala, though I am sure her heart is in the right place. For contrast and also visual impact, there's Virgil Abloh (a rich man) and Donatella Versace (a rich woman), both in relatively boring white.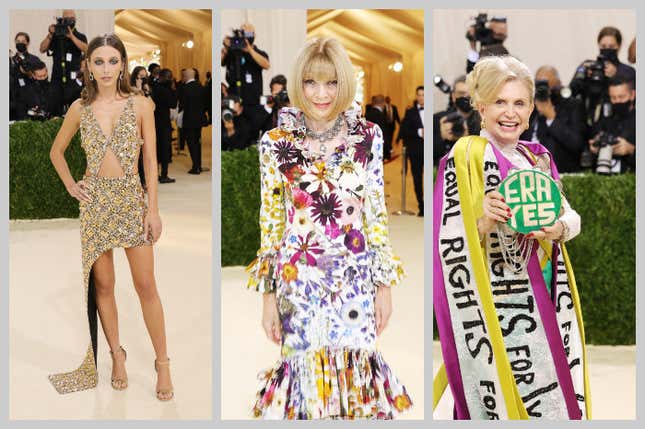 Here is YouTube coffee impresario Emma Chamberlain wearing a gold spangled number with a train that is positioned not in the back, as trains are wont to be, but on the side...? Anna Wintour, a ghoul, dressed in florals, is the last thing you see before Charon allows you entry on the boat that glides across the River Styx. And finally, Rep. Carolyn Maloney interpreted the assignment literally by screaming about the ERA via her gown. I'll take it!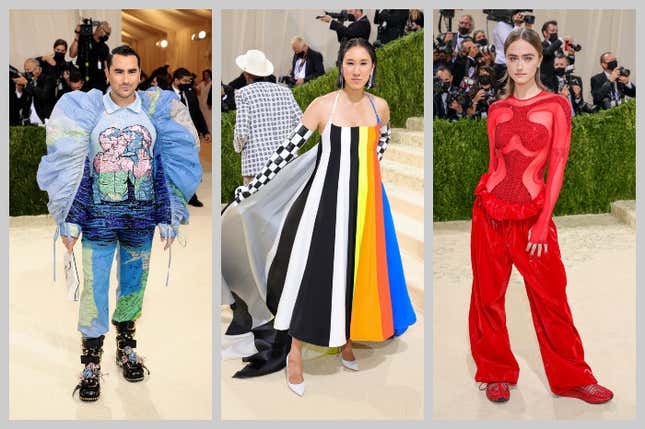 Well, well, well, now it's wacky time, baby!! I do not know what to say or do about Dan Levy's choice, except that I appreciate his sense of FUN and I would not make this decision for myself, but that's on me. Eva Chen, preeminent Instgram personality and a woman whose content I consume with regularity looks comfortable. A white pump, after Labor Day? Horreur!! (Just kidding.) And here's Ella Emhoff.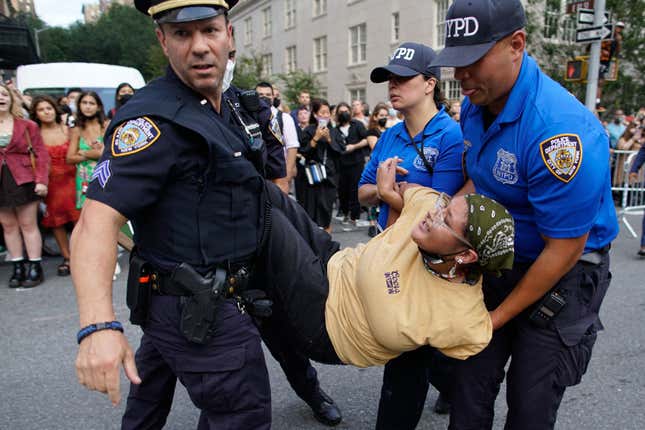 Brief interruption in the beautiful gowns, but here's an unnamed protestor being arrested outside of the Met Gala during a "Defund the Police" protest. What could be more American than that, darling?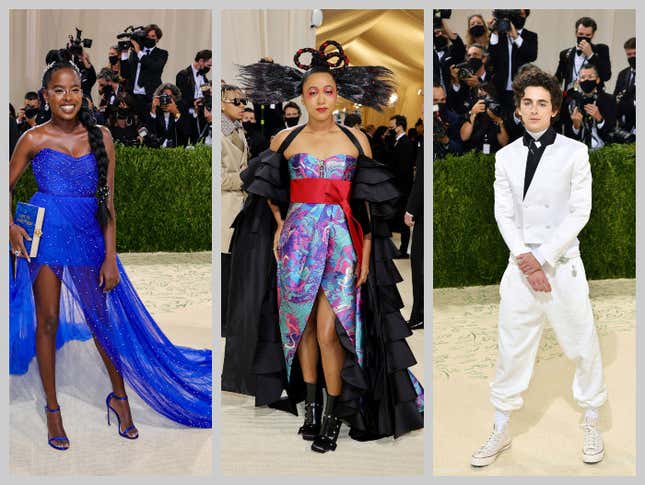 The chairs have arrived, hello!! I love the color of Amanda Gorman's Yves Klein blue gown, though it resembles a prom dress from the pages of Seventeen. Stop the presses for Naomi Osaka's entire look, which is brilliant? The hair, the makeup, the gown, that cape??! This is more like it.  As for Teem-oh-tay, shouts for the Converse, and everything else, all right, yeah, sure.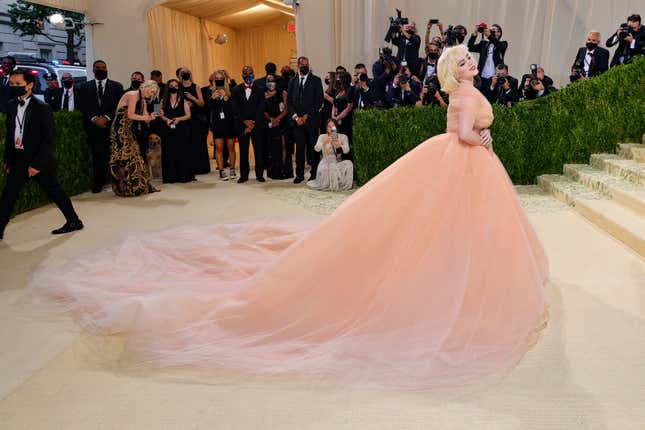 Billie! Eilish! Hello!!! Normally a peach this close to the color of the wearer's flesh is a bad look, but the fourth and final chair of this ridiculous evening is doing a very incredible Rihanna-adjacent moment, though her hair looks like Stockard Channing. Everything else?? Perfection!!
Halfway through this, and I am happy to say that not a single person has come through draped in the stars and stripes, and are instead actually just dressing up like it is their last chance to do so; I welcome this.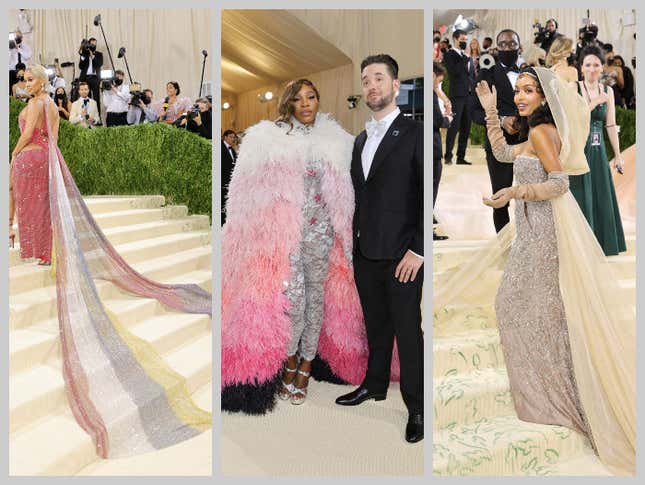 All right, well here's some more drama that is expected but still very welcome. Saweetie is doing a little Art Deco meets disco moment, and while the train isn't the best, it's also not the worst? Serena Williams's enormous cape is large enough for her to consider taking flight, and I love every ounce of that ombré ostrich shit (there is nothing remarkable to say about Mr. Reddit). And Yara Shahidi has temporarily convinced me that formal gloves will work, but the veil blends with the blah carpet; not her fault, it's the carpet's fault, I say.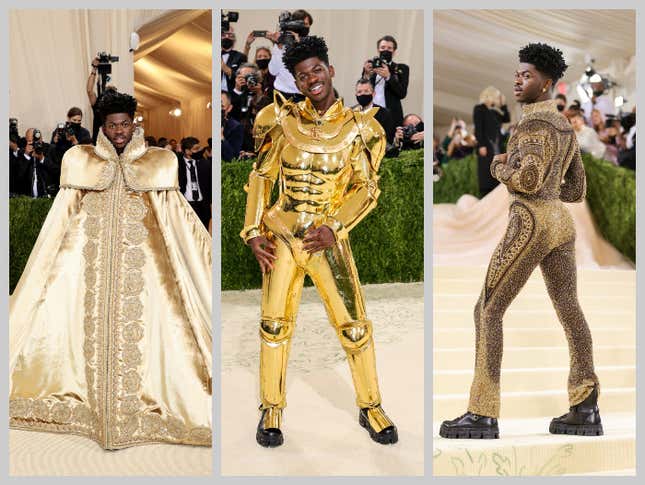 After seeing Lil Nas X's vision in lavender for the MTV VMAs, I didn't think he could peak, but I'm sorry, this four part reveal on this butter carpet takes the fucking cake, bitch! More drama like this! It seems like the famous people interpreted "American Independence" as the freedom to wear basically whatever the hell, and it has worked out for some and not for others. In this case, it works, or I'm just a sucker for a cape. Either way, yes, thank you.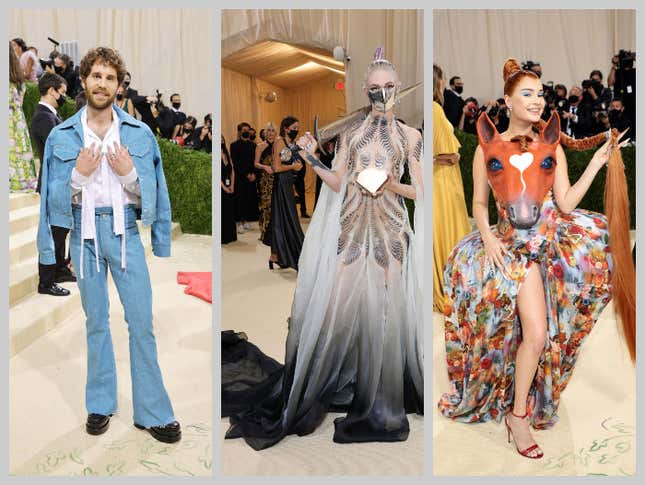 Oh my lord, okay. Ben Platt is giving you Americana, but also disco, but also a manicure, and absolutely no offense, but he made me laugh. Grimes will always dance to the beat of her personal drum, and that drum is rat-tat-tatting out a rhythm that sounds like anime??? Finally, Kim Petras is wearing what a trusted source informs me is "fresh off the runway Collina Strada" and I will take it!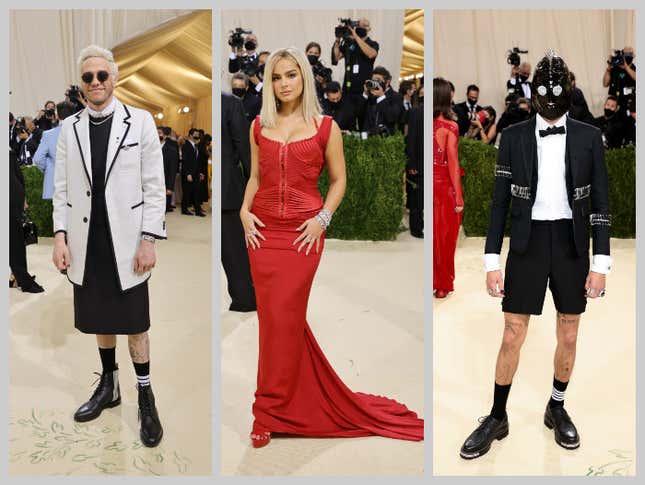 Is this photo of Pete Davidson going to be the thing that finally cures me of my years-long crush? Will it ever make sense to me why Addison Rae is at this event, even though she looks nice? And am I still attracted to Evan Mock, a beautiful man, even in his little short suit (Thom Browne?) and that gimp mask? My answers, in order: not sure; probably in a week; and yes, absolutely.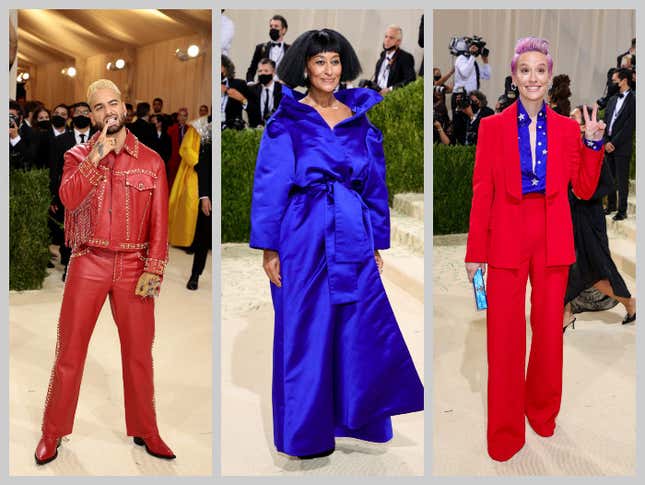 Some patriotic colors for you here, if that is what you are craving: Maluma in red studded and fringed leather works; Tracee Ellis Ross in this gorgina electric blue is perfect, as usual, and Megan Rapinoe's pant suit is a nice color, but also a little boring and a touch too on the nose, absolutely no offense.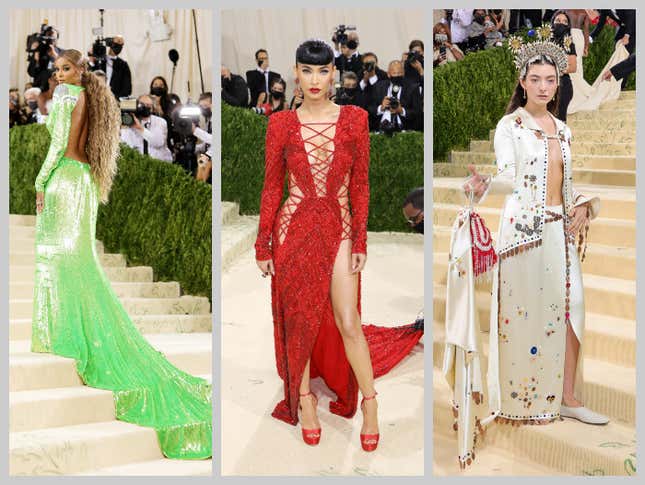 Just some nice gowns and things: Ciara in sherbert-y lime green, backless, sequins, drama, to die! Not sure where Megan Fox found those bangs so quickly, and I am sure this will be controversial to someone, but I appreciate the trash vibes of this red lace-up number. Furthermore, Lorde is wearing flats and dressed like what I imagine she thinks is a minor deity, and you know what, that works.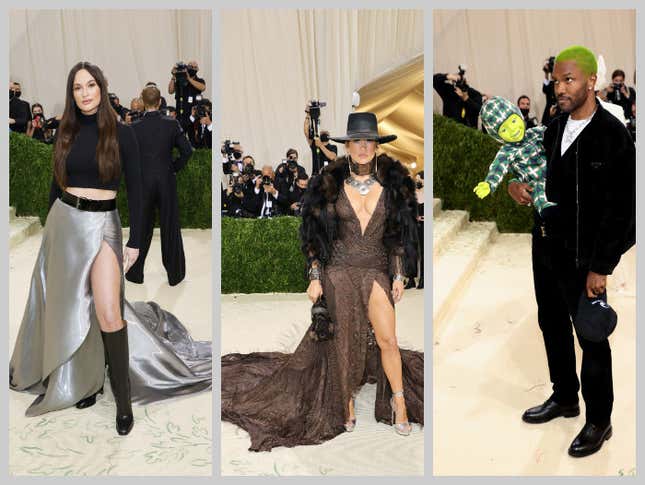 Okay, things are just getting weird now? Kacey Musgraves and her single leg appear to be wearing Ralph Lauren, which is just a guess, but I don't hate it, despite the belt. Jennifer Lopez, on the other hand is wearing Ralph Lauren and ... ma'am? She looks like a whorehouse madam, but not in a fun Westworld way. Finally, Frank Ocean has made no new music but did bring a lime green robot baby. Sure, Jan!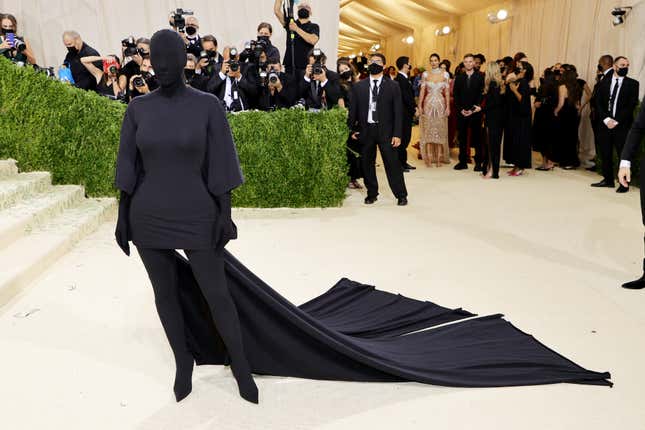 Here's Kim Kardashian wearing what I wear to work very morning, making what I am sure is a large Statement in her head that is otherwise inscrutable to the rest of the world. Naturally, this is the work of Denma Gevasalia, and the ponytail attached to the hood is reportedly 75 inches long, to which I say, sure.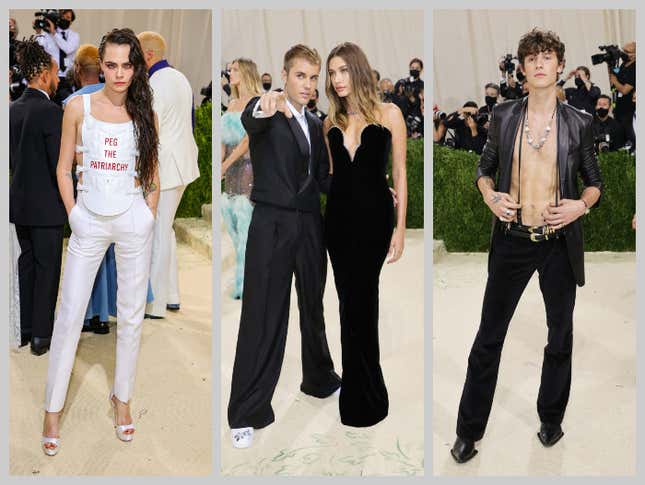 "Peg the patriarchy" is also a Statement, thanks Cara Delevingne. Mr. and Mrs. Bieber, zzzzzz, and Sean Mendes's louche-ness has reached new heights, as this man is now incapable of putting on a shirt and buttoning it up over his torso.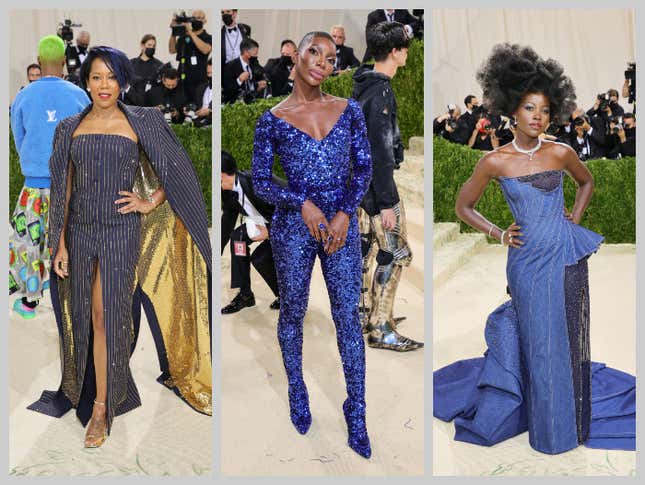 Denim! Done right! Suiting! Regina King in pinstripe formalwear, yes. As ever, Michaela Cole looks stunning in this blue sequined catsuit with the heels to match. And finally, Lupita N'yongo is a vision in a beautifully constructed and structured denim gown that is perhaps the best way this very specific vision could've come to life. I! Love! It!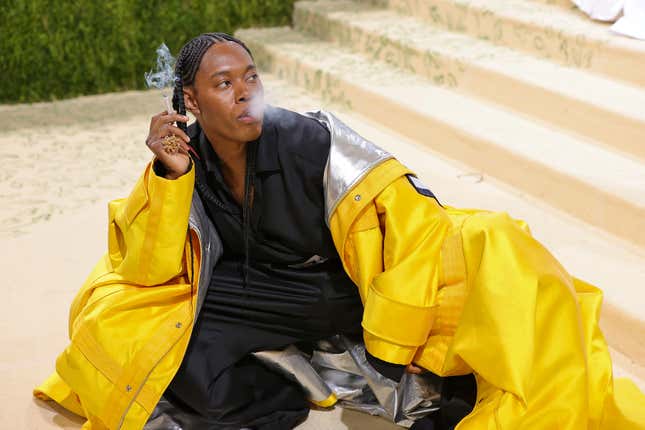 Let's take a break as we wait with bated breath for Rihanna's arrival, which traditionally signals the end of this eleganza extravaganza. Here's Jeremy O. Harris understanding the assignment and nailing it. This is custom Tommy Hilfiger, because what is more fucking American than streetwear, and it is, per CNN, a tribute to Aaliyah. That enormous yellow jacket with the silver lining is iconic, instantly recognizable, and precisely the way this theme should be interpreted. Yes, the Met Gala is a great time for famous people to look hot in beautiful gowns, but any opportunity for streetwear to dial up the drama is one to take, in my opinion. Again, I scream from the back row, where is Dapper Dan???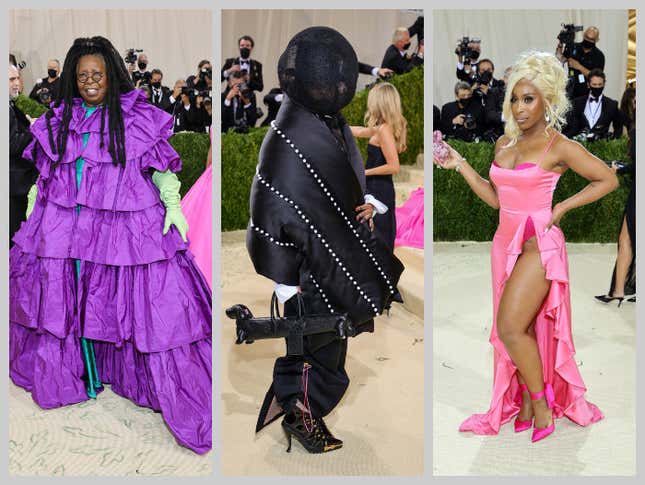 The vibe seems to be that just about anybody was invited, not in a mean way, just in a true way, as people were likely very happy to have a big event to get dressed for and celebrate? Thus, while I continue to wait for Rihanna and consume the single can of Coca Cola I found in the fridge, I present to you Whoopi Goldberg in an absolutely riotous explosion of color! Eyrkah Badu, ice fucking cold. And Jackie Aina, of the YouTubes, doing old Hollywood glam in a very fetching shade of pink and carrying what I have to assume is a little Judith Leiber swan. These outfits are fun! Like, actually fun, and not "I'm hot, isn't that fun?"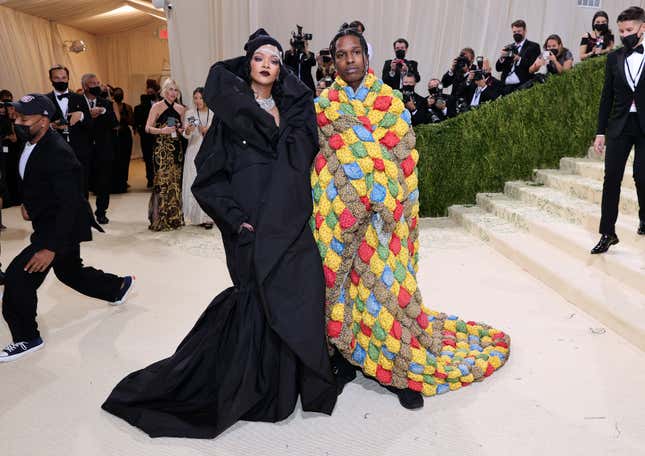 The moment is here, and that moment is Rihanna and her man ASAP Rocky, both of whom appear to have fully understood this assignment!! Yes, Rocky is wearing a quilt as a jacket, but you know what? Quilts are as American as apple pie, peanut! Is this quilted jacket/cape/throw blanket a nod to the women of Gee's Bend? Is Rihanna's giganto Norma Kamali-esque sleeping bag opera coat a prime example of American sportswear done right? Is she wearing a beanie?! The garment is Balenciaga, which suggests that it is not quite a Kamali nod, but probably something closer to a reinterpretation of something military-adjacent—a parka, a bomber jacket, a high-fashion remix of the North Face Nuptse. It's streetwear done on a grand scale, American fashion at its very finest, and I guess we can all agree on one to two things: this evening is over, and fashion, in some form or another, is back!!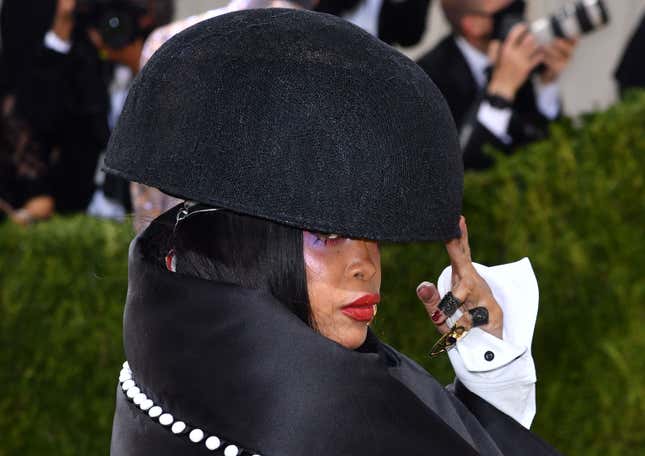 Peace!