The Academy Awards have arrived, signaling the most frenzied awards night of the last 12 months, in which everyone on your television will positively explode with contact-excitement and the prospect of celebrity frisson. Of course, a major aspect of this literal fever is THE CLOTHES! DO YOU LIKE THE CLOTHES?! Let's take a long drink of a gander at everyone's ensembles to quench our collective thirst (oh, the thirst), shall we? We'll be updating by the moment as it happens, so don't stress out, okay!
Carpet game already strong with the earlybirds, particularly America Ferrera in a watery Jenny Packham, fluid as an island stream, and model Dorith Mous, who for my money dressed like a super-modern update of the statue itself (she's basically wearing the Oscar on her foot). Patricia Arquette also updates classic, '40s glamour with the stance of a boss, while Anna Kendrick's Thakoon is Ferrera's sunny inverse.
Actress Blanca Blanco is suddenly my new obsession because she took to the carpet in literal flames, amen. Another obsession, the lovely Gina Rodriguez, is wearing an pea silk gown by Manon Gabard, as party of Suzy Amis Cameron's effort to raise eco-conscious carpet dressing.
G/O Media may get a commission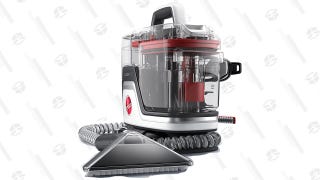 Save $10
Hoover CleanSlate Plus Carpet & Upholstery Cleaner
Jamie Chung is sort of Blanca Blanco's counterpart, with a gown that evokes the phoenix that just rose from those flames, and Diane Warren is the cool disco ball at the party everyone's going to afterwards. No better or more literal outfit for a pop/rock icon.
Speaking of pop/rock icons, how stunning do Tegan and Sara look?! It's a thrill to see them in this kind of environment, but not kowtowing to any kind of pomp that's not in their purview. Love the hair on both. Faith Hill's hair is their spiritual twin, but she went a little more conventional in J. Mendel, while my increasing fave Lorelei Linklater does whatever the hell she wants on any red carpet, and that's what we see here: she loves a "risk," but they never seem like risks for her because it's her natural state of being. Same with will.i.am, who looks a little like he could be going anywhere, but still is fly.
Hello, Carmen Ojogo, looking like an angel. Classic, clean, glamorous, gorgeous. Joanna Newsome, with her man Andy Samberg, is wearing a variation of the clean white dress in a very Joanna Newsome-style silhouette, by Honor. Dakota Johnson's Saint Laurent is wild perfection on her, but then she had a pretty good teacher—mom Melanie Griffith, her date and muse.
Margot Robbie! Why are you giving such perfection! Giuliana noted that the look evokes Pfeiffer in Scarface and she's not wrong. Also perfection: Zendaya, thought I'm not totally sure about the fit, looks a little loose up top, but it could just be how she's standing. Behati Prinsloo's Armani looks strange on television, like a Christmas garland from Walgreens and some beads from the flea market, but in photos it makes way more sense. Her husband Adam Levine also wearing Armani, check out the curvature on that bowtie. Marion Cotillard, what's going on with that electrical-taped butt on a windswept Elizabethan nightgown, but I actually think I like it? Not gonna top that Golden Globes gown, though, sorry.
David Oyelowo in a full maroon tuxedo is just perfect—super modern, super dapper, not like he's trying to be trendy (hello, every blue-and-black tux). Felicity Jones is in a fantasy Cinderella gown, and while my first thought was that Lizzie Mcguire movie where she goes to Rome, she's doing her thing. Lauren Dern in gunmetal; she is so cool I don't even care what she wears, to be honest. So everyone on the carpet has been rocking with whites and creams and silvers, but Rosamund Pike does her own thing, too, and this crimson Givenchy gown (with a corset back!) is a great choice. Love it.
Oh, the trains! Naomi Watts in a strange brick-looking Armani Privé pattern, Zoe Saldaña in a little vino rosé, and Chrissy Teigen just giving fierce, leg, pout, etc. But p.s. Lupita Nyong'o has just destroyed everyone in this perfectly fitting, pearl-covered gown. This photo absolutely does not do it justice, it's Calvin Klein and it looks like caviar. Dying.
Common, who may very well win an Oscar tonight, is such a dapper man, even moreso in a velvet tux. Neck and neck with Nyong'o for best dressed is Julianne Moore (no relation), whose Chanel is also caviar, but with dainty cupcakes across the bodice. Absolutely stunning. Sienna Miller in Oscar De La Renta: okay. Kate Dries, of Cate Blanchett, opines: "Cate Blanchett. Why even bother." Cate Blanchett is so stunning that she has inspired Kate Dries (no relation) to just give up on life. (But she's still liveblogging over here, though.)
Marchesa is one of my favorites for embellished intricacy, but Rita Ora's expression perfectly matches the way I feel about the gown she's wearing. Navy for the carpet is unorthodox so I like it but there's something very wintry and wedding-party about it. Chloe Grace Moretz, in Miu Miu, is more in tune with the season, and while the print reminds me of some sheets I had as a kid, the daintiness of it all works. Octavia Spencer is lovely in ice blue, and makes me want an Icee. Ava Duvernay is, among so many other talents, a total style icon; this blue gown and its detailing are emblematic of that. Shine bright like a diamond.
Sophie Hunter's sleek vermilion sheath is one of my favorites for its simplicity and chicness. Alternately, the simplicity on Reese Witherspoon's gown is threatening to put me into a coma? Yes, I know it is Tom Ford but it's just not working. The flower on Gwyneth Paltrow's left shoulder was made of organic fairy dust by thousand-year-old craftspeople in a countryside villa in Middle Earth. It's so great seeing Anna Faris stunt like a glamour girl always, a sparkly dress for a sparkly personality! (That joke was transmitted via phone from the spirit of my mom.)
This is a Pantone palette I can get down with! Kerry Washington is lovely in Miu Miu, though peplum remains not my fave. Elie Saab, queen of fantasy, super-feminine gowns, made Jennifer Lopez's, and of course she rocks it 'til it's just a ghost. Jennifer Hudson went for simplicity, too, with a Romona Keveza and that butter yellow is perfect on her. Emma Stone is in Elie Saab, too, adorned with wonderful beadwork in—is that chartreuse? More red carpet chartreuse, please.
I am in love with Lady Gaga's structural custom Azzedine Alaïa, hands down one of the most interesting dresses, in theory and in practice. Scarlet Johansson, though: definitely nah. Keira Knightly and Georgina Chapman present two takes on dreamy, floral romance, though one is more effective than the other, hint, it's the one that doesn't look like a nightgown.
I like Nicole Kidman's iridescent Louis Vuitton gown almost purely for its iridescence, but ditch the belt, homie. Solange's commitment to pants and pantsuits is such that she wore one to her wedding, so why not here? I'm so deeply on the fence with this one, need 17 more angles, cause I know I'm always like red carpet sooo boring but not sure this is the direction I wanted? Props to the mock turtleneck, though. Jessica Chastain is boring the eff out of me with that thing and Jenna Dewan Tatum's gown isn't doing that much for me either, but they both look lovely as ever.
Jennifer Aniston totally called Oprah to consult on tone, shade, shape. They both win. And you know the red carpet is wrapping when the most important people arrive upon it: that would, of course, be Meryl Streep in divine elegance on high, and Isan Elba, daughter of Idris, who is hopefully having the time of her life.
Images via Getty