The most magical night of every year is here! And I'm sure you're just like us here at Jezebel, fresh-faced and not at all hungover from last night but ready to make the most of it. So let's liveblog this.
6:42 pm We're on E! and following an interview between Ryan Seacrest and Dakota Johnson, Giuliana Rancic just looked up what a flogger is and is reading the definition of the word off her phone. HELLO AND WELCOME THIS IS HAPPENING.
6:50 pm It's so early in the night but I just had a revelation: Giuliana is like Rachel Zoe if Rachel Zoe wasn't talented at all.
6:58 pm We have our first sighting of Lupita and the brief glance is throwing the earth of its axis.
G/O Media may get a commission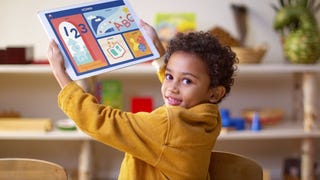 30-Day Free Trial
Homer Learn & Grow Program
7:03 pm Reese Witherspoon's mombot is back.
7:08 pm Miles Teller is is here with his girlfriend and some of us are not pleased. If you'd like to cause yourself pain, here are some recent pics of them in a warm place together.
7:15 pm Seems like Julianne Moore should win an Oscars just for being her.
7:17 pm Giuliana Rancic is talking to Khloe Kardashian about some car accident she and her family was in this weekend but not asking about Amber. 'Cmon "G." Do your job. (Though lol to Khloe, who just said that "Kim was screaming and crying." Of course she was.)
Meanwhile.
7:21 pm Rita Ora is here. That's nice for her.
"I think what's on everybody's mind is your brother's post on social media this morning," says Ryan Seacrest to Naomi Watts. Ryan, please don't assume I stalk Naomi Watts on social media on Sunday mornings. Clearly Rihanna is the way to go.
7:30 pm Madeleine Davies on E!'s "correspondents": "This is just a table full of insect people."
7:36 pm She would also like me to include this tweet.
7:41 pm Switching over to ABC, Chris Pratt says of being at the Academy Awards, "It's electric." as is your face Chris.
My mom is texting me. The latest update: "Missing Joan Rivers."
7:52 pm Party at Maria Shriver's house later.
7:54 pm Reese is shouting out women and our power. Agreed Reese.
"Tight security," says Chrissy. It's not even 8 pm guys!
J. Lo is here and looks great from the neck down. Otherwise she may have pink eye/pink lip.
8:03 pm Emma Stone and her mom are so cute. Emma's mom is SO excited to meet Mark Ruffalo.
Note from Madeleine: "I love SLEEVES." Send help.
8:07 pm Jesus is here. So nice of him to drop by.
8:15 pm Faith Hill and Tim McGraw are here and her hair is short and cute. Tim's hair is short and sorta weird.
Lady Gaga is here! Of course she talks about her engagement, which is v. cute. "I'm engaged to Taylor," she says. He's not here because he has work in the morning but he's been "so supportive." Love is real y'all.
8:22 pm Also v. cute
8:24 pm "I did wake up this morning, I wanted to run into Laurel Canyon and chew on bark." And we're suppose to believe Patricia Arquette isn't drunk? Or that someone else did her hair?
Dear lord.
8:30 pm AND IT BEGINS - FINALLY.
This intro number with Neil Patrick Harris seems to have pitted the theater nerds against the rest of us. Who will live, who will die?
"Tonight we have come to celebrate and hopefully fall in love with moving pictures all over again." That's a high bar Neil! Almost as high as your great joke about diversity.
8:38 pm Best Supporting Actor Oscar goes to J.K. Simmons for Whiplash! (Or, as Lupita accidentally said, "the actor goes to.") The audience is very pleased. He thanks his wife and his children for most of his speech. "If I may, call your mom, call your dad, if you are lucky enough to have a parent alive on this planet." Doesn't even thank the Academy. Baller.
8:47 pm Liam Neeson looks tired and sad. RIP Natasha Richardson.
8:49 pm I'm going to be honest: I just applauded before Adam Levine started singing.
But it was bad.
8:57 pm They literally just invite J Lo to present at these award shows because she looks like J Lo.
Grand Budapest Hotel's Milena Canonero wins for Costume Design and she could not care less about it. We all care about her glittery pantsuit very much. Makeup/Hairstyling goes to Grand Budapest Hotel's Frances Hannon and Mark Coulier. Considering Madeleine just called that movie "a lush meal," the double win seems apt.
On the other hand, "I don't care about any of this" - Kara Brown.
9:04 pm Channing Tatum introducing some kids. Nice for him and for them.
9:09 pm Nicole Kidman looks like a younger version of herself ate her body. I'd watch that movie.
Best Foreign Language Film goes to Poland's Ida. Dude gives a long and funny speech. Poland is all about resilience! As is he, when he talked through the music attempting to play him off.
9:13 pm Shirley MaClaine rocks a very sparkly outfit. Shirley can stay.
9:16 pm NPH does some cute jokes with seatfillers. That's new.
Teagan and Sarah are performing "Everything Is Awesome" with the Lonely Island and Questlove. I know it's a kid's movie, but I found The Lego Movie challenging and overwhelming, much like this performance.
It must be rough for Channing Tatum to hold a Lego Oscar. The promise of what will probably never be.
Meanwhile.
9:25 pm Best Live Action Short Film goes to The Phone Call. They're Australian and Matt Kirby says "Crikey" before they thank their moms.
Seeing Kelly Preston sitting next to John Travolta makes me deeply depressed.
Documentary Short Subject goes to Crisis Hot Line: Veteran's Press 1. Love me some docs; don't love how the camera cuts to Bradley Cooper.
9:33 pm Viola Davis is rocking some incredible makeup. Sparkle magic is the look of the night.
Oprah is not here for NPH's boring platitudes about Harry Belafonte.
Gwyneth Paltrow intros Tim McGraw. Country Strong forever.
9:43 pm Wow just as Julianne says "this is boring," NPH comes out in his tighty whities.
9:46 pm Achievement in Sound Mixing goes to Whiplash. Makes sense, it's about music! I love watching nerds give speeches/watching their friends in the audience make fun of them.
Sound Editing goes to American Sniper.
9:51 pm Jared Leto thanks the audience for laughing at a joke he didn't write. OKAY JARED.
Best Supporting Actress goes to Patricia Arquette! Drunk Aunt Pat in the house! She thanks "My friends who all work so hard to make this world a better place" and WOMENNNN. Meryl Streep and J. Lo go crazy.
Rita Ora performs. Go Rita Ora.
10:03 pm Chloe Grace Maretz can't keep her hands out of her pockets. Theories abound as to why. Julianne: Does she have burns? Madeleine: Yeah, they both got cut off. Visual Effects goes to Interstellar, which makes sense. Ansel Elgort managed to not talk about his sex-having during his intro, which was impressive.
10:06 pm Best Animated Short goes to Feast. Cute dog, but as Kara asked, "Is this movie just about a dog eating delicious food?"
DAMN Zoe Saldana shows up, boobs in tow. DAMN. Big Hero 6 wins for Animated Feature Film. What? I guess I'm really not a kid anymore.
10:18 pm I started choking when Chris Pratt walked on stage. Coincidence?
Production Design goes to Grand Budapest Hotel. "They've won so many tonight!" says Felicity Jones.
10:25 pm Cinematography goes to Emmanuel Lubezki for Birdman. "He looks like a bird man" says Madeleine, who then tries to high-five no one and says "I'm so stupid I hate myself."
Idris Elba was there. That was good.
10:30 pm Meryl Streep introing all these dead people with a quote from Joan Didion's The Year of Magical Thinking which is "peak something," as EIC Emma Carmichael points out.
I'm sorry if this is morbid but I love the In Memoriam segment.
Do not love Jennifer Hudson–"J Hud" over singing, so let's enjoy this instead.
"MERYL STREEP #oscars #oscarlegend#needsomeofthatoscarjuju lol"
10:43 pm Film Editing goes to Tom Cross for Whiplash.
Terrence Howard is here to announce the last few movies nominated for Best Picture. He is the only man with a buzzcut that I'm not attracted to. Perhaps it's because of how incredibly fucked up he appears to be right now.
Ava Duvernay looks so good!
10:50 pm Best Documentary Feature with a beige Jennifer Aniston and David Oyelowo goes to Citizenfour.
Glenn Greenwald is at the Oscars holding an Oscar. What is this world. (The audience puts polite faces on and claps.)
Omg.
I have not been checking in on this long joke about Octavia Spencer and NPH's "prediction box" but suffice it to say it does not seem to be going well.
10:58 pm How much are they going to cut to Chrissy Teigen during John Legend's performance? Answer: For once, not once.
11:05 pm John Travolta and Idina Menzel do a weird back and forth about how he fucked up her name once.
COMMON AND JOHN LEGEND ARE SO STOKED ABOUT THEIR OSCAR WIN FOR "GLORY" FOR SELMA AND SO AM I.
11:13 pm Sound of Music celebration! Lady Gaga sounds out of control good right now. Taylor must be proud.
Julie Andrews comes out and Madeleine gasps and reaches out to me. "Look at her! She's so beautiful."
11:23 pm Best Original Score goes to Alexandre Desplat Grand Budapest Hotel. "This is good."
11:29 pm Best Original Screenplay goes to Birdman.
Michael Keaton brought his hot son! One of these dudes just thanked his dog Larry! Man this night just gets more and more thrilling!
11:34 pm Best Adapted Screenplay goes to Graham Moore for The Imitation Gameeeeeee! [Read that in Oprah's voice] He gives a moving speech about suicide and believing in yourself.
This is from earlier but it's my gif(t) to you:
11:41 pm NPH introduces Ben Affleck and says Gone Girl was originally titled Bitches Be Trippin' Yo. Good one.
Best Director goes to Alejandro González Iñárritu for Birdman. "For someone to win, someone has to lose," he says. Spoken like a true winner.
11:48 pm Best Actor goes to Eddie Redmayne for The Theory of Everything! This room of people said whoa, and Eddie is clearly VERY stoked! I guess his face will be around even more than before.
In other news, remember this?
11:53 pm Matthew McConaughey is here being very much himself and the audience is here for it. Julianne Moore wins Best Actress for Still Alice and her fellow nominees do a VERY good job pretending to be happy for her. She is very gracious and sweet and her husband is, as usual, very hot. She talks about "shining a light on Alzheimer's disease." Julianne!
12:02 am It is Monday morning and NPH opens his box and zzzzz I don't even know he made some fake predictions and they came true because they weren't predictions he just recapped the show.
Sean Penn comes on to announce Best Picture and I say, "Oh, you." Then he says: "And the Oscar goes to...who gave this son of a bitch his green card? Birdman!"
[Room sideeyes Sean Penn]
Then Alejandro González Iñárritu dedicates the Oscar to his "fellow Mexicans" in Mexico, and those in the US, who he hopes "can be treated with the same dignity and respect" as other Americans.
As the credits roll off, one of the songs played is an instrumental version of "Take My Breath Away," which I think basically sums up the night. To bed!
Image via Kevork Djansezian/Getty