It's so hard to be a woman in 2015, always wondering if you're too fat (or too skinny!), if your boobs are the right size and shape, if your pussy is too big. Thank God there is a procedure that can take care of that last headache.
According to the American Society for Aesthetic Plastic Surgery, labiaplasty—plastic surgery specifically focused on the general pussy-area—is on the rise. The organization reported a 49 percent increase in the surgery, from 5,070 in 2013 to 7,535 in 2014.
Plastic surgeon Dr. Richard Swift told the New York Post that a major reason women are electing the $5,500-7,500 surgery is to look better in "athleisure wear."
"The ubiquitous yoga pants that everyone is wearing are playing a big part in this trend," Swift said. "For those whose labia are enlarged, they can make them feel uncomfortable and exposed. One of my patients was particularly self-conscious doing Pilates in a leotard — so much so that she was afraid to do certain moves."
Or, Swift said, they might feel uncomfortable about the size and shape of their labia post-Brazilian wax. Some patients also report increased sexual pleasure.
G/O Media may get a commission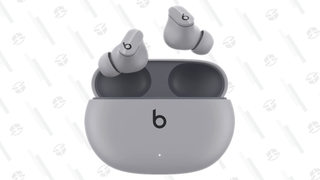 Plastic surgeon Carlos Wolf described the procedure in the Miami Herald:
The problem that you most likely have is that your labia minora (inner lips) is protruding past your labia majora (outer lips). A simple excision of the enlarged labia minora allows the overlying labia majora to cover it, giving a more youthful look. This can be performed under local anesthesia and it only takes about 60 to 90 minutes.

With age or simply because of genetics, the labia majora might start looking deflated (volume loss), and many patients would also benefit from enhancing the outer lips with fat grafting. The fat is harvested from your abdomen or your inner thighs and it is then injected with microcanulas into the labia majora.
Ladies, I get it—camel toes are for poor people. But, I have a solution that could spare you embarrassment and a pricey procedure: loose shorts.
P.S. I promised myself if I ever professionally wrote the phrase "athleisure wear" I would throw myself off a building, so—goodbye.
P.P.S. Watch the below video for a proud celebration of the 'toe:
---
Contact the author at joanna@jezebel.com.
Image via Stock Image/Shutterstock.