Perhaps you have a few questions upon viewing this image, I know I certainly did. Namely: Why? Also: What? Lastly: Will it go away?

What fresh horror 2017 hath wrought: here is Joseph Fiennes, brother of Ralph, also known as "the hotter one," as Michael Jackson in the forthcoming Urban Myths from our friends across the pond at Sky Arts. It's a comedy series featuring dramatic retellings of fictionalized stories about celebrities that have become "urban folklore." The Michael Jackson story in question is a since-disputed report about the King of Pop, Elizabeth Taylor and Marlon Brando fleeing in a car after 9/11.
Who knows if that actually happened; all I know is that looking at Joseph Fiennes, a white man, as late-in-life Michael Jackson, a man who was most certainly black, is a nightmare.
Joseph Fiennes is well aware of the rightful outrage of being cast as a black man. and responded to the backlash last year when his role was announced, saying to The Hollywood Reporter in 2016 "The decision with the casting and the producers — I wrangled with it, I was confused and shocked at what might come my way and I knew the sensitivity, especially to Michael's fans and to Michael's family. It doesn't negate who he was."
The director of the series, Ben Palmer, defended his casting decision in the Guardian, noting that casting someone to play Michael Jackson at that stage in his life "obviously is a challenge in terms of his physical resemblance," but said that what he was really looking for was someone who could "unlock the spirit" of the deceased star. "We were really looking for the performance that could unlock the spirit, and we really think Joe Fiennes has done that. He's given a really sweet, nuanced, characterful performance," he said.
G/O Media may get a commission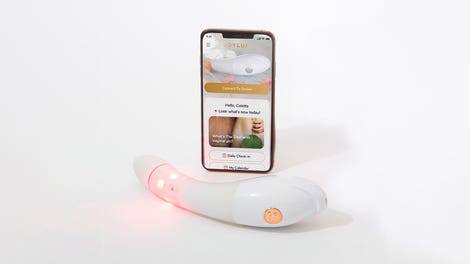 $50 Off
Joylux vFit Gold Device
Ben, my dude, I'm sure you were, but holy guacamole, this is frankly insane.
What works about this series? Stockard Channing as Elizabeth Taylor, for one –those brows, that fur! Also, Iwan Rheon (that's Ramsey Bolton, guys) as Adolf Hitler and Rupert Grint as "Hitler's friend." What does not work, however, is Joseph Fiennes playing a waxen, powdery Michael Jackson with a nose that looks like two hot dog halves stitched together and covered in concealer. Please. This year will be long enough without this.
The series premieres on January 19.