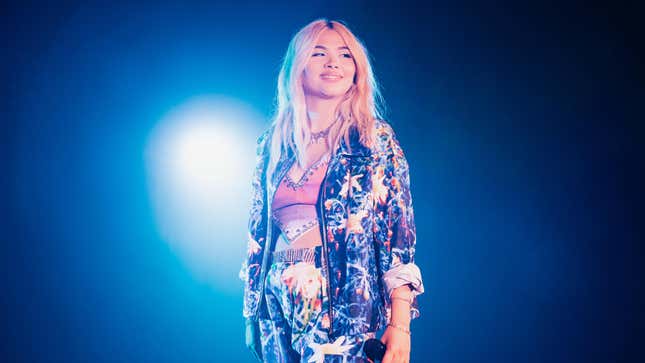 Hayley Kiyoko, the lesbian pop icon, performed in Nashville on Monday as part of her nationwide tour, and despite the state's new law restricting drag performances, she brought drag queens on stage to perform with her. The law is currently held up in court, but Kiyoko says it was used to intimidate her nonetheless.

Dirt Bag of the Week: Katharine McPhee
In an Instagram post on Wednesday, Kiyoko discussed the events leading up to the performance, telling followers that undercover law enforcement officers attended her sound check and warned her against including drag queens in her show.
"The past 48 hours have been an emotional rollercoaster, to say the least," Kiyoko said. Facing the camera, she told followers that she had attended a drag show in the city on her day off, "had the honor of being brought on stage," and then invited some of the queens to perform at her concert. The following day, at a sound check, Kiyoko said she was "getting ready" and "was really excited to bring out some incredible drag performances," when an undercover cop confronted and told her that, because the show was all-ages, featuring drag performers would come at significant legal risk. "So we're trying to figure out if there's a workaround or what the situation is, but this is fucked up," she said through tears.
Kiyoko said she told the drag performers of the cops' warnings in case they wanted to back out, but they "showed no fear and said they wanted to continue with the show and come out on stage." The show went on as planned, but Kiyoko said she was still disturbed with how things had gone down.
"I never want to put anyone in a position to be at risk or in danger in any way. But also where is the line of being silenced? How do we navigate these absurd threats and laws against our community?" she said. "I find pride in making sure my concerts are safe places for all. How can I do that if we aren't allowed to be ourselves, especially at a predominantly queer concert? We deserve to have a safe space to be ourselves while we navigate the evil that is threatening our own existence."
In February, Tennessee Gov. Bill Lee (R) signed a bill that classifies drag performances as a misdemeanor punishable by a $2,500 fine and even up to one year in jail. Shortly before it would have taken effect in April, a federal judge stayed the law through May 26. People reported that a spokesperson for the Nashville Police Department denied Kiyoko's claims, directly citing the temporary stay.
If Nashville cops did confront Kiyoko, an openly queer artist with a largely queer fan base before her show, it's part of an alarming trend of state agents targeting and surveilling LGBTQ performers and, in Kiyoko's case, attempting to censor their speech and expression through intimidation. In March, we learned Florida sent undercover agents to a holiday drag show to surveil drag performers and queer attendees, too.
Amid these chilling and uncertain times for queer and trans people, it's never been more important for artists to step up and do their part—whether, like Madonna, they're donating proceeds from their Tennessee shows to trans advocacy organizations, or, like Kiyoko, rising above right-wing intimidation tactics and fostering supportive queer environments.