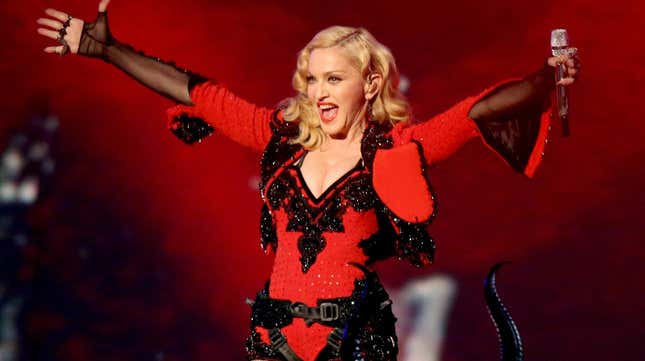 Madonna's "Celebration" tour, announced earlier this year, hits the road this July, and this week, the legendary singer offered details about her plans for stops in Tennessee. Within weeks of the Tennessee legislature passing a bill to restrict drag performances, Madonna shared on Monday that she'll donate some proceeds from her Nashville show to trans rights organizations, and even bring on RuPaul's Drag Race Season 8 winner Bob the Drag Queen to join her on-stage.

Taylor Lautner Doesn't Even Remember Saying 'Bella! Where the Hell Have You Been Loca?'
"The oppression of the LGBTQ+ is not only unacceptable and inhumane; it's creating an unsafe environment; making America a dangerous place for our most vulnerable citizens, especially trans women of color," Madonna wrote in an Instagram post on Monday. "Also, these so-called laws to protect our children are unfounded and pathetic. Anyone with half a brain knows not to fuck with a drag queen. Bob and I will see you from the stage in Nashville where we will celebrate the beauty that is the Queer community!"
Madonna's announcement builds upon a long, stellar history of supporting LGBTQ communities in meaningful ways. In the 1980s, she was one of few public figures who spoke out about the HIV/AIDS crisis ravaging queer communities and has donated to and fundraised for AIDS research for decades.
An original pop music gay icon, Madonna's advocacy offers something of a road map to other stars in the space whose careers have all but relied on the support of queer and trans fan bases. Statements of support and performative activism aren't enough amid an all-out war on LGBTQ and especially trans people. Artists should be lifting up queer voices and figures, and moving tangible resources to support LGBTQ rights, too.
On her website, Madonna specifically called out "the over 100 anti-LGBTQ+ bills currently before state legislatures." Tennessee is just the latest state to successfully advance such legislation, with its bill that would classify drag performances as a misdemeanor punishable by a $2,500 fine and even up to one year in jail. Across the country, dozens of bills are aiming to deny trans youth and adults gender-affirming care while spreading dangerous misinformation and panic about drag performances. And, at least in Florida, the state government has literally sent undercover agents to drag shows. As artists travel the country performing on tour, it's impossible to separate their shows from the life-or-death politics of the states where they're performing. And with all the tours happening this summer, Madonna's advocacy should influence them to show up for queer communities beyond gestures.