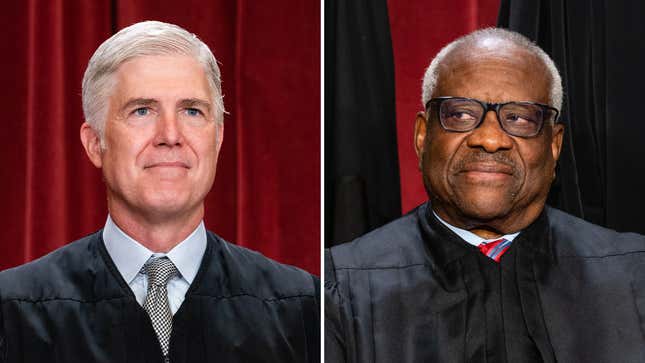 Supreme Court Justice Clarence Thomas is still under scrutiny for not reporting that billionaire and GOP megadonor Harlan Crow took him on luxury vacations for years, or that Crow bought property from him at inflated prices, including the house where Thomas' mother still lives.
What Questions are Senators Asking Ketanji Brown Jackson About Abortion?
Now, a new story shows that Thomas isn't the only one who's been less than forthcoming on his disclosure forms. Politico reports that Justice Neil Gorsuch, nominated by Donald Trump in 2017, sold a massive property he co-owned to the CEO of a law firm that often argues cases before the court.
The 40-acre Colorado property—including a 3,000 square foot house—had been on the market since 2015, and Greenberg Traurig CEO Brian Duffy bought it just nine days after Gorsuch was confirmed by the Senate. Gorsuch reported making between $250,001 and $500,000 from the sale, but he didn't disclose the identity of the buyer. The justice has previously disclosed the names of people who've given him things like a pair of cowboy boots and a fishing rod, but no name this time. Huh!
Politico went through court records after the sale and found that Gorsuch has been asked to weigh in on at least 22 cases involving the law firm run by the guy who bought his property. And they don't even know exactly how many times Gorsuch sided with Greenberg Traurig, because not every vote is public, like the votes whether or not to accept a case:
Since then, Greenberg Traurig has been involved in at least 22 cases before or presented to the court, according to a POLITICO review of the court's docket.

They include cases in which Greenberg either filed amicus briefs or represented parties. In the 12 cases where Gorsuch's opinion is recorded, he sided with Greenberg Traurig clients eight times and against them four times.
Why is this a problem? Kedric Payne, director of ethics at the nonpartisan Campaign Legal Center, told Politico that he believes "investments in LLCs require more details than the justice includes in his financial disclosures." Payne added: "This transaction appears to also require naming the buyer. The public has a right to know that justices will fully comply with disclosure rules instead of providing only a tiny peek into their financial disclosures."
I will state once again that Supreme Court Justices don't have to follow the same code of ethics that every other federal judge does, and it's 100 percent their call on whether they recuse themselves from a cases, with no way to appeal a failure to recuse.
It would be a great time for Senate Democrats to do literally anything about this broken institution.