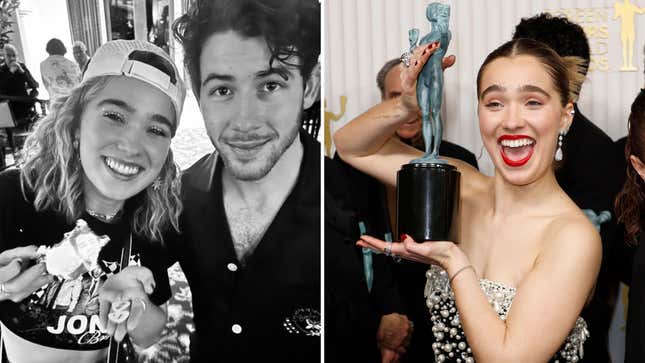 If you search for content of White Lotus breakout star Haley Lu Richardson at Sunday night's SAG Awards, you're greeted with a mountain of images that could be described as none other than dorky.
There's Richardson flashing a big old cheesy thumbs-up while presenting to a crowd of Hollywood's most feted celebrities. There's Richardson pulling up her strapless dress on the red carpet with an air of "whoopsies!" And there's Richardson, in the middle of a White Lotus cast photo, being knocked over by the weight of her minted SAG Award for Best TV Drama Ensemble, requiring assistance to get back up from her very famous co-stars. The clumsiness, the cringe-inducing earnestness—it's how I imagine I might behave at a major industry event if I were suddenly thrust into the spotlight of the awards circuit. She clearly has no pretensions about being "cool" at these events; she's excited and showing it—smiling with gusto, laughing, expressing joy.

Though Richardson's normie behavior has been on display since the publicity tour for White Lotus' second season began, her image as a newcomer still very much enjoying her fame was cemented over the weekend after revealing she starred in the Jonas Brothers' new music video. If you haven't been following this near syrupy celeb-crossover saga, Richardson has been a Jo Bros superfan since she was a pre-teen. When she appeared on The Late Late Show with James Corden in December, the host surprised her with a FaceTime call from her personal favorite of the trio, Nick Jonas, which caused her to tear up and begin cursing. Fast forward a couple months, and Richardson is now playing a starstruck fangirl in the band's new video—which is to say, she's playing herself. (On Sunday, she told The Hollywood Reporter about Joe Jonas's voicemail floating the idea, which she said she then listened to dozens of times.)
G/O Media may get a commission
25% Off
Coleman SaluSpa Inflatable Hot Tub Spa
Richardson is hardly the first (relative) Hollywood newcomer to go all-in on the normie shtick. Jennifer Lawrence and Chrissy Tiegen famously leaned into the outsider-dork thing for far too long, and both have now progressed far beyond feigning accessibility. Even Aubrey Plaza's unusual persona has now reached its own mantle of inaccessible stardom—still beloved, but no longer just like us. (Of course, Richardson is cisgender, white and conventionally attractive, which means she was always more likely to become a celebrity than any other type of woman on the planet.)
At least for now, Richardson's attitude feels less like an act and more like an earnest expression of shock and excitement that she's ascended to this level of fame in meteoric fashion. Traditionally "cool" celebrities—unbothered, unenthused—are a dime a dozen. But seeing Richardson flashing her full set of chompers on red carpets, sobbing at a Jonas Brothers contest, and genuinely freaking out to be in a selfie with her celebrity crush? That's so much more rare, and so much more fun.