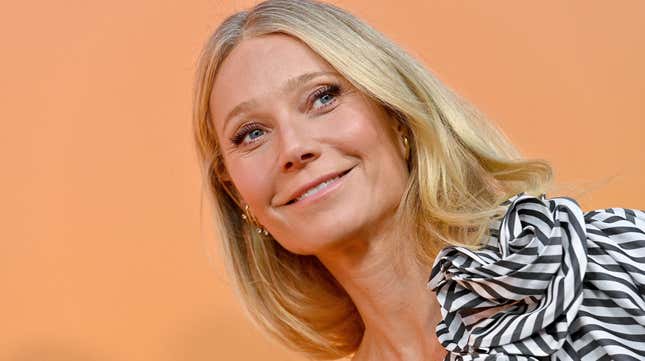 I seem to be feeling a bit feverish this morning—perhaps a little unwell—because leading health misinformation peddler Gwyneth Paltrow is back with some wretched advice about how to be "well."
Is Emmy Rossum Old Enough To Play Tom Holland's Mom?
That's right! The Goop founder, who is 50, appeared on Monday's episode of the podcast The Art of Being Well, hosted by "leading functional medicine expert and best-selling author" Dr. Will Cole. His Instagram features a post that reads, "Choosing to not eat foods that don't love you back isn't restrictive, it's self-respect," which should tell you everything you need to know about the guy!
My personal favorite part of their inane conversation: the part about IVs.
"As you're recording this right now, you have a little IV," Cole notes, "which is so on-brand for both of us. We pod and IV at the same time!"
"I'm really embarrassing myself right here," Paltrow giggles. "I love an IV! I'm an early IV adopter. Glutathione, I love to have in an IV. Kind of a random, more fringy one, phosphatidylcholine…that's my favorite IV when I can find them. They're quite hard to find. And those make me feel so good." (Nothing I like more than shooting a semi-rare chemical straight into my veins.) But don't worry, today she just has an IV drip of "good old-fashioned vitamins." In other words, this is Gwyneth descending, if only for a moment, into the realm of commoners.
During the episode, titled "Gwyneth Paltrow: Her Wellness Protocol For Longevity & Gut Health," the woman who named her child Apple also broke down her "wellness" routine, which I will detail for you here (heads up, this may be triggering for folks with a history of EDs):
"I do a nice intermittent fast. I usually eat something about 12."
"In the morning, I'll have some things that won't spike my blood sugar…like coffee."
"I really like soup for lunch. I have bone broth for lunch a lot of the days."
"I try to do one hour of movement. So, I'll either take a walk, or I'll do pilates, or I'll do my Tracy Anderson." (Yes, the same one who gave clients bacterial vaginosis and athlete's foot.)
"Then I get in the sauna. I dry brush, and I get in the sauna. So I do my infrared sauna for 30 minutes."
"For dinner, I try to eat according to paleo. So, lots of vegetables. It's really important for me to support my detox."
If we distill this down to the actual food items listed, we get Gwyneth's three food groups: coffee, bone broth, and vegetables. That eating schedule strictly follows the food pyramid teachers once distributed to us in elementary school! Did the saying go something like, "Always make sure your plate looks like a muddy shrub torn out of the ground, prioritizing brown watery foods."
I don't need to tell you why this particular pod-squad is a tea party for quacks. But I will say that the most demonic Gwyneth emerges when she's both perpetuating harmful wellness myths cloaked in woo-woo language and signaling how out-of-touch her fame and wealth have made her. And boy, aren't we lucky, because today we've got 'em both.
But not to worry: TikTokers are having none of it, and they've been quick to give GP a failing grade at the art of wellness, crowning her the Almond Mom of a generation of almond moms, otherwise known as mothers who pushed diet culture onto their kids. Here's my favorite response from a 45-year-old self-proclaimed fat woman: "She spends all this money to look young, and she looks like a shriveled-up banana. EAT FOOD."

As for me, I fear that I am perhaps more unwell than when I started writing this blog. Thanks for nothing, Gwyneth!!
---