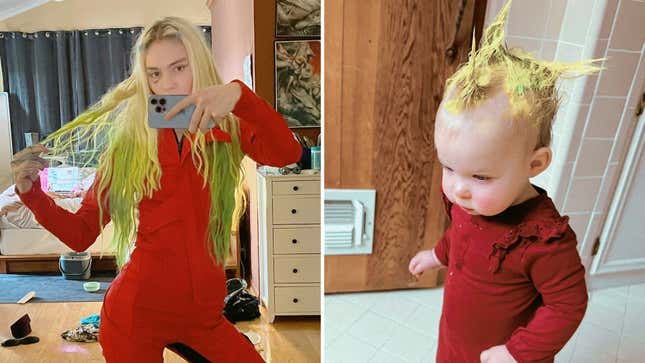 Grimes has not yet exited her high-cringe era, I fear.

High priestess of all that is extra-terrestrial, otherworldly, and really fucking weird, the singer has announced that her secret baby with ex Elon Musk is getting a name change. If you'll recall that 2022 Vanity Fair interview, the mysterious crying baby from the article was later introduced to the world as Exa Dark Sideræl Musk, the now 1-year-old who was welcomed via surrogate in December 2021.

Infamously Thin-Skinned Man Joins Twitter's Board
If you were holding your breath for this kid to have any semblance of a normal childhood, you will unfortunately have to hold it a little longer. Grimes had previously said that Exa's nickname was "Y," but on Thursday, she clarified on Twitter that Exa will henceforth be known as "Y now, or 'Why?' or just '?,'" to represent "curiosity, the eternal question, .. and such."
And such! If it weren't for government interference, which does not allow for symbols like "?" in legal names for probably good reasons, it seems Grimes might've put to use an entire keyboard of symbolic baby names that no one knows how to pronounce. Famously, Grimes and Musk named their son X Æ A-12 (which references some combination of the "elven spelling of Ai," an aircraft, and Grimes' favorite song "Archangel"); they were later forced to change his name to X AE A-XII. Much improved!

Imagine being told as a child that your name is simply a question mark. How do you know you even exist? Is the question existential? Y would you do this, Grimes!? (Less pressingly, it appears she may have dyed this baby's hair neon chartreuse to match her own, which also begs the question: Y?)

Musk has been vocal about Grimes being the primary force behind the, um, very creative original name of their son. Whether Grimes is now renaming their daughter just to stick it to her billionaire ex is unclear, but if I were her, I'd be distancing myself and my baby as much as possible from that unhinged man with a breeding kink (nine kids and counting). And a gentle reminder to little Y/Why/? that she can change her name legally again at some point if she feels the need to for whatever reason!