NEW YORK, NEW YORK—Anna Delvey may have grifted her way to the heights of New York's elite, but on Tuesday the petite blue-eyed woman in black-rimmed Céline glasses failed to charm the Criminal Court of the City of New York.
Ana Gasteyer Satirizes the Girl Boss in 'American Auto'
You have likely already heard a lot about her. Delvey, whose real name is Sorokin, gained notoriety after stories in Vanity Fair and New York chronicled the way she waltzed her way into months-long stays at luxury hotels, endless parties, and dinners with millionaire tech CEOs and celebs like Macaulay Culkin. She posed as a German heiress and convinced investors and banks to loan her money for a Soho House-like start-up that never materialized. She tipped hotel concierge and waitstaff with hundred dollar bills and wore exclusively designer clothes. Yet her fortune, along with her entire identity, was fake.
Sorokin's greatest scam, though, is the way her web of lies has propelled the 27-year-old into national stardom: New York's cover story has attracted Shonda Rhimes, who will pen a series based on Sorokin's exploits for Netflix, and Variety reports that Vanity Fair's piece has "attracted interest" from stars like Jennifer Lawrence and Margot Robbie.
G/O Media may get a commission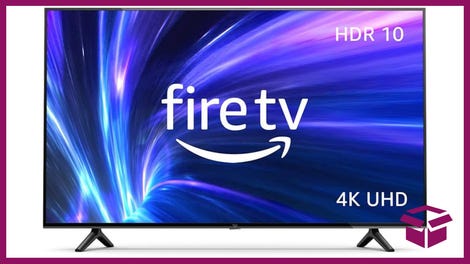 42% Off
Amazon Fire TV 50" 4K Smart TV
The public appears to be in awe of, even enamored by, Sorokin. "At the end of the day, yes, she did what she did," Neff Davis, a hotel concierge Sorokin befriended, told Paper Magazine. "But people are not buying the story because she's a thief; they're buying it because she got away with it." Glossing over the fact that Sorokin defrauded average "creatives who got wrapped up into her web of lies," Davis tweeted: "Screw the higher-ups, dumb hotels and idiotic banks. Anna is a genius."
The Manhattan District Attorney's office is far less impressed by Sorokin. In October 2017, District Attorney Cy Vance Jr. charged her with grand larceny and theft of services amounting to "approximately $275,000 through multiple scams." The prosecution offered Sorokin a deal: plead guilty, and serve three to nine years in prison. Her lawyer, Todd Spodek, sought to lessen the sentence down to a maximum of three years imprisonment from nine years. Sorokin has pleaded not guilty, and is being held without bond at Rikers Island.
But Sorokin, who has become a media sensation overnight, has yet to publicly express any guilt or sense of wrongdoing. She has shrugged off Rikers as if it were nothing, and maintains the same air of smarmy millionaire confidence from inside jail. "This place is not that bad at all actually," she told New York Magazine. "People seem to think it's horrible, but I see it as like, this sociological experiment." Her biggest concern seems to be about which actress will play her on screen. Davis told Paper Magazine of Sorokin's interest in the projects:
Oh, Anna's aware. She's like, Okay, as long as Jennifer Lawrence or Margot Robbie play me. And I'm like everyone wants Lindsay Lohan to play you and she's like, "Oh my god, no offense, but isn't she like 30? My hair's not even red anymore, did you tell them that?" She really, really wants Margot Robbie. She just watched I, Tonya in Rikers and thinks Margot is badass. I'm sure Margot Robbie would kill it. So that's where her concern is. Her feelings are high and she lets none of the negativity bother her. She said she's going to do what she has to do, and then she'll get out. I feel like we're like Thelma and Louise.
On Tuesday, Judge Diane Kiesel rejected Spodek's request for a slimmer plea with a much-needed dose of reality. The hearing lasted only a few minutes. Kiesel expressed no sympathy or wonder for the defendant, saying the young woman has shown "little remorse" for the victims she allegedly defrauded and seems "more concerned" about the publicity she's received than the people she "allegedly took advantage of." Kiesel set a trial date for September 18.

The sparsely populated courtroom, primarily filled with lawyers and defendants—mostly people of color—and their friends and family, nearly doubled in the minutes before Sorokin appeared, around 11:30 a.m. Explaining that Sorokin's hearing had a "high public interest," Kiesel made an exception for a small cadre of photographers, who were ushered to the front of the courtroom to snap photos of Sorokin. In front of me, two women of color who'd been waiting for a hearing ducked behind the pew so that the cameras would not catch their faces.
Sorokin, who wore a white headband and two messy ponytails, was flanked by three police officers. Unlike the dozen black and brown men who piled in and out of the courtroom before her for charges ranging from counterfeiting money to minor drug offenses to assault, she has been celebrated for her alleged crimes—which are so severe that they may carry a nine-year prison sentence.
Though Sorokin ostensibly has no money to her name, the lithe and petite white woman played the part of an heiress because she, to other rich white men and women, looked the part of an heiress. While countless men and women, disproportionately black and brown, file through a broken and racist justice system, Sorokin manages to float above them, admiring her inmates as part of a "sociological experiment" and wondering which famous actress will play her in a movie.
As I was exiting the courtroom on Tuesday, one man asked a photographer in the room who Sorokin was, and why so much press was there. The photographer tried to explain: "She's a grifter," he said. The man was confused. "So what?" he asked. The photographer tried, again, to explain, adding that she said she was a German heiress. The man shook his head, left the elevator, still unsure what, exactly, made Sorokin so worthy of the public's attention.