It is truly the end of an era: Graydon Carter, the editor-in-chief of Vanity Fair, is stepping down in December, after 25 long years.

Carter's departure from the magazine is what the New York Times dramatically calls a "regal passage"—imbuing it with the gravitas his legacy deserves, I suppose. The magazine has long been reflective of his particular and highly specific interests: Hollywood's glittering relics; just WASPy things; the Kennedys; and a fascination with British culture that is unmatched in any American publication to date. Aside from the frivolities in which Carter relished, he also published some pretty important and groundbreaking investigative pieces, including the 2005 article that unmasked Deep Throat, Watergate's leaker. The reason Vanity Fair feels like Vanity Fair is all because of Carter and imagining any other point of view from the publication is difficult.
An interesting and possibly unrelated sidebar to Carter's departure is the quiet announcement that more layoffs and "structural changes" are coming to VF's parent company Condé Nast, the second such announcement in a year. WWD reports that the reported cuts will be "heavy on the editorial and business teams." Carter's decision to leave the magazine came up earlier this year when his contract was expired, but like so many others, the election of his nemesis Donad Trump reinvigorated his desire to stick around. As a cofounder of Spy, Carter often poked Trump in an attempt to expose him for his idiocy.
From the Times:

Spy took special glee in attacking Mr. Trump, who Mr. Carter memorably deemed a "short-fingered vulgarian." Among the magazine's pranks was to mail checks of smaller and smaller quantities to celebrities and wait to see who was avaricious enough to cash them; Mr. Trump redeemed a check for 13 cents.
G/O Media may get a commission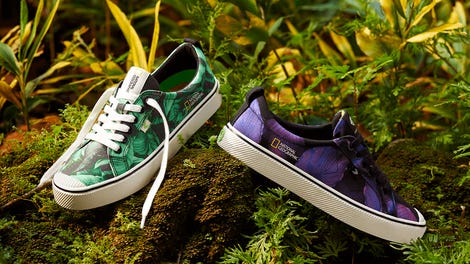 New New New
Cariuma + National Geographic
Trump continued to antagonize Carter via his favorite medium, Twitter. Carter apparently has these tweets framed on a wall outside his office.
Post-Vanity Fair, Carter says he will take a garden leave—a fun British saying for when an employee leaves their job and is required to stay away from any other job for six months, while still getting paid. Said garden leave includes time at a rented house in Provence. Sounds nice. Another fun fact: Graydon Carter considers himself a "glorified maître d'" at the Vanity Fair Oscar Party and will not be attending in the future.

No replacement for Carter has been named just yet, but Janice Min of The Hollywood Reporter and Adam Moss of New York were both mentioned by the Times as possible replacements. If you'd like to read a long and gushing tribute to Carter that feels dishy and fun, Vanity Fair's David Kamp has you covered.
"I've loved every moment of my time here and I've pretty much accomplished everything I've ever wanted to do," Carter said via press release. "I'm now eager to try out this 'third act' thing that my contemporaries have been telling me about, and I figure I'd better get a jump on it."