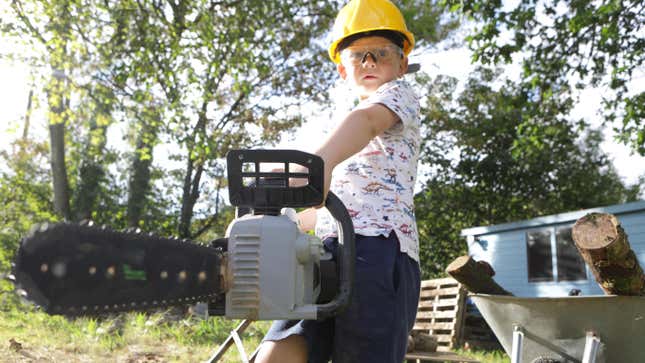 After a late-night legislative session stretched into the pre-dawn hours, Iowa Senate Republicans approved loosening child labor restrictions just before 5 a.m. If Senate File 542 goes into effect, children in the Hawkeye State may be allowed to serve alcohol, work on meat-processing lines, operate heavy machinery, and work night shifts.

Olivia Holt Didn't Originally Get the Part of Roxie Hart in 'Chicago'
Two Republicans joined every Democrat in voting against the measure. Still, the bill now goes to the House for agreement before the bill can be signed by Gov. Kim Reynolds (R), who told Iowa reporters earlier this month that she worked as a babysitter starting at age 12 and generally supports putting kids to work. "That's one of the reasons I'm such a huge proponent of work-based learning and registered apprenticeship programs, because it's not necessarily starting at a younger age like that, but it really lets students interact with amazing businesses in our communities to find out what they have a passion for, what they're good at, to learn how to communicate with other people, a responsibility of showing up and doing the job," Reynolds told the Iowa Dispatch. "And those are all, you know, Iowa values that we tout."
I feel nuts for having to point out that babysitting your nephew or younger sibling is not the same as working at a manufacturing plant. If kids want to babysit for new jeans or Roblox gift cards, great! But allowing children to be interacting with drinking adults by being allowed to serve alcohol as a waiter....we've lost the plot. Children working is not a solution to labor shortages or familial/child poverty.
This bill is yet another example of Republicans approving policies that are anti-children while claiming to be their biggest protectors. Last month, Arkansas Gov. Sarah Huckabee Sanders (R) signed a bill making it easier to employ children. In Ohio, Republican senators okayed letting 14-year-old and 15-year-old children work as late as 9 p.m. while school is in session. In March, Tennessee Gov. Bill Lee (R) signed a bill that rolled back the ban on 16- and 17-year-olds from working at places that earn more than a quarter of revenue from alcohol, aka bars.
In Minnesota, a Republican lawmaker has introduced a measure to let 16- and 17-year-olds work in construction zones. That lawmaker also said child labor is important part of the economy during a labor shortage. "Eliminating work opportunities for youth just because of their age will make it even harder for businesses to find reliable employees," Minnesota state Sen. Rich Draheim (R) told Insider. "Businesses teach these youth workers skills that will prepare them for their future — and maybe even attract them to their industry for life."

Even the U.S. Department of Labor thinks Iowa Republicans are on a fool's errand. It is "irresponsible for states to consider loosening child labor protections," said Solicitor of Labor Seema Nanda, the top lawyer for the Labor Department.
During the debate phase on the Iowa bill, Republicans refused to answer questions about the child labor bill. State Senate minority leader Zach Wahl called the bill "unprecedented" in a video posted to Twitter.

Instead of working on policies that will help children—like the expanded Child Tax Credit during the height of the covid pandemic that immediately lifted children out of poverty—Republicans are set on sending children to work.