The website Gossip Cop is known for its weekly debunkings of big tabloid stories. For example, every time Star claims Jennifer Aniston is pregnant, we can expect Gossip Cop to call up their sources and write a headline like, "Jennifer Aniston NOT Pregnant, Despite Star's Unprofessional Reporting." (They love to shame the journalistic standards of tabloids.) Usually this does favors for the celebrities in question (i.e. she's NOT pregnant, he's NOT having an affair, they're NOT reptilian members of the New World Order), but occasionally it works against them.

Early Friday morning, they published this:
The report is a counter-claim to a National Enquirer story that said Tom had "won the battle over daughter Suri" and that Katie Holmes is "freaking out." But that's apparently not the case at all! Writes Gossip Cop (emphasis mine):
But the article is riddled with falsehoods. Cruise has not "secretly" or even publicly reconnected with Suri. In fact, it's been a number of years since he's met up with the little girl. A source close to the situation confirms to Gossip Cop that the tabloid's claims are simply "not true."
G/O Media may get a commission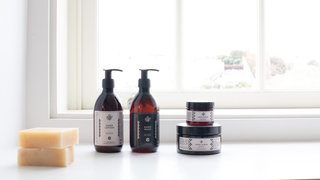 Exfoliate and Hydrate
The Handmade Soap Company
I wasn't expecting "confirmation" that stories like these are true, but I got it anyway. Thanks, Gossip Cop!
---
Mila Kunis gave birth again. Ashton Kutcher is the father again. The new one is a boy. He was born on Wednesday. The old one is a girl named Wyatt Isabelle. She's two. Kutcher is 38. Kunis is 33. I'm 100. Bad Moms was funny. I watched it on a plane. This is boring.
[People]
---
Here's a sad Vin Diesel quote about his late friend, Paul Walker, whom he called Pablo. While in São Paulo for Brazil's ComicCon, he said:

"I'd been to Brazil two times before and both times that I've been here, I've always been with my brother, Pablo. Even if I talked on ET in Brazil or any talk show, any press or while we were filming in the favelas, it was Pablo and me. It was a lot of tissues. It was a hard morning for me yesterday because I was here. But the irony is the whole cast reached out and his daughter, Meadow, reached out and all that stuff helps you get through it. We've felt the loss. The last three years have been some of the hardest of my life because of losing my brother like that."
[People]
---